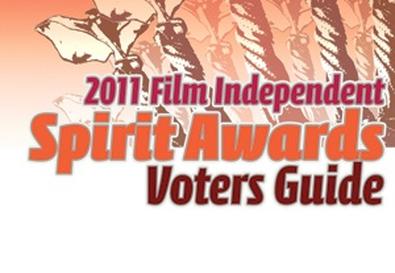 Best Director
Darren Aronofsky
'Black Swan'
In many ways, Darren Aronofsky's "Black Swan" is similar to his previous film, "The Wrestler." Both lead characters are dedicated artists struggling with inner demons. To express themselves, they have only their bodies. Their age, injuries, and mental stability threaten to undermine their art.
However, in "Black Swan," Aronofsky masterfully adds another layer. He parallels the journey of Nina Sayers (Natalie Portman) with the tale of "Swan Lake," the tragic ballet in which she performs. The astute viewer will notice his use of black and white in the set pieces of almost every scene, alluding to the contrast between the white and black swans. He adds elements of horror, drama, and paranoia, all of which exist in "Swan Lake." He directs the actors in such a way that you aren't ever sure what is fantasy and what is reality. All of these elements add to the story of this obsessed artist, pulling the viewer into Nina's world in a very visceral and stunning way.
A particularly impressive directorial choice is the use of mirrors. For ballet dancers, mirrors are a part of their everyday lives. They spend hours analyzing themselves and their work in mirrors. Aronofsky uses mirrors to leave the viewer unsettled, wondering what it means when Nina's reflection doesn't match what she';s doing. Is she losing her identity? Does she have an evil twin? Is she going insane? Is she not really the sweet, delicate flower everyone thinks she is? His use of mirrors adds a level of anxiety and intensity, not to mention a few delicious scares, to the film.
Aronofsky, who also directed "Pi" and "Requiem for a Dream," takes Mark Heyman, Andres Heinz, and John McLaughlin's intelligent screenplay, coupled with pitch-perfect character development from his actors, and brilliantly captures an artist's unraveling onscreen, making "Black Swan" one of the most impressive films of the year.
Danny Boyle
'127 Hours'
One of Danny Boyle's greatest talents as a filmmaker is his ability to seamlessly combine the sweepingly epic with the breathtakingly personal. In "127 Hours," he does this with such grace, we feel like we're watching a story as universal as it is intimate. Boyle begins the journey of real-life hiker Aron Ralston (James Franco) with dazzling shots of nature at its most astonishing: towering rock formations and vast canyons and big, open spaces. He makes us feel instantly caught up in the startling beauty of nature, even as we're dreading what's to come. When Ralston becomes trapped, pinned by a boulder, we feel that as well: the sudden confinement, the sense of utter helplessness, the growing claustrophobia. And whenever he encounters a new obstacle—storms, diminishing water supply, hallucinations—Boyle ensures that we're right there with Ralston, experiencing it as he does.
Because the subject matter is so harrowing, it would be easy for Boyle to let the movie turn into a slog, an unrelentingly grim portrait of pain. But the director wisely allows Ralston's sense of humor and playfulness to shine through during his entrapment. When he starts pretending he's on a live talk show, we can't help but chuckle, even though we';re still painfully aware of the severity of his situation.
And as for the most talked-about scene in the film—in which Ralston finally goes through with the decision to amputate his pinned arm—Boyle pulls no punches. The combination of shots, sound, and Ralston's anguish makes for a very pure kind of horror. As has been widely reported, the sequence is so graphic, it has caused audience members to panic, faint, and vomit. Yet it never devolves into exploitation; every second feels completely realistic. When Ralston finally breaks free and we're once again roaming the wide, open spaces of nature, Boyle's sure direction makes the most of every second of exhilaration. He somehow makes a film about a horrifying experience into one of the most uplifting movies of the year.
Lisa Cholodenko
'The Kids Are All Right'
Lisa Cholodenko labored a long time with "The Kids Are All Right," so she must be pleased with the success her fully grown film has found in the wide world. Considering its excellent depiction of the delights and dramatics of the modern family, it is no surprise it has garnered high praise from audiences and critics.
In the making for several years, "The Kids Are All Right" took only 23 days to shoot. Simple on the surface, the film is run through with complex interactions, relationships, and truths that ring with resounding honesty. The story was loosely inspired by some of Cholodenko's own relationships and experiences, and that results in the presentation of a keenly relatable reality.
Cholodenko is not the most prolific of filmmakers, but she more than compensates for her lack of quantity with an abundance of quality. "Kids" is her fourth feature, but her hand is steady and adept, with greater skill than those of many with longer résumés. It is an exceptionally well-put-together film, with a gem of a screenplay (co-authored by Cholodenko), clear and colorful cinematography, and exquisite casting and performances by the ensemble—which includes Annette Bening, Julianne Moore, and Mark Ruffalo. There is not a scene, a look, or a song out of place; everything is crafted with precision and intelligence. But nothing in the film feels forced; its every facet exudes a naturalism hard to find in most of today's movies. It is sharp with one-liners, soft with genuine sentimentality, and overflowing with humor, all deftly interwoven with ease.
"The Kids Are All Right" is not standard Hollywood fare, which seems in keeping with Cholodenko's previous work and her seeming ambitions with films like "Laurel Canyon" and "High Art." Her topics, characters, and approach are deeply human and full of a quirky vivacity rarely found in mainstream filmmaking. This is true of "The Kids Are All Right," with its unique plot and sensibility, which may be attributed most fully to the knowing hand of Cholodenko.
Debra Granik
'Winter's Bone'
There's a no-nonsense, almost documentary quality to Debra Granik's direction of "Winter's Bone." Where other filmmakers might rely on bombast to impress audiences, Granik takes things in the opposite direction, calibrating a perfectly honed sense of restraint. She conveys so much by scaling back and allowing the stripped-down images to speak for themselves.
The film is set in a hardscrabble Ozarks community, and one gets the sense that authenticity was of the utmost importance to Granik. She makes the location a true presence in the story, a character all its own. The director shot in rural Missouri. "If we were going to attempt this, we knew it had to be there; it had to have local people populating the film visually," she told National Public Radio. "There is no chance that this film would come to life in any way that would be close to the book"—by Daniel Woodrell—"or close to any anthropological sense of precision unless we did it there."
Watching the finished product, it's quite clear that she captured the reality perfectly. There's a lived-in quality to every gritty frame, a sense that we're merely watching people's lives unfold rather than a scripted story. Granik's movie lives in the small moments, and she crafts these with unmatched subtlety. A sequence in which her heroine, Ree Dolly (Jennifer Lawrence), guts a squirrel is matter-of-fact rather than horrifying, for instance. But Granik also knows when to ratchet up the intensity, when to let us know that danger is afoot. There are many times in the film when we fear for Ree, and Granik makes these organic moments of genuine terror rather than cheap, pulse-pounding thrills. And that, in the end, is what makes Granik's direction stand out: She pulls back enough to give every scene a sense of undeniable truth without sacrificing the emotion so essential to her dynamic story.

John Cameron Mitchell
'Rabbit Hole'
From brutally honest depictions of sex to the story of a transgender German rock star, director John Cameron Mitchell has never shied away from stories on the fringe. In his latest film, "Rabbit Hole," adapted by David Lindsay-Abaire from his play, Mitchell takes on the heart-achingly truthful story of parents coping with the death of their child.
As Mitchell told Back Stage in a recent interview, "I think the play is very powerful, but there are some key scenes in the film that I thought would have been in the play. You get those meat-and-potato scenes between the main characters," he said, but not "the whole Sandra Oh subplot," for example, or "all the group therapy meetings."
For his first effort working with A-list actors, Mitchell coaxed intense yet real performances from Nicole Kidman and Aaron Eckhart, who play the grieving parents. "I just think he's very, very talented," Kidman told Back Stage about Mitchell, "and I also think he's very raw, which suits this material. I think a director that's very cold, or that's slightly removed or stoic, wouldn't have been so good, because the script itself was very restrained."
Mitchell's attention to the actors' needs helped keep "Rabbit Hole" from wallowing in sadness or descending into absurdity. He speaks the language of the actor. "If there's anything I know about directing, it's how to make actors comfortable," Mitchell said. "It's where I started and it's what I know and it's what I love. My favorite directors are actors' directors."



Best Feature
'127 Hours'
"127Hours" is a movie that plays with our expectations in the best possible way. The story of real-life hiker Aron Ralston shows us the beauty and terror of nature and ultimately tells a tale of astonishing survival—yet somehow it never resorts to "man versus wild" clichés. Perhaps that's because all elements of the film, which tracks Ralston after he's pinned in a canyon by a boulder, combine so perfectly.
James Franco's tour de force performance is the undeniable centerpiece—a supremely assured acting job that conveys various levels of pain without feeling forced or overdramatized. He also receives able assistance from the film's other players. Amber Tamblyn and Kate Mara, for example, provide a neat, sunny note of free-spiritedness in the beginning frames. Their characters' screen time is limited, and Ralston doesn't know them for long, but their presence is so vibrant, we have no trouble believing that they'd be part of his reflections during his ordeal. They are, after all, his last tangible tether to the outside world.
The film also plays with time and space, showing us Ralston's past as a series of impressionistic, dreamlike images. This device could have felt hokey or overly affected, but somehow it's perfectly in line with what the film is trying to convey. Perhaps that's because filmmaker Danny Boyle knows exactly what he wants to say with each image, and holds on to this sense of specificity, even as what we're seeing is a mere snippet of a scene. There's a sleepy glow of warmth to a bit featuring Treat Williams as Ralston's father, for instance, that makes us sense we're witnessing a key moment in young Aron's development.
Ralston's ordeal is gripping, to be sure, but as conveyed here, it's also so much more than one man's entrapment. The film is a lyrical, decidedly unschmaltzy ode to the strength we find in ourselves, the strength we gain from others, and the inherent beauty of discovering what it takes to live life to its fullest.
'Black Swan'
"Black Swan" all but tells viewers exactly what they are about to witness. A ballet company in New York produces a "Swan Lake" in which one ballerina must play both the virginal, graceful white swan queen who falls for a prince and the cunning, sensual black swan who manipulates and entraps him. When the prince professes his love for the black swan thinking she is the white swan, the white swan goes mad and kills herself.
Over and above this twisted plot line, the film is still a maniacal ride through the cutthroat world of ballet, envious understudies, and the demons of an artist's mind as she struggles to be perfect. Where reality ends and fantasy begins is as blurry a line for the performers as it is for the viewer.
Natalie Portman gives a breathtaking turn as dedicated dancer Nina Sayers, who finds herself immersed in a rivalry with new company dancer Lily—played by Mila Kunis in a true breakout performance. Nina is consumed by her art, obsessive in her pursuit of perfection. Her mother, Erica, a retired ballerina played hauntingly by Barbara Hershey, lives vicariously through her daughter and fervently supports her. Vincent Cassel, who plays womanizing company director Thomas Leroy, and Winona Ryder, as a resentful former prima ballerina, round out the talented cast.
Director Darren Aronofsky follows "The Wrestler" with this eerie and unnerving film that twists through the mind of an artist who wants nothing more than to achieve perfection. As Thomas says, the only person standing in Nina's way is herself.
'Greenberg'
Noah Baumbach's "Greenberg" is the story of a very odd couple. Florence, played by mumblecore sweetheart Greta Gerwig, is the insecure recent college grad who has no idea what to do with herself and pays the bills by working as a personal assistant for an affluent L.A. man and his family. Roger Greenberg, played by Ben Stiller, is the brother of Florence's boss, who comes to town to housesit for his sibling's vacationing family, as well as build a doghouse for the family's beloved dog Mahler. Greenberg is in his 40s, extremely neurotic, and self-involved, and allusion is made throughout the film to his recent stint in a mental hospital.
Though differences between the two characters abound, Baumbach's film is a moving and insightful exploration of the pair's similarities—particularly their discomfort over the passage of time. As a middle-aged individual, Greenberg reacts to his youth, and, as an undirected young person, Florence acts in response to her fear of getting older. Their attraction to each other, it becomes apparent, is grounded in the fact that they see themselves in each other: Florence expresses understanding toward Greenberg because she sees in him the person she might become, and Greenberg sees in Florence the diminishing potential he once had.
Through the awkward, hysterical, and always cringeworthy romance between Florence and Greenberg, Baumbach's film beautifully explores the notion that pain, fear, and regret are not generational. Consequently, the characters' ultimate understanding of and compassion for each other permeate the screen, extending to the viewer and transforming what could have been two pathetic and desperate caricatures into two complex and relatable human beings, a feat for which Baumbach deserves profound recognition.
'The Kids Are All Right'
"Everybody [wanted] to be a part of this movie," casting director Liz Dean told Back Stage about the vivacious family dramedy "The Kids Are All Right." The sentiment is understandable, as the film features a knockout cast, talented technicians, and a fantastic script, all in the hands of skilled filmmaker Lisa Cholodenko. A hit at Sundance, it has garnered extensive and heartfelt praise from critics and audiences.
It is hard not to be won over by this tightly told tale that delivers laughs while managing to hit the deepest chords of family, love, and modern life. The story revolves around Nic and Jules, a lesbian couple whose lengthy relationship is losing its spark. When their two teenage children—conceived via artificial insemination using sperm from the same anonymous donor—seek out their free-spirited father, the family's life is tossed around, as everyone faces new truths and trials.
The film features a witty script wrought with refreshing intelligence. The excellence of the writing is recapitulated throughout every other aspect of the film. The editing is well-paced, the cinematography is as crisp as the dialogue, and the soundtrack is an aptly compiled treat. The cast is equally joyful to watch, filling out a collection of complex characters with honest, multidimensional performances that hit every dramatic and emotional note just right. Annette Bening and Julianne Moore, as Nic and Jules, respectively, are charming and believable as the heart of the family. Equally exceptional are Josh Hutcherson and Mia Wasikowska as their children; they deliver complex characterizations of discovery and growing up in the midst of family crisis. Mark Ruffalo rounds out the lead cast with his endearingly roguish biological father, and the supporting cast, including Joaquin Garrido and Yaya DaCosta, is equally fine.
Despite its deserved place in the echelons of the finest LGBT films, "The Kids Are All Right" speaks to, and for, any type, size, or style of family. The dilemmas, jokes, and loves are wholly authentic and resoundingly relatable. While the film offers ostensible quirks and novelties, the heart and soul of it are firmly grounded in the most widely shared of relationship networks: family.
'Winter's Bone'
"Winter's Bone" accomplishes a neat sort of trick: It's a thoroughly unsentimental movie that packs one of the biggest emotional punches of the year. Maybe it's because the film's fierce heroine, Ree Dolly (Jennifer Lawrence), is so well-drawn, so fully realized. Within moments of meeting her, we know we'd follow her anywhere. And we do: through poorly lit bars and backwoods homes, into the shady underground of the meth-dealing community in the Ozarks. Or maybe it's because every inch of the film feels so authentic. Co-writer and director Debra Granik makes it real in a way that a glitzy Hollywood production could never manage.
Though recognizable character actors—John Hawkes, Dale Dickey, Garret Dillahunt—pop up in a variety of supporting roles, the unknowns shine just as brightly. Take Lauren Sweetser, a college student who just happened to be studying theater in Missouri, where the movie was filmed. She has few credits to her name, but she inhabits her scenes as Ree's best friend just as fully as do the more seasoned pros, adding to the air of unfettered realism. Or perhaps the film's appeal lies in its propulsive story, a mystery with genuine stakes and threads of all-too-real danger. Often it's tough to tell Ree's enemies from her allies, and we never feel quite assured that she'll come out of this alive. Most likely, it's a combination of all of these aspects that makes the movie resonate.
From the very first frame, we're completely caught up in every single element, from the characterizations to the performances to the way the story is told. And as the movie twists and turns, we don't realize just how big an impact it's having on us until it comes to its satisfying conclusion—leaving us breathless, contemplative, and wishing we could relive it all over again. That may seem like an odd thing to say about such a gritty film, but "Winter's Bone" is such a good tale and Ree is such an engaging protagonist, we can't help but want to spend more time with them.
Best Screenplay
Stuart Blumberg and Lisa Cholodenko
'The Kids Are All Right'
The quirkiness, verve, and travails of the modern family are hard to capture, especially with a substantial degree of warmth. However, Stuart Blumberg and Lisa Cholodenko manage to do so in their script for "The Kids Are All Right." The plot centers on an L.A. couple, Jules and Nic, two women whose children were conceived via artificial insemination. When the children, as teenagers, seek out and find the sperm donor, Paul, excitement and chaos ensue. Relationships are tested, reformed, even rebuilt as each character grows and learns in a carefully crafted and subtly genuine way.
The screenplay tackles topics that run the gamut of familial affairs, from parental thank-you-card promptings to the "inauthenticity" of lesbian porn. Even the conventional conversations are done with wit, including the hilarious series of misunderstandings that begins with the moms asking their son about his sexuality and culminates in his admitting his and his sister's discovery of Paul.
The film is replete with one-liners, as well as more-complex comedic interactions. But it also serves up serious dramatic dialogue and heartfelt scenes with aptitude. One of the scenes that best encapsulates these qualities is the dinner at Paul's house. Beginning with hilariously charming dialogue and a cappella renditions of Joni Mitchell songs, it culminates in deeply serious revelations, anxieties, and apprehensive solemnity.
The screenplay does not shy away from serious topics or strong dialogue, which strengthens the film's credibility and authenticity. Real life, and real families, can be tough and funny, upsetting and enjoyable. Blumberg and Cholodenko not only recognize that reality,
but capture it in a film that is as honest as it
is enjoyable.
Debra Granik and Anne Rosellini
'Winter's Bone'
The simple beauty of a clear, well-told story is hard to come by in mainstream film these days. And that's why Debra Granik and Anne Rosellini's script for "Winter's Bone" is so valuable. Adapted from Daniel Woodrell's book of the same name, it prizes the clear through-line of its
story and the plight of its tenacious heroine above all else.
Indeed, Granik and Rosellini do a marvelous job of focusing very closely on their tough-as-nails teen protagonist, Ree Dolly (Jennifer Lawrence). They chart her plight with laser-sharp precision, taking us through her every emotion, her every fear, her every challenge. And even though we're following Ree, Granik and Rosellini take the time to fully flesh out the vibrant
cast of supporting characters, from Dale
Dickey's glowering neighbor to John Hawkes' menacing uncle.
None of these players has nearly as much screen time as Ree, but we leave feeling like we know them just as well, like each of them could easily carry his or her own movie. Yet Granik and Rosellini also resist the urge to dally too long with any of them. Every scene drives the story; every second feels necessary; every moment is an essential piece of Ree's journey. And by the end, we feel privileged to have been part of it.
Nicole Holofcener
'Please Give'
In her past work—films such as "Lovely and Amazing" and "Friends With Money" and four great episodes of "Sex and the City"—Nicole Holofcener proved her knack for capturing the complexities of the American woman. She writes intelligent, imperfect, conflicted, quirky, and unique heroines. Holofcener continues this tradition with "Please Give," a character-driven film she wrote and directed.
The array of characters, male and female, in "Please Give" struggles with myriad emotions and ironic contradictions. For example, the warm-hearted Kate (Catherine Keener) freely bestows money upon homeless people but cries when she volunteers at a center for kids with Down syndrome. Kate tries to make amends with a former customer she took advantage of, yet impatiently waits for her next-door neighbor to die so she can have her apartment.
Though all the characters are flawed, some are downright mean, such as self-centered Mary (Amanda Peet), who has an affair with a married man, and her cranky grandmother Andra (Ann Guilbert), who barely has a kind word for anyone. But how can you hate them when Mary obsesses over the woman her man left her for and Andra talks about how all her friends have died and she knows her time has come? Holofcener's script is a study in human hypocrisies.
What is Holofcener trying to say? Is it that charity starts in the home? That it takes more than giving to be good? Though the film's message may be open to interpretation, the characters, situations, inner conflicts, and issues are unmistakable. Unsurprisingly, Holofcener has a solid indie fan base and a growing list of A-list actors who want to work with her.
David Lindsay-Abaire
'Rabbit Hole'
David Lindsay-Abaire won a Pulitzer Prize for writing the searing, touching play "Rabbit Hole." Here he has succeeded in creating a completely new work in a different medium. In the play, the action takes place entirely in the home of Becca and Howie (played in the film by Nicole Kidman and Aaron Eckhart), whose son, Danny, was killed in a car accident eight months before the play opens. Because the play has only a handful of scenes, each one has a purpose and a point to get across.
In the film, these revelations are spread out and come about far more organically. We don't just hear about how Becca's sister Izzy is a screwup; we see Becca getting the late-night call and having to pick Izzy up from the police station. We also get to meet characters who are only discussed in the play, be it Izzy's musician boyfriend or Debbie, a friend who has been avoiding Becca since the accident.
Another great creation by Lindsay-Abaire is a support group for grieving parents, whose members include a mother who develops a flirtation with Howie—something we never even suspect in the play. Perhaps most effectively, the audience gets to see a scene that is only discussed in the play, when Becca slaps a mother in the grocery store. One cannot overstate the wallop this moment packs when you see it played out rather than delivered through dialogue.
Speaking of dialogue, Lindsay-Abaire is an expert at nailing speech. Characters speak like real people, and the screenplay beautifully manages to convey their grief in words spoken and unspoken.
Todd Solondz
'Life During Wartime'
"Your father may have been a pedophile, but he was also a man and a father," says Allison Janney's character, Trish, to her 12-year-old son, Timmy (Dylan Riley Snyder), when he confronts her about what really happened to dad.
"Doozies" would be the operative word when describing writer-director Todd Solondz's explosive script for "Life During Wartime," his sequel to his 1998 feature "Happiness." Casting a different set of actors in already established roles, Solondz infuses his characters with the capacity to do something rare in real life: People speak their minds, no matter how shocking, and always with intelligence. Solondz likes to throw verbal bombs at his audience. The dialogue is crisp, smart, and frank. The tone of the writing is sardonic and darkly comic. The situations are sad, sometimes tragic.
It's not just shock and awe that Solondz is going for. He's also delicately weaving together stories with emotional themes about forgiveness and acceptance. Joy (Shirley Henderson) must come to terms with her husband's (Michael K. Williams) weakness for making perverted sex calls to strangers, while she's also being haunted by a ghost of suitors past (Paul Reubens). Meanwhile, Joy's elder sister Trish is trying to move on from a disastrous marriage by entering a relationship with a "normal" guy (Michael Lerner)—not, as she puts it, some "sicko perv," alluding to her first husband, Bill. Then there's Bill (Ciarán Hinds), just released from prison and in search of his eldest son, Billy (Chris Marquette), to find out if his son has inherited any of his sick tendencies.
This is not a story for the meek-hearted or for those who prefer their movies wrapped up in nice, neat, nonprofane packages. But if you appreciate art-house movies that challenge and amuse, Solondz's script will not disappoint.
Best First Feature'Everything Strange and New'
Despite its title, "Everything Strange and New" centers on the ordinary and mundane, yet writer-director Frazer Bradshaw's debut feature manages to draw in its audience by highlighting universal truths. The story focuses on Wayne (Jerry McDaniel), a blue-collar construction worker with two young sons who finds himself stuck in a loveless marriage. Primarily through Wayne's narration, we learn how he ended up in this all-too-familiar situation.
Despite its low budget, the film has a visually striking look; it's not surprising to learn that Bradshaw is an accomplished cinematographer whose credits include the documentary "Babies." The movie thrives on recognizable situations, often shot in long, lingering takes, such as a lengthy scene in which Wayne's depressed wife (Beth Lisick) cooks a family meal, or another in which Wayne carouses with a drinking buddy (Luis Saguar), their antics becoming increasingly pathetic. In many scenes, the camera follows Wayne as he just walks along slowly, in no particular rush, wanting to be anywhere but where he is at that moment. And the film thrives when capturing the monotony of life, be it going through the motions at work or another painful argument Wayne has with his wife. In an interview with SF360, Bradshaw noted, "I could have made a movie about a perfectly functional couple relationship and well-adjusted friends…but it's hard to tell that story in a way that speaks to the human psyche, and that's kinda the point."
And just when the audience comes to the conclusion that this marriage can't be saved, out of nowhere the two desperately embrace. It's a glimpse into daily life rarely captured on the screen—real, raw, and, yes, new.
'Get Low'
When asked what drew him to the role of Felix Bush in Aaron Schneider's directorial debut, "Get Low," Robert Duvall said, "Anytime I hear about a guy that wants to go to his own funeral, I think that's pretty unique." Duvall's use of the word "unique" is very fitting, as "Get Low" tells a very uncommon tale. However, Schneider's film does not use its strong narrative hook as a crutch, and it succeeds in being a deft exploration of regret, penitence, and redemption.
The movie tells of an aging hermit who has spent the last 40 years alone in a small cabin in the woods. The neighboring townspeople mythologize him, and he enlists the help of funeral parlor owner Frank Quinn (Bill Murray) to throw himself a funeral party while still alive. When an old flame (Sissy Spacek) comes back into the picture, we begin to detect that Bush's story may be less about setting the record straight and more his attempt to atone for a deeply held past sin.
Schneider was obviously fortunate to acquire the cast he did—getting any one of the legendary Duvall, Spacek, and Murray would have been a coup. But Schneider does not let their immense collective talent go to waste, and his direction deftly highlights the very powerful performances by the film's leads, particularly Duvall. That star especially shines in the climactic funeral party scene, in which Bush reveals the secret that he has waited so long to tell. Actor and director converge effortlessly here, as Schneider's restrained single long close-up on Duvall gives the actor the perfect platform on which to bumble through his heartbreaking tale. Though this final scene serves as the moment of Bush's redemption, the film is in no need of atonement.
'The Last Exorcism'
When it comes to exorcism movies, every trick in the book has already been tried, right? Wrong. "The Last Exorcism" moves the classic horror subject in a new, fun, and terrifying direction. The film leaves behind the expectations set by William Friedkin's 1973 classic "The Exorcist," instead following a preacher, Cotton Marcus (Patrick Fabian), who fakes exorcisms for religious families in the South. But when he tries his scheme on ailing teenager Nell Sweetzer, played by Ashley Bell, all hell literally breaks loose.
With hand-held cameras and a cinéma vérité style, director Daniel Stamm drops viewers right into the nail-gnawing action. We trudge through dark Louisiana swamps and creep into ramshackle barns groaning with unearthly sounds. This is horror you can believe.
With a small budget and a very small crew, Stamm's intelligent indie horror film needed a strong performance by its lead actor, who appears in almost every scene. Fabian deftly delivers his character's dry humor as well as a sense of horror that he says was only partly acting. "New Orleans did almost half the work for me," Fabian told Back Stage. "I'd never been there, and it really is spooky, sweaty, moody, and atmospheric in all the ways you want."
Witnessing the bizarre transformation phenomenally executed by Bell was also enough to cause Fabian to freak out. "She creeped me out," he said. "There's no CGI with her work. So I'd go to work and she's doing that stuff and bending her neck, and I'm trying to talk to her and it creeps me out. I mean, it really did, legitimately. We were spooked out and scared. At times I was like, 'I've got to walk away from this.' "
'Night Catches Us'
Tanya Hamilton didn't do herself any favors in choosing to make her first feature film a period piece, especially given that "Night Catches Us" is set in Philadelphia in the 1970s, a time and place fairly well established on film.
"Night Catches Us" follows a group of former Black Panthers as they work to find their way after that movement has largely ended. Marcus Washington (Anthony Mackie) returns home to Philadelphia, where almost no one is happy to see him. For reasons clear only to him, Marcus "snitched" on a friend, which led to that friend's death. Now that he's back in Philly, there are many who would like to see Marcus join his friend in the grave for this transgression. Not among them, however, is Patricia Wilson (Kerry Washington), his late friend's widow. Longtime friends, Marcus and Patricia fall into an easy routine, which eventually prompts difficult but oh-so-necessary questions. To everyone, Marcus is a reminder of a past they're all struggling to reconcile within themselves—and the problem with the past is that no matter how hard it tries, it can never be the present again.
One chief reason that Hamilton has managed to create such an affecting, involving film is her personality as a storyteller. "It never started out as a love story," she explained. "It was just about these people pulling their lives together, but as I got deeper into the story, it just evolved that way." It can be tempting for a storyteller to try to control the direction of his or her story, to drive it with an iron fist. To show such restraint, especially in a first film, confirms Hamilton as a major talent to watch in years to come.

'Tiny Furniture'
Aura is having a hard time. And who could blame her? Facing an uncertain and unexciting limbo—with nothing more than a degree from a liberal arts college, a dead-end job, empty friendships, and even emptier romances—is hardly easy. Aura discovers this the hard way as she traverses a post-collegiate malaise in "Tiny Furniture." Lena Dunham, who plays Aura, also wrote and directed the film, which is based on her own experiences and acquaintances, portrayed dramatically with precision and panache.
One reason the film feels so real may be because in many ways it is as close to real as fiction can get. Most of the key characters are portrayed by the people on whom the characters are more or less based. Aura's mother and sister are played by Dunham's mother and sister. The film is far from a documentary, however, and the resemblance of these fictional characters to living persons merely enhances the veracity of Aura's story.
The sense of earnest reality is further enhanced and mocked by Dunham's cleverly hilarious writing. The script, in dialogue and action, is uncannily true to the oddities of a creative and temporarily displaced life. It simultaneously maintains an ironic quirkiness that laces the whole film with wry humor.
What may be most enjoyable about "Tiny Furniture" is its unabashed and unedited honesty. The actors are real people of all shapes and sizes and looks, not the cookie-cutter perfect standards much of Hollywood relies on. The same goes for the story. It may seem a little quirky, but that is just what makes reality as intermittently odd and mundane, indescribably dull and inexplicably thrilling, as it is.
Best First Screenplay
Diane Bell
'Obselidia'
The last few years have seen a commoditization of nostalgia that makes people long for things almost while they're happening. It's a strange phenomenon that falls in line with the modern desire to think about anything other than the very real problems we are facing as a species. A major strength of Diane Bell's screenplay for "Obselidia" is her ability to marry these trifles we use to distract ourselves and the reality that we are distracting ourselves from.
George (Michael Piccirilli) is a librarian who has decided to catalogue occupations, concepts, and other things he sees as becoming obsolete. One day, he interviews silent-film projectionist Sophie (Gaynor Howe), and she joins him in his quest. Together they head into the desert to interview Lewis (Frank Hoyt Taylor), a former climate scientist who saw the end of days coming, tried to tell the world, and ended up alone in the desert. The air between George and Sophie begins to smack of romance, even though love is one of those things George feels is becoming obsolete. Not so, Sophie says, for as long as someone loves something, it is not obsolete.
Reading that, it's easy to see how this film might have drowned in quirk and easy sentiment. It does not, however, because Bell cares enough about her characters to understand them better than they understand themselves. George conducts his interview with a VHS camera and transcribes his interviews using a typewriter. Sophie changes reels. But neither are rejecting the present; they've just chosen to make their present an appreciation of what came before. There used to be no shortage of small, subtle, character-based dramas at the cinema. With "Obselidia," Bell is not rejecting the current Hollywood; she is merely choosing to appreciate the past.
Lena Dunham
'Tiny Furniture'
"I just got off a plane from Ohio. I'm in a postgraduate delirium," Aura (Lena Dunham) tells her critical younger sister, begrudging her full awareness of the doldrums she is about to face. The dreaded post-collegiate limbo, a fate feared by many graduates—not least those who study film—is hardly fodder for humor for those threatened by it. An after-university slump, however, is just what star-writer-director Dunham faces head-on in her charming and surprisingly very funny feature "Tiny Furniture." She tackles the malaise that meets so many with their degree newly in hand: moving back home, nabbing a dead-end job that has nothing to do with the past four years' academic endeavors, and facing the fact that sometimes reality throws you a bit less than you can chew.
The dialogue and the plot feel down-to-earth, very genuine and authentic, yet there is a strong current of the unusually clever pervading the entire film. It feels like a slightly smarter version of reality, starting with the film's undeniably curious title and culminating in one of the most downright unconventional and creative approaches to a sex scene in a movie. What is so charming, however, is that even the rather more unique aspects of the script are not pure fiction. In real life, funny, zany, heart-wrenching things happen. Dunham just has a way of capturing precisely those moments and showing them with endearing honesty and a pitch-perfect sense of humor.
Her script is full of subtle one-liners and clever wordplay—the kind of banter between sisters, friends, and lovers that exists for some and is desired by others. In other hands, the premise might have come across as dreary or trite. Dunham's approach to "postgraduate delirium" in "Tiny Furniture" is a big delight.
Nik Fackler
'Lovely, Still'
Writer-director Nik Fackler, a Nebraska native, breaks into the scene this year with his directorial debut, "Lovely, Still," a beautiful and sad tale that exemplifies the kinds of movies that only independent film can foster. It is hard to imagine that the 25-year-old writer's original script would have made it very far in the studio system. Half heartwarming Christmas romance and half heartbreaking psychological drama, "Lovely, Still" represents the kinds of risk a studio could almost never take.
The film follows elderly Robert Malone, played endearingly by Martin Landau. Robert, a clerk at a grocery store, embarks upon a winter romance with his neighbor Mary, played by Ellen Burstyn. Though Robert is a little unsmooth, his attempts at being romantic with Mary are sweet and a testament to Fackler's ability to write a true and believable love affair, even between characters old enough to be his grandparents.
However, the film shifts gears about halfway through when it is revealed that Robert and Mary have not just met but are in fact married and even have two adult children together. It is also revealed that Robert has a rare disease that causes him to forget his family entirely, that he only thinks he has just met Mary and that it's unlikely his memory of her will stick.
Fackler pulls off this potentially jarring transition through the thoughtful consistency of the world he creates in his script. When the big twist occurs, it does not seem out of place but instead enriches the previous scenes. During Robert and Mary's first date, when they make a pact "to never give up," we assume they merely mean to never give up on the prospect of love. But after Robert's secret is revealed, this pact gains an emotional depth as we learn its true meaning: that Mary will never give up on Robert, even if he never remembers her.
Robert Glaudini
'Jack Goes Boating'
"Jack Goes Boating" is the first feature screenplay by Robert Glaudini, the veteran New York playwright, who adapted it from his 2007 play of the same name. While the film has been hailed for its solid performances, perhaps its greatest strength lies in Glaudini's web of complex relationships and the themes they embody.
Glaudini creates an opposition between two distinct couples: Jack and Connie, and Clyde and Lucy. The former—played by the film's director, Philip Seymour Hoffman, and Amy Ryan—are by far the more quirky and neurotic. Jack, a lonely, aging limo driver with little to no reason to be optimistic about life, has anachronistic dreadlocks, listens to reggae, and describes himself as a "positive person," despite his ever-present droll expression. He embarks on a relationship with the equally eccentric Connie, a nervous funeral-parlor telemarketer. Husband and wife Clyde and Lucy seem to have it all together.
Glaudini uses their interactions to comment upon one of the film's major themes: the importance of our illusions. Throughout the film, Jack is instructed by Clyde—who is teaching Jack to swim so Jack can go boating with Connie—to "visualize" accomplishing his goal. This concept of visualization, or using illusory images as a means of realizing goals, is manifest in the relationship between the two couples, as Lucy and Clyde—the seemingly happily married couple—become Jack's visualization of romantic bliss.
Jack's final decision to transcend his illusions and his unwarranted optimism, to be brave enough to try for something even if it could end in proving that all of his optimism was delusion all along, is the crux and culmination of the excellent script. Glaudini's bravery in pursuing his vision has yielded something truly special.
Dana Adam Shapiro and Evan M. Wiener
'Monogamy'
Most films are content to show a great couple dealing with contrived obstacles on their way to happily ever after. With "Monogamy," their first produced feature screenplay, Dana Adam Shapiro and Evan M. Wiener set out to accomplish something a little different.
Theo (Chris Messina) and Nat (Rashida Jones) are not a great couple. They're a staggeringly average couple, one who have been together for a few years and know all the steps they're supposed to take next. But do they want to take those steps? Is this the best they can do? And really, who wants to ask these questions when you have someone at home with whom you can complain about your day and share a bed? Some would say not to look a gift horse in the mouth, but Shapiro and Wiener ask whether it's enough just to have a gift horse, or should we work to find the best gift horse for us.
Having also directed the 2005 documentary "Murderball," Shapiro shows that he has an equally assured hand when directing narrative. And though he and Wiener definitely deserve credit for crafting a piece in which characters act and speak completely naturally without becoming indulgent, the end of the film bears an extra treat for the viewer. In the film's last scene, Nat sings a song she wrote for Theo. It's a beautiful song in its own right—one that Shapiro wrote as part of his band, Bummer and Lazarus—a beautiful moment for Jones to play, and a beautiful moment in the story.