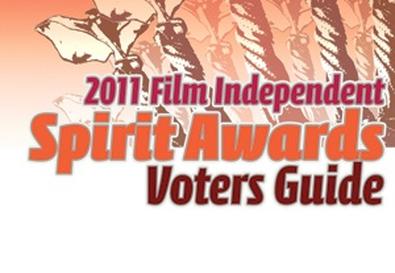 Best Documentary
"Exit Through the Gift Shop"

It's hard to know whether street artist Banksy's feature documentary is what it claims to be—a doc about an obsessive man who falls in love with the world of street art (where artists place their work in public, risking arrest for vandalism), fashioning himself as the most financially successful street artist in history—or is Banksy's best prank to date.
The film follows the life of buffoonish French expatriate Thierry Guetta, a happy-go-lucky proprietor of an overpriced hipster-wear store in West Hollywood with the curious habit of videotaping everything that happens to him. Guetta persuades his cousin, a street artist known as Space Invader, to become the subject of a "documentary," which leads Guetta to other street artists like Obama icon-maker Shepard Fairey and ultimately to the white whale of street artists: the ultra-secretive Banksy (interviewed in silhouette, of course). After allowing his adventures to be filmed, Banksy sees Guetta's documentary, only to realize that Guetta's filmmaking talents don't necessarily meet his enthusiasm. So Banksy takes over Guetta's footage, ultimately turning the camera and focus entirely on Guetta as he transforms into the artist known as "Mr. Brainwash," but only by hiring other people to create his body of work.
Banksy's doc forces the viewer to think about the art world the way he does: an elitist con job on the upper class where talent is ignored and mediocrity celebrated. "Exit Through the Gift Shop" is one of the most memorable and dynamic documentaries to come along in years, forcing the audience to think about art and art-making in ways similar to Orson Welles' last completed film, the whimsical art forgery yarn "F for Fake." In the end, it doesn't matter whether Guetta was part of an elaborate hoax or was the real thing. All that matters is that we all buy his work.

"Marwencol"
Like any great detective, Jeff Malmberg's "Marwencol" digs down into its story carefully and slowly so as not to disturb any of the evidence. Shot over four years, the movie concerns troubled Mark Hogancamp, an alcoholic artist in New Jersey who was savagely beaten and whose brain was so badly damaged that he had to relearn every basic life skill, including walking and talking. With shaky hands rendering him unable to draw, Hogancamp began constructing model buildings and populating them with dolls, ultimately creating the fictional Belgian World War II–era city of Marwencol. This town and its many stories became his therapy and the only way he could really look at his life. Patterning the characters of Marwencol after people in his own world, Hogancamp began setting up scenarios and taking still photographs to chronicle the lives of the people in his fictional town.
The documentary is told in a straightforward, honest style in which Hogancamp's friends and acquaintances speak frankly—often brandishing the dolls meant to represent them— about Hogancamp and his obsession. Not everyone is enchanted by the town. One woman, a married neighbor of Hogancamp, recalls him telling her that she and he were to be married in Marwencol, much to her distress. When she voiced her antipathy for the idea, her character was destroyed in Hogancamp's elaborate scenario by a witch character of his creation.
As the film unwinds, the art world hears about Hogancamp, the fictional town, and the tens of thousands of photographs, and arrangements are made to create an art show centered on Marwencol. But Hogancamp has a hard time opening up his personal therapy to a world where it can be judged. In that world lie long-buried secrets, including the story behind the beating that changed his life.
"Restrepo"
Few, if any, films have illuminated the sacrifices of our fighting forces in Iraq and Afghanistan more poignantly and less politically than "Restrepo." To create the fly-on-the-wall documentary that drops the viewer right onto the front line of battle, filmmakers Tim Hetherington and Sebastian Junger spent a year embedded with a platoon in Afghanistan's
Korengal Valley, considered one of the most dangerous fronts in the war. The 15 soldiers who lived, fought, bonded, and in some cases died there over the course of one year create a compelling portrait of the real day-to-day struggle to stay alive and sane in a war zone, cut off from the outside world.
The film takes the name "Restrepo" from the soldiers' nickname for their rocky mountainside outpost the group built by hand, named after a medic from the platoon who was killed in battle. Through Hetherington and Junger's unflinching lens, the viewer sees exactly what the soldiers see, including firefights with Taliban-backed insurgents and the inevitable emotional breakdowns that happen when someone in the platoon makes the ultimate sacrifice.
The film is neither pro-war nor anti-war and is equally ambivalent about Afghanistan in particular. It effectively chronicles the lives of 15 young men doing their best to do their job and stay alive under the most extreme circumstances imaginable.
"Sweetgrass"

Occasionally, a documentary transcends the trappings of straightforward storytelling, feeling more like art than reportage. Shot by co-directors Ilisa Barbash and Lucien Castaing-Taylor in 2003, "Sweetgrass" achieves this kind of cinematic alchemy by showing a group of shepherds walking hundreds of sheep through Montana's picturesque Beartooth Mountains without any accompanying information, interviews, or re-enactments to tell the audience what to think.
"Sweetgrass" moves at the deliberate pace of real life, allowing the viewer to feel the experience of the 150-mile trek through dense forests and over mountains, under the constant watchful eyes of the cowboys who have made a life of this unusual kind of shepherding. Often, shots linger for more than a minute as more sheep than can be counted rush through a city street or a wooded ravine. Although the men and women who made this yearly journey are far from verbal, when they talk they tell us a great deal about their lives and priorities. One makes a joke about how a cowboy's brain is never used; another debates the comparative risks of bears and wolverines.
In the most emotional passage of the movie, one cowboy complains on a cell phone to his mother about how miserable he is making this trek, how his knee hurts, his horse is too skinny, and his sheepdog won't do its job—and there's genuine misery in his voice as he looks over a surreal valley full of sheep. With simple yet lush cinematography and almost mysterious storytelling, "Sweetgrass" is a vibrant tone poem that functions much like memory, transporting the viewer to a place that is at once common and unimaginably beautiful.
"Thunder Soul"
Brimming with music and hope, "Thunder Soul" feels a little like a real-world "Mr. Holland's Opus," with a healthy dose of funk. Focused on the Houston-based Kashmere High School stage band of the early 1970s, director Mark Landsman's film chronicles "Prof" Conrad O. Johnson, the legendary bandleader who saw potential in his mostly
lower-income black students of rural Texas, and who used music as a tool to let them know that they could accomplish anything if they worked hard enough. And as clichéd as that sounds, it worked: Johnson mentored a generation of burgeoning musicians to reach for something special, and together they found it.
At the time, high school stage bands were mostly-white ensembles playing stodgy jazz arrangements from the 1940s, but Johnson, an accomplished musician in his own right, saw potential in infusing those arrangements with contemporary funk music and combining that fresh sound with solid showmanship to make his band the most successful of its time. Kashmere cut albums and traveled the world, earning fame for the school and inspiring the rest of the students to achieve more in athletics, drama, and academics.
The movie is framed around a reunion of the original Kashmere Stage Band, whose members came together 35 years later to honor their ailing 92-year-old mentor with a reunion show. The film juxtaposes eye-popping archival imagery of the Kashmere band performing in the 1970s and those kids all grown up, some of them still performing, busting their humps to get back into the groove they blithely created in their youth. While touching and well made, the movie cuts deeper into the history of race relations, the meaning of family, and how empowerment can help troubled kids find their way in the world.
Best Foreign Film
"Kisses"
The image of Ireland most often proffered by fiction and films is one blossoming with castles, leprechauns, and an overabundance of green. Such classical images, however, are the antithesis of the refreshing (if very dark) approach taken by Lance Daly in "Kisses."
The plot is as simple as it is harsh: Two young friends from a bad part of Dublin spend an
antics-filled night exploring the city, hoping to escape the abuse and poverty in which they live. Despite the young age of the children, played by actors Kelly O'Neill and Shane Curry, the acting is impeccably superb. There is no shortage of difficult material in the film, yet both of these actors tackle it with aplomb, proving that what they lack in years they more than make up for in talent.
The cinematography is nearly as important to the story's development as the performances. The bleak harshness the children inhabit is played out through the lens with a documentarylike realism. This is coupled with a particularly striking and effective use of coloring that finds the gritty and dark scenes in the children's home depicted with monochromatic shades, while the comparable magic of Dublin is lit with color, and promise. The effect is not showy, however, and merely serves as a direct window into how the children view their own lives, and what drives them away from home and toward the salvation their friendship offers.
Despite its title, "Kisses" does not harbor much in the way of love and affection in its choice of material or style. However, it is precisely this hardness that makes the children's loyalty to each other infinitely more beautiful and precious. At times difficult to watch, the film is highly effective in showing the bitter challenges of working-class life in Dublin, and the "kisses" that make survival worthwhile.
"The King's Speech"

You might wonder what a period piece about British royalty is doing on the list of Spirit Award nominees, which usually feature gritty contemporary dramas about everyday people. Yet Tom Hooper's "The King's Speech" goes beyond historical re-creation to focus on the relationships of the characters. The Duke of York (Colin Firth) struggles to overcome a tremendous stammer with the help of Lionel Logue (Geoffrey Rush), an unorthodox Australian speech therapist. After the death of King George V, the duke's brother becomes king but abdicates the throne to marry an American divorcee. As the duke becomes King George VI, he must find his voice to build the morale of his country as it faces war with Germany. Firth delivers a stunning performance as the duke, masterfully re-creating the royal's speech defect and chronicling the painstaking journey to conquer it.
David Seidler's script, which began as a stage play, emphasizes the connection between the duke and Logue. As Rush told Back Stage,
"[W]e felt that trajectory was such a dramatic gift: two people from polar extremes—culturally, by class and geography—having them come together through a kind of cultural gulf which is kind of interesting. The Duke of York came from a family ruled by a lot of history and protocol, and Lionel Logue [was] the son of a brewer from what would have been a very small city in Australia then, Adelaide. The fact that Lionel's techniques were avant-garde for the time, clashing that kind of egalitarian Australian energy up against that formality of the royal family, we wanted the audience to ride that with a great deal of credibility and hopefully find a certain fascination in how these two men came together."
"Mademoiselle Chambon"
Not unlike "The Bridges of Madison County" or even "Brief Encounter," the French film "Mademoiselle Chambon" recounts a sad, adulterous affair in which there are no villains. Set in a rural community some distance from Paris, "Mademoiselle Chambon" tells of two lost, lonely souls who find an unlikely connection. Jean (Vincent Lindon) is a hard-working contractor and dutiful husband, father, and son. When his wife (Aure Atika) injures her back at her factory job, Jean is called upon to pick up their son at his elementary school, where he meets the child's teacher, Véronique Chambon (Sandrine Kiberlain). Theirs is an immediate but quiet attraction.
They continue to see each other in seemingly casual contexts. At one point, he asks her to play an instrument. He is moved by the music, her playing, her life. She is clearly a gifted artist yet makes her living as a kind of floating teacher, moving from city to city almost yearly. She is unattached and totally rootless. The affair is not consummated early on, but the bond between the two is intense with virtually no physical contact. So is the ache, especially when Jean's wife tells him she's pregnant. Perhaps not coincidentally, Lindon and Kiberlain were married in real life for many years, though they are now separated.
The film was inspired by the Eric Holder novel of the same name and directed by Stéphane Brizé, who also co-authored the screenplay with Florence Vignon. There is little action and the dialogue is sparse, but the film is layered in its portrayal of ordinary people whose lives take an unexpected turn.
"Of Gods and Men"
French writer-director Xavier Beauvois' film "Of Gods and Men" centers on the true story of a group of Trappist monks in Algeria during the 1990s. The film portrays their convivial relations with a peaceful Muslim community and tensions with a roving militant band of extremists who threaten the monastery and the town. The monks struggle to decide whether to stay and help the community, risking violence at the hands of the extremists, or to return to France. In real life, the monks ultimately decided to stay and, in a still-unclear event, seven of them were beheaded. The gruesome story rocked the French media in 1996 and brought the vestiges of France's colonialism back into the headlines.
"Of Gods and Men" again brings France's history of imperialism to the forefront, as ethnic tensions in the country have been on the rise. Though the film won the Grand Prix at the 2010 Cannes Film Festival, it stoked controversy in France and Algeria. But despite the controversial nature of the film, "Of Gods and Men" is a pensive rumination on faith, truth, and justice. It addresses deep ethical issues without being overly preachy, and delivers a seemingly balanced view on the buildup to the horrific murders. The film beautifully portrays the simplicity of the monks' life, and their emotionally stirring daily chants are the only soundtrack to this stark and satisfying film. In a world where cultures, ideologies, and religions overlap more than ever, "Of Gods and Men" explores whether peace and understanding are possible.
"Uncle Boonmee Who Can Recall His Past Lives"
Perhaps Sukhdev Sandhu of The Daily Telegraph described it best in his five-star review of "Uncle Boonmee Who Can Recall His Past Lives," noting, "It's barely a film; more a floating world. To watch it is to feel many things—balmed, seduced, amused, mystified." The jury at the 2010 Cannes Film Festival agreed, awarding the Thai film from Apichatpong Weerasethakul its top honor, the Palme d'Or.
Based on a book available only in Buddhist institutions in Thailand, the film tells the story of Uncle Boonmee, who knows he has less than two days left to live. He opts to return home to die, surrounded by those he loves. These just happen to include the ghost of his late wife and his long-lost son, who appears as a man-ape creature after mating with a creature known as a "monkey ghost." (To which Boonmee can only ask, "Why did you grow your hair so long?") Soon, Boonmee is reflecting on all of his past lives and has the urge to journey into the awaiting jungle. What happens next is a strange, lyrical journey that is also oddly accessible.
Weerasethakul is a highly regarded filmmaker—known for making visually striking, daring films such as "Tropical Malady" and "Blissfully Yours." In his films, "Uncle Boonmee" included, he has dared to tackle such topics as philosophy, reincarnation, and homosexuality. He often uses allegory and offbeat storytelling; one notable sequence in "Uncle Boonmee" details an erotic relationship between a disfigured princess and a catfish. Suffice to say, the result is a complete original, often bordering on poetry.
John Cassavetes Award
The John Cassavetes Award recognizes the best feature made for less than $500,000; the award is given to the writer, director, and producer.

'Daddy Longlegs'
Why did the filmmakers title this film "Daddy Longlegs"? It's probably because "Despicable Me" was already taken. Writer-directors Joshua Safdie and Ben Safdie have given us one of the most repulsive characters onscreen this year. He is divorced dad Lenny, played to odious perfection by Ronald Bronstein. Surrounded by his free-spirited young sons, an improbably tolerant—or senseless—girlfriend, an infuriated ex-wife, and the whole of New York City, Lenny tries to make the most of his two weeks with his boys. Meanwhile, we watch this wild ride careen perilously close to cliff after cliff.
Bronstein is a fresh find, a first-time actor but an award-winning writer-director of indie films. He is well-paired with young first-time actors Sage Ranaldo and Frey Ranaldo, unself-conscious and wonderfully energized as his sons. Eleonore Hendricks and Alex Kalman cast the film, filling the screen with additional brave choices—including, in Hendricks' case, herself as Lenny's girlfriend.
The filmmakers don't force close-ups on us; instead, they draw back and sometimes almost out of view of the scene, making us do the looking. For the scene in which Lenny sends the kids out alone to a market blocks away (at one point the film was titled "Go Get Some Rosemary"), "Daddy Longlegs" stuns viewers out of our black-and-white judgments. Lenny is remarkably tolerant of others, occasionally remaining disarmingly peaceable in the face of degradation, even more occasionally giving his fellow humans their respectful due.
Lenny also might not be the world's worst parent. Taking the boys to the museum, he encourages each to come up with one thoughtful comment on a piece of art. It takes a very independent thinker to completely tolerate this character—and very independent filmmakers to turn him into a modern hero.
'The Exploding Girl'
To say that "The Exploding Girl" is a quiet film would be an understatement. Long stretches pass without so much as a peep of dialogue, and even in the talkiest moments, voices never rise above the level of polite conversation. But in this contemplative character study from writer-director Bradley Rust Gray, it's the nonverbal cues—a lingering gaze, a subdued smile, the blank expression that washes over the film's epileptic protagonist as her condition takes control—that propel the modest but affecting story.
Ivy (Zoe Kazan) is a 20-year-old college student back home in New York City for spring break along with longtime chum Al (Mark Rendall). It's clear from the start that Al would like to move beyond "just friends," but Ivy is preoccupied with college beau Greg (Franklin Pipp), a disembodied presence whom we get to know only through his perfunctory phone conversations with Ivy. As Greg holds her at a distance, Ivy's concern about their relationship manifests itself in worsening symptoms of her epilepsy. But the caring Al, who ends up crashing with Ivy and her mother due to odd circumstances at his parents' house, is there to watch over her, and their friendship deepens.
Shooting largely in a vérité style, Gray employs a naturalism that's mirrored by the performances of Kazan and Rendall. The director exercises restraint when Ivy suffers a full-blown seizure, a scene that could easily be played for sensationalistic effect. Instead, we're afforded only an obscured, partial view of the episode, as Al tends to Ivy while she rides out the electrical storm in her brain. The effect is of eavesdropping on an extremely private moment. And it's in such intimate moments that this quiet film speaks the loudest.

'Lbs.'
"Lbs." is an understated, semiautobiographical rite-of-passage film co-written by and starring Carmine Famiglietti. Helmed by Matthew Bonifacio, who co-wrote the script and is making his feature-film debut, it recounts the troubled life of massively overweight Neil Perota (Famiglietti), still living at home in Brooklyn with his blue-collar Italian-American family. They are loving, but not helpful. After suffering a heart attack two days prior to the wedding of his sister (Sharon Angela), Neil realizes for the first time how precarious his physical and emotional health are. His brother-in-law's (Lou Martini Jr.) abuse and his smooth buddy (Michael Aronov), who is a magnet to all the girls Neil is hopelessly attracted to, only make matters worse, and Neil is determined to do something about it.
He unceremoniously moves upstate and rents a run-down trailer in the middle of nowhere, convinced that if he removes himself from his overbearing clan, pals, and neighborhood culinary temptations, he will be able to beat his food addiction. During his self-imposed exile, he encounters a local girl (Miriam Shor) with whom he has his first sexual experience. He falls in love but is ultimately dumped by her. The bleak, icy landscape serves as a vivid backdrop to Neil's demon-filled struggles.
But in the end he triumphs. He has lost a great deal of weight and, more important, matured. But it's not a bells-and-whistles kind of victory. It's tempered, low-key, and measured. Credit must be given to Bonifacio for his nuanced direction and the very real performances he elicits from his actors, all of whom could easily have fallen into ethnic stereotypes. Equally important, in less skillful hands, "Lbs." might have been nothing more than a dramatization of self-help rehab cant rather than a sad and haunting story. Watching Neil stuff himself in the early scenes is memorable, as the film dramatizes the desperation and profound loneliness underlying gluttony. Observing his heart attack is terrifying, as is the scene in the hospital where he is hooked up to tubes and I.V. solutions. It's a depiction of medical trauma, for sure, but also of existential dread.
'Lovers of Hate'
Writer-director Bryan Poyser spends his days as the director of artist services for the Austin Film Society, and part of his job is coordinating the yearly trip to Park City, Utah, for the Sundance Film Festival. On one of those trips, he found himself alone in the vast house of an AFS director and started beating out a story that could play out in that one location with minimal exceptions. "The fewer locations the better, obviously, and a small cast helps as well," said Poyser. "I wanted to tell a compelling story using the few resources I knew I had, and a love triangle is always compelling!"
"Lovers of Hate" is the story of two brothers, Rudy (Chris Doubek) and Paul (Alex Karpovsky), and the woman they love, Diana (Heather Kafka). Paul is a successful author, while Rudy isn't a successful anything. Paul offers to help Rudy with his novel, but Rudy rejects the offer, then immediately drives to Paul's house in Park City to take him up on it. Only, lo and behold, Diana is there with Paul, which would be awkward even if Rudy didn't choose to stick around and "haunt" the couple. But he does. And it's cringe-inducingly awkward.
In casting "Lovers of Hate," Poyser went after actors he personally knew and wanted to showcase. Because he was already familiar with Doubek, Karpovsky, and Kafka, he chose to focus on building a rapport among them by playing theater games, rather than running through the script over and over again. This approach paid off, as the actors were reportedly supremely comfortable with one another on set, enabling Poyser to shoot quickly and stay on budget and schedule.
The term "mumblecore" gets thrown around a lot, but it refers to a group of filmmakers who collaborate to make modest, truthful films with little money or resources—in short, exactly the type of film with which John Cassavetes would want his name associated.
'Obselidia'

Diane Bell's directorial debut, "Obselidia," asks audiences to question their preconceptions about what society deems anachronistic. This charming film centers on the brainy but reclusive George (Michael Piccirilli), who is obsessed with old, out-of-date technology, so much so that he is working on an encyclopedia of obsolete things, an "obselidia." In his research, he interviews film projectionist Sophie (Gaynor Howe). While he tries to remain distant, the two form a friendship that finally forces the nostalgic, past-obsessed George to live in the present.
Though it's packed with weighty reflections on love, progress, and modernity, "Obselidia" also features the quirky humor we've come to love and expect from independent film. In one scene, shortly after visiting a self-exiled, doomsday-obsessed scientist in Death Valley, George finds a pogo stick and very clumsily hops along the desert floor. Even in the midst of the film's very serious considerations, we're reminded to laugh.
Bell's ultimate thesis is that nothing can be obsolete as long as it is loved. This theme opens George to falling in love and living in the moment, but it also pertains to independent film. Although super-low-budget films like "Obselidia" can't offer us all that money can buy, there is still a lot to love, and that makes it all worth it.

PIAGET PRODUCERS AWARDThe Piaget Producers Award honors emerging producers who, despite highly limited resources, demonstrate the creativity, tenacity, and vision required to produce quality, independent ?lms. The award includes a $25,000 unrestricted grant funded by Piaget.
In-Ah Lee
"Au Revoir Taipei"
In-Ah Lee's work as producer on Arvin Chen's directorial debut, "Au Revoir Taipei," is a prime example of an independent producer's common challenge to reconcile the seemingly irreconcilable. And in bringing to life the film's complicated script, with its large cast and vast array of urban shooting locations, accomplishing everything for a little over a million bucks, Lee follows in the footsteps of some of independent film's most creative execs, creating a product that is stunning to behold.
The film is a romantic comedy/crime film about Kai, a young man who has taken up with a retiring crime lord to afford a trip to Paris to win back the affection of his girlfriend. However, when Kai's first mission goes awry, he finds himself running through the streets of Taipei with Susie, a clerk at the bookstore where Kai has been teaching himself French. Kai ends up finding a new love in Susie and reconnecting with an old love: his hometown of Taipei.
Critical to the film is the city in which it's set. The film's script takes its romantic leads and bumbling pseudo-gangsters from one breathtaking vista to the next, highlighting the beauty of Taipei's urban landscape. However, though it's easy to get caught up in the fast-paced narrative and take for granted the film's scenery, from a producer's perspective the film represents a serious challenge. With nearly as many shooting locations as scenes, Lee's ability to navigate the multitude of challenges present in shooting on location at so many different spots around bustling Taipei represents the ingenuity of independent filmmaking at its best.
Adele Romanski
"The Myth of the American Sleepover"
Adele Romanski and David Robert Mitchell dreamed big. They had a script, they had loyal friends who wanted to help make a movie, and they had a plan for how to spend the $1.5 million they were going to raise for a budget. Then they had another plan for how to spend a little less. Then, a little less.
Romanski got her BFA from the Florida State University Film School. Like so many film graduates, she soon discovered the curriculum had been sorely lacking in classes such as "How to Structure an LLC," and undertook a crash course in writing a business plan. She founded Roman Spring Pictures out of her Brooklyn apartment. And of course, every penny had to pay three pennies' worth. Weekly meetings were held at Caribou Coffee, with its consistently free Wi-Fi. Preproduction saw a menu that rarely consisted of more than oatmeal, PB&J, and tuna. Even the drive from Los Angeles to Detroit to begin production saw Romanski and Mitchell sleeping in hotel parking lots, not hotel beds. Yep, moviemaking sure is a glamorous business.
For 2010, Romanski produced "The Myth of the American Sleepover," which Mitchell wrote and directed, and "The Freebie," directed by Katie Aselton. "Sleepover" is an ensemble piece about kids making the transition from middle school to high school—that precarious moment when it's no longer okay for your friend of the opposite sex to stay over. Innocence has begun its swan song. It's a special time that often gets lost amid the easy gags of a gross-out sex comedy, but Romanski and Mitchell keep their sight true and never take the easy gag. They dreamed big, even if they were sleeping in a Wrangler.
Anish Savjani
"Meek's Cutoff"
In the evolving world of mumblecore cinema, the name Anish Savjani might not spring to mind quite as quickly as Joe Swanberg or Aaron Katz—but without his work as a producer, mumblecore certainly wouldn't have evolved as quickly as it has.
Savjani cut his teeth as a DGA trainee, working under Scott Rudin on the 2005 remake of "The Manchurian Candidate." Later that year, Savjani founded Filmscience, his Austin, Texas-based production company. In the years since, Savjani and Filmscience have served as either producer or executive producer on nine feature films, including Kelly Reichardt's previous two features, "Old Joy" and "Wendy and Lucy."
This year, Savjani produced Reichardt's pioneer drama "Meek's Cutoff." The film follows a wagon train of settlers traveling across Oregon's Cascade Mountains in 1845. They've hired Stephen Meek (Bruce Greenwood) as their guide—a man with a bushy beard and no shortage of tall tales. As supplies dwindle, the settlers begin to question whether Meek is leading them to their destination or their deaths. Low-key and disquieting, the film features terrific performances from Michelle Williams, Zoe Kazan and Paul Dano.
Savjani raises the funds to make his films and works with sites such as iTunes and bside.com to further evolve the online distribution model. He says, "We're not in the feature film business, we're in the content business." As long as people like Savjani are out there making sure quality content gets made and seen, independent cinema is in good hands.
AVEENO TRUER THAN FICTION AWARD

The Aveeno Truer Than Fiction Award is presented to an emerging director of non?ction features who has not yet received signifcant recognition. The award includes a $25,000 unrestricted grant funded by Aveeno.
Ilisa Barbash, Lucien Castaing-Taylor
"Sweetgrass"
It is said the difference between narrative and documentary film is that in a narrative you're creating a story, whereas in a documentary you're following a story. Though there are clear examples that this is becoming less the case ("Exit Through the Gift Shop" and "Catfish" spring to mind), Ilisa Barbash and Lucien Castaing-Taylor's documentary film "Sweetgrass" falls proudly into that idea.
In 2003, John Ahorn and Pat Connelly led 3,000 sheep on a months-long journey, covering 150 miles through Montana's Absaroka-Beartooth mountains for summer pasture. It was the last time this drive would happen, ending a tradition long held by herders of Norwegian descent. Barbash and Castaing-Taylor wisely let the story tell itself, forsaking even narration so that the audience can more fully experience the drive with those who have lived it for so long. Ahorn and Connelly are allowed to be themselves, with no rush to establish one or the other as a character type. They're just men doing a job that many men before them have done. The places they go, they've been before, but that doesn't make them any less dangerous.
"Sweetgrass" is an elegy. Were it not for this film, many would live their lives never knowing of this tradition, but its passing is still something to be mourned. Amid the constant rush for progress, it is imperative that we take time to appreciate how we got here, for the past will always continue to inform our present and future. It's as true in filmmaking as it is in sheepherding.

Jeff Malmberg
"Marwencol"
The idea of art as therapy is nothing new, but rarely has it been brought to such vivid, unique life as in "Marwencol," the fascinating and unnerving documentary by Jeff Malmberg. In 2000, Mark Hogancamp was beaten so severely by five men that he lapsed into a coma for nine days. He emerged with memory loss and the loss of motor skills, and needed to relearn how to speak, walk, and write. Before long, he found himself unable to afford physical therapy without insurance. So he turned to one of his childhood hobbies, building models, to help. The result is Marwencol, a World War II–era Belgian town built to one-sixth scale in his back yard. He created an entire world, staging and photographing scenes of his own creation. Eventually, photos of the village went on exhibit, becoming "everyone's therapy."
Malmberg introduces audiences to the people who inhabit Hogancamp's world—real and fictional—and presents a touching portrait of a life lost and regained through art. With his models, Hogancamp is able to work through the senseless tragedy that befell him. And while the film is about him and his creation, it also tells a bigger story. As Marty Mapes noted in his review on Movie Habit: "But it is also, on a deeper level, about how we process our experiences—good and bad, violent and mysterious—and how we try to build safe places in our lives. And if those safe places are inhabited by dolls, does that make them any less real?"
"Summer Pasture"
"Summer Pasture" makes vivid the rugged, nomadic lives of Tibetans inhabiting the impoverished and isolated world of China's Sichuan province. The climate is bleak and unforgiving. Living in primitive tents, the nomads contend with horrific gusts of wind and downpours and hail. Herding yaks and cows and living off the animals' milk and cheese, the nomads move across the terrain, starting each day by drying and spreading manure, which serves as fuel.
Devoid of overt political commentary—specifically, China's oppression of the Tibetans—the documentary zeroes in on one family (a mother, father, and infant), chronicling its existence over one unkind summer, even as the modern world encroaches. The nomads travel into villages to buy expensive supplies at street bazaars, attempting to bargain down the prices, while grappling with almost insurmountable language problems. Still, they drink bottled water and use Johnson's powder when diapering their infant. They talk about their visits to doctors and dentists. Most striking, they own binoculars, a cassette player, and a kitschy clock. Filmmakers Lynn True Nelson Walker and Tsering Perlo capture the stunning incongruity.
Most extraordinary perhaps is how comfortable the couple, Yama and Locho, seems in the presence of the camera, offering information about their lives with little self-consciousness. They worry about their daughter, hope they can have more kids (the government allows each family three children), and describe their respective roles. Still, looking into the future, they anticipate, almost matter-of-factly, the demise of their nomadic lives. They expect to send their daughter to school and see themselves living in town, owning a car and tractor. It's a frank, fascinating look into the lives of others.

Robert Altman Award
The Robert Altman Award is given to one Film's director, casting director, and ensemble cast.
"Please Give"
Director: Nicole Holofcener
Casting director: Jeanne McCarthy
Ensemble cast: Ann Guilbert, Rebecca Hall, Catherine Keener, Amanda Peet, Oliver Platt,
Lois Smith, Sarah Steele
Nicole Holofcener's character-driven drama "Please Give" is the epitome of an ensemble piece. Each of the stellar actors in this film gets a chance to shine, using nuances to create their characters as they deal with their particular moral dilemmas.
Catherine Keener teams up with Holofcener for the fourth time, after previously starring in "Walking and Talking," "Lovely and Amazing," and "Friends With Money." Keener plays the kindhearted but misguided Kate, who, along with her jolly husband, Alex (Oliver Platt), owns a furniture store that sells overpriced merchandise Kate buys cheaply off the surviving relatives of dead people. Kate struggles with a guilty conscience over the nature of her work and seeks to make amends by giving money to beggars on the street and doing charity work, much to the chagrin of her pubescent daughter Abby (Sarah Steele), who receives no such charity. Kate and Alex meet Rebecca (Rebecca Hall), the granddaughter and caregiver of their aging neighbor Andra (Ann Guilbert), whose apartment they will acquire once she passes. They develop a bond with the sweet Rebecca and with the crabby Andra, whose unpleasant remarks make for the more humorous moments in the film. Rebecca's self-centered and stylish sister Mary (Amanda Peet) takes every opportunity to rudely cut down her ailing grandmother but is still able to win the attention of Abby and Alex, particularly Alex.
Along with casting director Jeanne McCarthy, Holofcener assembled a team of skilled actors to breathe life into these complex, conflicted characters. In return, because of the slice-of-life nature of the work, the performances in "Please Give" leave the audience with voyeuristic satisfaction.
Acura Someone to Watch AwardThe Acura Someone to Watch Award recognizes a talented ?lmmaker of singular vision who has not yet received appropriate recognition. The award includes a $25,000 unrestricted grant funded by Acura.
Hossein Keshavarz
"Dog Sweat"
Someone once said that the moment to tell someone you love them is when you can no longer not tell them. One could suspect that a similar urge drove Hossein Keshavarz to direct and co-write "Dog Sweat."
Shot clandestinely in Tehran, "Dog Sweat" follows eight characters as they try to lead lives not condoned by the totalitarian government of Iran. A woman records a pop song and wants to release it, but women aren't allowed to be musicians in Iran. Her mother arranges for her to marry a man who is gay and trying desperately to hide his relationship with another man. A young woman tries to speak about female sexuality. A young couple scour the city for a quiet place to have sex. And another bunch of young people work to keep the party going with bootleg liquor and smuggled drugs.
The film is a celebration of people going against the grain by being themselves, but it is also an act of rebellion. With the recent news that Iranian filmmaker Jafar Panahi has been imprisoned for six years and banned from directing for 20, it becomes even more impressive that Keshavarz was able to find so many to join him in such a daring endeavor. Storytellers often feel as if their story ideas become the tail that wags the dog, but few have to worry about being put down because their tail is wagging. It would seem "Dog Sweat" was a story that Keshavarz could no longer not tell. Bold new voices must always be fostered in art, but it's his passion and determination that make him a nominee for this award.

Laurel Nakadate
"The Wolf Knife"
Some filmmakers go to film school. Some filmmakers stay home and max out their credit cards in bringing their visions to narrative life. And some filmmakers get an MFA in photography from Yale, do a few video installations in New York City, and have the Grand Arts Gallery of Kansas City offer to fund a video project that ends up being their first feature film. And that's Laurel Nakadate.
Her first film, "Stay the Same Never Change," played Sundance in 2009. On her way home, she was bumped from her flight and given a voucher for future trips. When it came time to shoot her second film, "The Wolf Knife"—the story of two teenage girls traveling from Hollywood, Fla., to Tennessee so one can visit the older man with whom she has been corresponding online—Nakadate used that voucher to bring her two lead actors to Florida. Her camera was borrowed, her lighting is natural, and many of her actors were nonprofessional—when they were actors at all, and not just people who happened to be in the place she was shooting. But none of this is a hindrance, because Nakadate knows a fundamental truth: Make your audience care about the story, and you can tell it in whatever way you like.
Making a movie, even one with a minuscule budget, means moving a mountain, and not many have the strength for that. Nakadate, in just two films, has shown that she possesses not just the strength to move the mountain but also the ability to stay true to her voice and tell stories she deeply cares about.
Mike Ott
"Littlerock"
Writer-director Mike Ott says he conceived "Littlerock" as a sort of "Lost in Translation" from a reverse perspective: Japanese visitors navigate the cultural divide in America rather than vice versa; a sand-blasted small town on the fringe of Los Angeles County stands in for hyper-bustling, cosmopolitan Tokyo.
Inspired by their family history, Japanese brother and sister Rintaro (Rintaro Sawamoto) and Atsuko (Atsuko Okatsuka, who shares story credit with Ott and Carl McLaughlin) are on their way to visit the World War II internment camp Manzanar in central California when their car breaks down near the high-desert burg of Littlerock. Here they are befriended by a group of slacker locals, with the sweetly amiable but odd Cory (Cory Zacharia) taking a particular interest in the visitors. Only Rintaro is able to converse directly with the siblings' new acquaintances; Atsuko speaks no English, and her words are translated for viewers only when she speaks to her brother or writes home to their father.
When Rintaro is ready to leave Littlerock in the rearview for San Francisco, Atsuko—smitten with one of the local crowd—decides to stay behind and be picked up later. Undeterred by the language barrier, she forges a bond with this strange new place and its inhabitants ("You're my only friend," Cory confides to her in a heartbreaking scene).
Ott similarly embraces his setting, with an abundance of magic-hour shots evoking a dusty, ramshackle beauty about the town and its haunting desert landscape. Meanwhile, the filmmaker layers on myriad themes of isolation: cultural, geographic, social, familial. But "Littlerock" resonates in Atsuko's journey of self-discovery in this most foreign of places, and it establishes Ott as a director and storyteller to watch.