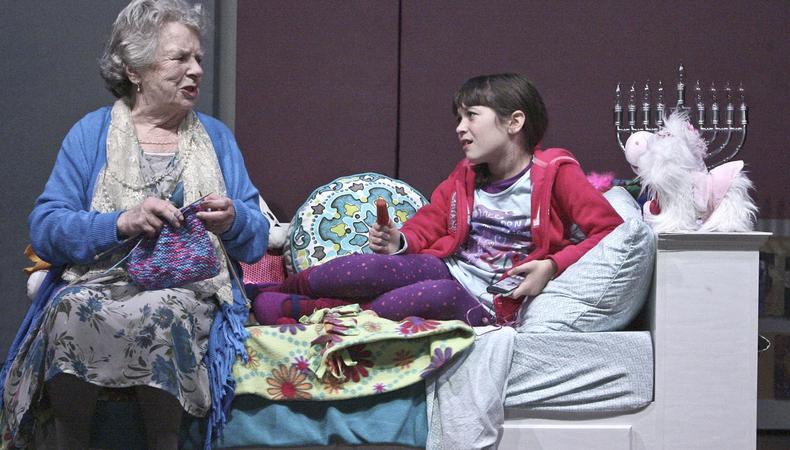 Donald Margulies has gifted Los Angeles with the best Christmas present the Pulitzer Prize–winning playwright could give with "Coney Island Christmas." Based on Grace Paley's short story "The Loudest Voice," the show has no glitz and glamour, twinkling lights, or massive revolving Christmas trees on display, just a sweetly heartwarming story with a lot to say about how life could be better through understanding and tolerance for one another. Thanks to the limitless imagination of director Bart DeLorenzo, as well as a dynamic cast stuffed full of some of the town's finest actors, this could be the biggest hit of the jam-packed holiday season. If it can melt the hardened heart and tickle the calloused funnybone of crusty old critics, leaving one ready to get the kid to go to the corner and buy the prize goose for the Cratchits' Christmas dinner, it could even become an annual event for Geffen Playhouse.
Shirley Abramowitz (Angela Paton, everybody's dream grandmother) sits on the bed of her glum granddaughter Clara (Grace Kaufman), who feels left out as her non-Jewish friends celebrate Christmas, to tell a tale of her own childhood experience cast as Jesus in her school's holiday pageant. As Shirley recalls her youth living with her immigrant parents on Coney Island, Clara's bedroom suddenly transforms into designer Takeshi Kata's quaint roller coaster–dominated boardwalk of 1935. The design aspects are intentionally simple, the school's auditorium resplendent with cardboard moons held up by the bumbling students and crudely painted backdrops for Joseph and Mary's journey to Bethlehem, picking up the Magi, Santa Claus, and even Ebenezer Scrooge along the way. All this is made more charming by the wonderfully silly kiddie-pageant costumes by frequent DeLorenzo collaborator Ann Closs-Farley.
Shirley's parents (lovingly played by Arye Gross and Annabelle Gurwitch, with Isabella Acres doing a stellar job as the spirited young Shirley) don't approve of her playing the Christian redeemer. "Sometimes I think America means amnesia," says her strictly old-world mother, who believes that there are more urgent things in life than "dressing up and pretending to be someone else." More important, Shirley's mother fears that coming to America has been a concession, that the traditions of what the Jews have been through over the centuries are being overlooked or intentionally erased by her daughter's teachers (John Sloan and Lily Holleman).
Margulies does a terrific job bringing what Shirley and her parents learn about life to fruition, aided considerably by a bang-up ensemble of game young artists appearing as Shirley's far younger classmates. The scenes of them in rehearsal, poking one another and making goofy jokes, followed by the collective stage fright they suffer during the pageant, accentuate the show's enormous heart.
If only we could bring all the warring world leaders and greedy, self-serving politicians to the Geffen this holiday to catch "Coney Island Christmas." It just might make them realize that they have been overcome by Dickens' infamous bits of undigested beef and underdone potato. Perhaps they would re-evaluate what's of primary importance in life and all just get along.
Presented by and at the Geffen Playhouse, 10886 Le Conte Ave., L.A. Nov. 28–Dec. 30. (310) 208-5454 or www.geffenplayhouse.com. Casting by Phyllis Schuringa.
Critic's Score: A