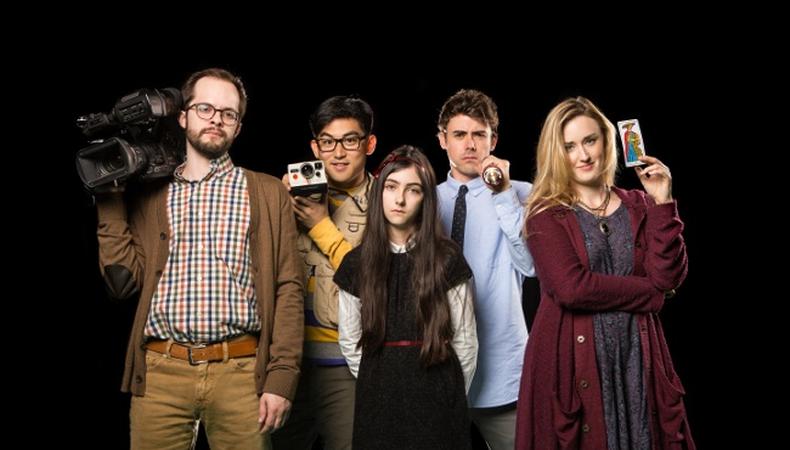 One of the best parts of having your series stream online, according to "Spooked" director Richard Martin? "There wasn't a boardroom member telling me we couldn't have a lesbian couple and their bigot father as a poltergeist in the pilot; we could tell stories that we all wanted to tell," he says.
"Spooked," Hulu's newest series—born out of a collaboration between production company Bad Hat Harry and Internet community Geek & Sundry—follows the Paranormal Investigation Team, or P.I.T., a merry band of misfits on the hunt for the paranormal. Starring Julian Curtis, Ashley Johnson, Neil Grayston, Derek Mio, and Shyloh Oostwald, the comedy series deals with death and humanity, and offsets the intensity with supernatural encounters.
"I have an interest in magical realism and ['Spooked'] was a fun way of exploring these regular human emotions in a kind of a paranormal way," says Martin, who also directed the award-winning short film "Light Years." "I also think it's easier for audiences to accept, versus being straightforward drama, drama, drama—sometimes [shows] can get written off because they're so heavy. If [characters are] having heavy conversation but there's a ghost outside, then it's OK."
For Martin and his cast and crew, one challenge of shooting the series is time and budget constraints. The team had 11 days to shoot 120 pages in two different locations. (Three of the first season's four episodes were filmed in the same house, although you wouldn't be able to tell.)
The tight turnaround for production weighed heavily on how "Spooked" was cast. Martin and casting director Steve Brooksbank looked primarily for the actors' ability to quickly apply changes to their performances after two reads. "I'll give adjustments and see if maybe they'll connect with that adjustment and find the character in that," Martin says. "Or sometimes, if I think the first take is brilliant, then I'll give 'em a complete curve ball for second adjustment, just to see if they could do it." With limited time for preproduction, rehearsals, and deep character development, it was the actors' understanding of what their director wanted that determined casting.
Martin knew the chemistry between the actors also had to be there—not just to elevate the quality of the show, but to be able to tell a convincing story in a tight frame.
"We never tried getting too wide, which was difficult, having a five-person team and then usually two [P.I.T.] clients," says Martin. "I knew some people would check Bryan's [Singer, executive producer] Twitter account and click the link and just watch it on their phone, and a master shot [from far away] on your phone is like, 'I'm not connecting to these people—I'm going to turn it off.' " It's small details like this, plus the show's spooky antics, that make the Web series so fun to watch.
When asked if he believes in ghosts, Martin says, "I do. I don't have proof otherwise, and it'd be boring if we didn't have them," he admits. "Plus, I would love to know that whenever I pass, I've still got time. Maybe I'll never see the Taj Mahal in my life, but as a ghost I could go check it out. Life's so hard and so short that I would want that possibility."
Like this story? See more of our Now Streaming articles here!