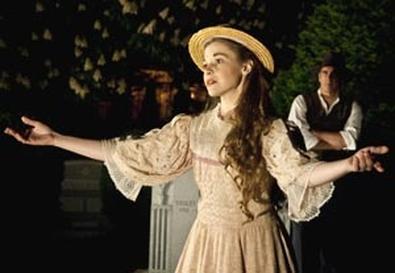 It may be hard to imagine in a world of "Jersey Shore," Dr. Phil, and Anthony Weiner, but there was a time in American life when it was considered extremely bad form to discuss or even allude to bad behavior. A pious hypocrisy ruled society, a condition Edgar Lee Masters targeted in 1915 in his "Spoon River Anthology," a collection of blank-verse "epitaphs" of the denizens of the titular fictional Illinois small town, a stand-in for one that Masters himself fled for more liberal Chicago.
In "Spoon River," the dead have a lot to say, and they don't observe the niceties in saying it, even as Masters endows them with a rough-hewn poetic eloquence. Director-adapter Tom Andolora has had the inspired idea of letting them say it in Brooklyn's splendorous Green-Wood cemetery, and if his actors' enthusiasm somewhat outshines their technique, the result is still a memorable account of this American classic.
Framed in a proscenium of towering, prodigiously leafed trees, the 11-person company gently emerges at dusk from among the strikingly designed mausoleums and ornately carved headstones of this very Victorian graveyard to descend across the rolling hills toward us. Lit by the lanterns they initially carry, some sputtering torches, and a few discreetly placed electronic instruments (kudos to designer Scott Orlesky) and dressed in period garb courtesy of the TDF Costume Collection, they assemble into groupings and begin to tell their stories.
As in the 1963 Broadway adaptation, music punctuates the evening in the form of popular songs and hymns of the era. Angelica Olstad (keyboard) and Emma Carleton and Pearl Rhein (violins) provide sensitive live accompaniment, and Jeffrey Denman has crafted discreetly appropriate musical staging and choreography. As the fragrant foliage rustles in the silky night breeze, any worries about audibility are soon set to rest, thanks both to the company's fine vocal work and Michael Eisenberg's self-effacing sound design.
Andolora effectively varies what could easily become a predictably static staging while using his blocking to underline and comment upon character interrelationships. The actors' emotional commitment to Masters' acutely observed townspeople is impressive, though Spoon River's dead are not always as well-differentiated or detailed as they could be. I was particularly taken with Susan Cohen DeStefano's elegant simplicity and lovely singing, Halina Newberry Grant's idiosyncratic energy, and Mark Lanham's authentic rusticity. Youngsters Carl Deforrest Hendin and Tabatha S. Skanes make a fine pair of thwarted lovers, and he does well by a Civil War soldier's sentimental battlefield song about his mother.
We may live in a very different world than that of Spoon River, but Masters' truths about the human condition are eternal. "The Spoon River Project" delivers them with love, care, and rich, enveloping atmosphere. To paraphrase Sally Durant Plummer, I'm so glad I went.
Presented by Green-Wood Historic Fund, in association with 22Q Entertainment, at Green-Wood Cemetery, 500 25th St., Brooklyn, N.Y. June 17–26. Wed.–Fri., 8 p.m.; Sat., 8 and 11 p.m. (Additional performance Sun., June 26, 3 p.m.) (718) 768-7300 or www.green-wood.com.