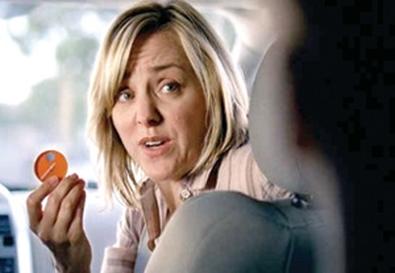 "I was told, 'This may become a regular thing,' but you never expect it. The audition was just a regular agent submission." So says Stephanie Courtney, speaking of how she got the job as Flo, the perky, quirky saleslady on the Progressive.com insurance commercials.
Geneva Carr, also known as the mom chiding her family not to waste rollover minutes on the spots for AT&T, had a similar experience: "I auditioned like a bunch of other actors did at [the casting office of] Bernie Telsey almost three years ago. I just got lucky. The funny thing about the job is we shot with a director named Frank Todaro, and they weren't really crazy about it, because they thought I was too bitchy. So the commercial was shelved for almost a year because they thought I was too kooky. Ironically, someone thought about it, and they brought it out of retirement, and it started to play. That's when things started to happen. I guess they liked it or it tested well. I've actually shot nine."
Courtney and Carr are two of just a handful of actors playing recurring characters in current commercials. In previous decades such performers were so commonplace, they became pop culture icons—remember the Maytag repairman, Mr. Whipple, Mrs. Olsen, and the "Where's the Beef?" lady? But in the current economic climate, ad agencies are making fewer commercials, running campaigns for much longer, and putting fewer actors under exclusive contracts. "When you put an actor under contract, you don't allow them to do other media or other jobs, and you have to pay them for that," explains Carr. "Companies aren't willing to do that as much anymore." One of the few exceptions is Paul Marcarelli, whose signature line is "Can you hear me now?" in the Verizon Wireless ads. So jobs are even more scarce in the traditionally volatile ad market. Given the daunting situation, how can actors find these ongoing spot gigs? Does being cast as a recurring character help your career through higher visibility or harm it because of typecasting? We spoke to a quartet of actors cast in ongoing campaigns to get their insights.
"It was an audition like any other," says Ben Weber, who appears as one of the cavemen in the Geico insurance ads. "I showed up at the audition. It was the caveman thing, and I read the copy, and I looked at some of the other guys that were there who were these sort of big, Neanderthal guys. I swear to God, I almost didn't go in. I was like, 'This is nuts; I'm totally the wrong guy for the job. I went in, and it made even less sense. But it wasn't until I met the director that I saw that this was a pretty nuanced take on what they were going to do with the cavemen. It was going to be sort of layered. One of the layers was not all the cavemen were these hulking brutes, but some of them were sensitive guys whose feelings get hurt. Right then, I thought, 'This is great,' but I didn't think it was going to become a big thing that tons of people watch."
After moving to Los Angeles from New York and getting a commercial agent at Brady, Brannon & Rich, Weber was skeptical about making it in the 30-second world: "When I first got into commercials, I thought, 'I'm never going to work. Commercials are looking for TV pitchmen, and you have to be this sort of perfect-looking guy.' That was the old school. Commercials have become quite a bit more naturalistic and realistic in terms of the people who are on television. I'm talking about noncavemen spots I've gone out for. I think that going into a commercial audition and thinking that you've got to be 'on' and have a bright smile and this cheery face is not the way to go. I don't think that's where the sensibility is these days. It's important to take it from wherever you are and bring to it as much as you can. Because it's not about trying to be something else—this sort of perfect TV personality. It's become much more real. You have guys doing whole campaigns who look like Napoleon Dynamite. They're not guys with great hair and perfect teeth. They're characters, and there seems to be a lot of room for that. I see guys go into commercial audition and they're doing vocal warm-ups and pumping up. My best advice is bring a book and get some reading done. I don't think they're looking for those perfect types anymore. Advertising has gotten ahead of the curve a little bit with more-naturalistic comedy. The comedy that was in commercials when I started was pretty broad; now it's gotten more subtle and real. Some of the commercial spots I go out for are funnier than the television shows I'm auditioning for."
Carr, who is signed with Abrams Artists Agency in New York, believes it's best to take a businesslike approach to auditioning: "I always tell actors to try not to draw attention to themselves. I think actors think it's really good to go into a commercial audition and introduce themselves and say 'Hi' and be friendly. If you just show up and do your job and leave, you'll be better remembered that way. You should never flirt; you should never be too chatty. People assume that's a good thing to do, and I think it's actually not. I think the casting people don't want to get to know you in that sense. It's a waste of time. It becomes too personal. They still care more about the product than they care about you. I tell people AT&T doesn't treat me special. They don't spoil me. I'm part of the team. When I shoot a commercial, there's a guy who has to light, there's someone else who holds the boom. There's so many different roles, and we're all equal. When you know that, then you know where your place is and how it's supposed to work. We're all pieces of a puzzle, and we all work together."
Audition, Audition, Audition
Courtney, who moved to L.A. from New York and is represented for commercials by CESD Talent Agency, advises going to as many auditions as possible and not getting emotionally invested every time. "You should just feel like, 'This is my job,' " she says. "I feel sometimes as an actor my job is auditioning—however you can do that. In New York, I auditioned any chance I could. I would look up in Back Stage and see what auditions were happening, and I would go. I didn't book a ton, but I went. Open yourself up to that. Go into a cold room, audition when you have a slight cold, audition when you have the best day ever, and just audition. Perform, get on camera when you can. I love doing comedy; I had a friend who was doing standup, and she said, 'I want to do a show where all my friends who I feel should do standup are going to be doing standup.' So she asked a bunch of actor friends who were chicken to just do it. The second I did it, it was so much fun, and I stayed with it. That was another way to get up in front of an audience. Get up in front of a supportive audience, an unkind audience. Just do it. Get your comfort level up, not caring in a good way, so you can think, 'After this I'm going to get a frozen yogurt and walk to the park,' and that's also part of my day. There are days when I truly feel like that, and there are days when I put too much importance into an audition. The more you get past those nerves and it just becomes part of your life, the better. Get on stage as much as possible. Audition as much as possible. And just pay attention. Who's working out there? Who are the actors that you like? Do you like them because they're good actors? Do you like them because they seem comfortable on camera? Do you like the haircut? I'm serious. Pay attention to how they dress people on commercials. It's usually solid colors and very simple. Learn from that. That's the business aspect."
Jeff Daniel Phillips, who also plays a Geico caveman and like Carr is with Abrams for commercials, thinks you should "get in front of the camera as much as you can. Work on your strengths, your bag of tricks. Get in student films, shoot yourself on video, all that kind of stuff. Find out what kind of types you would play in commercials, and then put together your stock wardrobe, because you don't want to leave it to anybody's imagination, whether it's a blue-collar shirt or a doctor or a business suit. I've played mechanics, CEOs, suburban dads, homeless, whatever…cavemen, butterflies. Then do yourself a favor: Get on an actual set of a commercial shoot, whether it be as a background player, a P.A., or an assistant to somebody, because that's where I think you learn the most as far as the etiquette, why they do so many takes, certain directors' styles, why the agency committees are asking for multiple versions—all that. That way when you do get the gig, you'll understand it better and not be under the spotlight trying to figure out why everybody's so stressed out [and be] concentrating on what you were hired for, which is acting.
"Better yet, see if you can intern at a commercial casting director's office," he adds. "That's where you learn what works, what doesn't, what fits in. Get some copy to practice on at home. You'll probably find yourself sneaking in on one of the auditions if you're the right type. Basically some of those people who are behind the camera at auditions book a few commercials a year based on what they learned, so it's all about being exposed to it."
Improv classes are highly recommended by all our interviewees. "With commercials, you're winging it," says Weber. "Ninety-nine percent of the commercials I go in for, they want something that's improv and real loose. That's not the way film and television work, but you can approach them with the same sense of fun. Commercials are fun because you can go in and they don't care as much about learning lines. I think it's great, because I hate learning lines."
"The scripts that I'm getting are so great," notes Courtney. "As soon as I get them and read them, I'm like, 'These are so hilarious, they don't need anything else. But then towards the end of the day, the powers that be say, 'Let's get some other options, just for fun,' and that's when we get to go a little bit off the page. Usually, the other actors they hire are improv-based, as well. That's when it becomes super fun. They're like, 'Okay, let's play a little bit.' "
No More Typecasting?
Has playing these recurring characters helped or hurt these performers' career? All agreed that by and large it's been a boon. In previous decades when one figure was closely associated with a campaign, the actor involved might have been overexposed, but today with multiple campaigns targeting different demographics, the dangers of typecasting aren't as prevalent. "I was already typecast as the snarky co-worker or the evil soccer mom," says Courtney, laughing. "I was already sort of going down that path. But it's been nothing but great. Times have changed. If you're working, it's just good. Now when I go in to audition for stuff, the rooms have been warmer. It's a kinder, nicer room. It breaks the ice a little bit, and sometimes I feel that I've been called in because of it." Weber and Phillips say most people don't recognize them as Geico guys, because the caveman makeup is so heavy. When Phillips was working on a movie with David Fincher, the director didn't realize the actor's TV persona until the crew told him.
Says Courtney, "The Flo character is so big and so stylized, if you passed me on the street, you wouldn't recognize me. It's very much a character. I think people in casting recognize that and appreciate that."
The pay is also a plus, but actors should not have unrealistic expectations about being able to afford a house with a pool if they book one commercial job. "I'm doing well in commercials, but it's not what people think," she warns. "You have to tell actors that right away because they dream up these numbers. A friend of mine was doing an audition, and she said, 'Oh God, I didn't get it and I heard I was going to get $250,000.' Okay, that's never going to happen. There's not that kind of money in commercials. A commercial that just goes through the roof and is unbelievable could make [you] up to $50,000 over a year, but that's a miracle. A commercial makes anywhere from $2,000 to $20,000 over a year's span in residuals. I don't know where people dream up these sums. It's terrific money for an actor, but I'm certainly not a millionaire."
And Carr emphasizes that no one should go into commercials solely for the money: "I'm making a terrific living, but you have to do it because you love it. I just got a girl an interview with my agency, and she said, 'I went to drama school. I didn't want to do this. I just want the money.' And I said, 'I have to tell you, you are not going to book with that attitude.' You have to do it because you love it. You can see it in the room if an actor sees dollar signs. I love making commercials. I find it such a fun medium, such a team sport. I always do characters. It's so much fun and creative to me. You only book if you think that way. Because if you think you're above the work, then the work isn't going to happen."