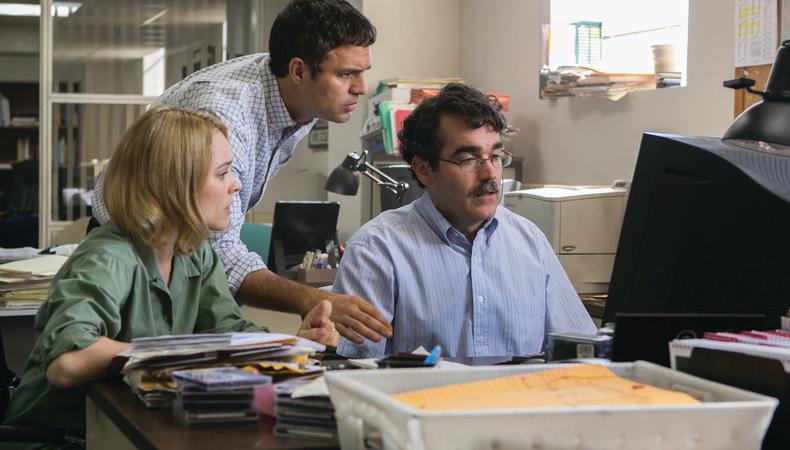 Good investigative journalism isn't particularly cinematic. Poring over records, inputting data into computers, and scribbling notes on a pad can easily amount to little more than a collection of tedious activities punctuated by talking heads and a recorder.
But "Spotlight," Tom McCarthy's billet-doux to an era of journalism that ended with the dawn of the Internet, doesn't shy away from the elements that define the profession. Instead, McCarthy and his cast dug in and returned with a viable awards season front-runner.
Their ambitious undertaking follows the true story of the Boston Globe's four-person investigative team, known as Spotlight, and how they pieced together a systematic burial of child molestation cases in the city's Catholic archdiocese in 2001. Out in theaters Nov. 6, the cerebral film is already garnering massive prerelease attention for the 2016 Oscars, provoking questions on the state of journalism, religious institutions, and Pope Francis' role in the changing edifice.
"Our Q&As range in tone and in content dramatically, more so than any movie I've worked on," says McCarthy of discussions about the film. "It speaks to the texture of the movie and how many levels it operates on for audiences."
McCarthy, who also co-wrote the script with Josh Singer, takes a multifaceted look at impassioned journalists doing right by abuse survivors, the lawyers who settled with the church on the victims' behalf, clergy members, and the Boston Catholic community, to illuminate a now globally recognized crisis. His initial hurdle became narrowing down decades of information to achieve a clear approach to reporting on a scandal with worldwide implications. "Now we know just how big the crisis is, but no one had a sense of the scope back then," he says. "And [the reporters] were always our 'in' on this story."
Assembling the ensemble cast—featuring Oscar nominees Mark Ruffalo and Michael Keaton, Rachel McAdams, Liev Schreiber, Tony nominee Brian d'Arcy James ("Something Rotten!"), John Slattery, Billy Crudup, and Stanley Tucci—to play reporters, Globe editors, and lawyers was the key for McCarthy, who says the level of talent made more demanding scenes fun to shoot.
"Fun in the sense that it's not real—we're acting, we're playing," he says.
"We have many scenes in this movie where you have a number of actors in a room batting around ideas. With very good actors, these scenes just come alive; they're challenging each other in the right ways and raising the bar on each of their performances."
To set up those challenges, McCarthy first had to achieve a level of trust by using, in part, an inclusive approach. As an actor, his experience with other directors left him with a preference for a collaborative set; he says he "almost demands" his leads be vocal about their thoughts on the material. Without sacrificing the integrity of his vision, "I want to know what they're thinking, and if they're not connecting with it for some reason, I want to address it."
With an ensemble cast, respect for the different processes, while also aiming to develop a communicative shorthand to "get through the work in the most effective way" for each actor, was a top priority for the director.
The ensemble spent extended periods of time with the real-life reporters they were playing and came to set prepared with fully researched choices. The final result yielded a comment from the one place from which McCarthy never expected to hear. In early September, a correspondent for the Vatican's official radio station attending the Venice Film Festival called the film "honest," saying McCarthy "never falls into the trap of personal interpretation of the scandal."
"Never say never," the director says with a laugh. "If, in fact, it's true and that continues, it's really a right step. There are a lot of wonderful people involved in the Catholic Church and who rely on the Catholic Church, and all we can hope is that that institution lives up to its expectations and their needs—first and foremost to protect their children—and if they're doing that and they improve how they're doing that, that's a really wonderful thing."
Inspired by this post? Check out our film audition listings!