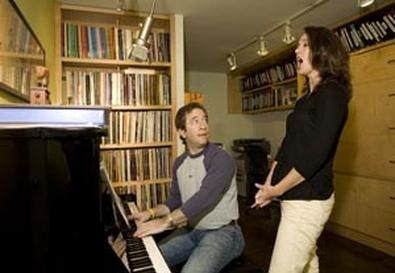 God, I Hope I Get It!
Expert advice on nailing your musical audition
While some believe life is a cabaret, for others it's an audition. For what? The Pearly Gates? Metaphorically, maybe. But in show business, auditions are literal—and often terrifying. Even some very successful performers hate them. Unlike that great big audition called life, however, real auditions can be mastered. Here's what seven vocal coaches and accompanists had to say about how.
Michael Lavine
Not only is Michael Lavine an accompanist, coach, and musical director; he also has one of the world's great collections of sheet music and is the go-to guy for material familiar and obscure. Ask him about auditions and the first thing he says is: "People need to choose material that's representative of who they are and not how they sing. People are particular about choosing material that shows their high notes. We don't necessarily need to hear their high notes.
"I almost always advise my students to look at the lyrics first. Choose an active rather than a passive song. If they don't have a song that says 'I' or 'me,' find a song that's about them and not some state of mind. Also, refrain from presenting yourself as a loser. The term we use is
Debbie Downer
—a common term in musical parlance. Look at the role you're auditioning for. Look at the description of the character you're auditioning for. Make sure the style is right for the show." He notes, however, that if the description is vague or unavailable, "there's not much you can do."
Lavine also recommends having comedy songs at the ready; you could even take a song already in your book and look at it from a humorous angle. He remembers "a gentleman who came in and sang 'I Feel Pretty.' It was hysterical." Choices like that "show us that you're clever," he adds.
An actor's audition book should cover as wide a spectrum as possible, Lavine advises: "I tell them to get Back Stage and look at every single audition and look at what they're asking for and write down styles they don't have—cabaret, disco, Motown, things they never think they're going to need. An example I've used for years is turn-of-the-century early ragtime. People think I'm crazy when I say that." But Lavine gets the last laugh: Roundabout Theatre Company will soon present
Tin Pan Alley Rag
, a revue of Scott Joplin and Irving Berlin tunes. He also recommends country songs for their story lines and YouTube as a source of unexpected material.
As a frequent accompanist for Craig Carnelia's classes, Lavine suggests, "If you don't know the caliber of the pianist at the audition, it warrants bringing your own. He's going to breathe with you." Otherwise, he recommends doing only those songs you can explain to the accompanist in the 30 seconds you get to talk to him or her.
Liz Caplan
Among her other jobs, Liz Caplan, of Liz Caplan Vocal Studios, is the vocal coach for Broadway's
Rock of Ages
and a consultant to
Wicked
and
9 to 5
. Here are her 10 tips on preparing for an audition:
1. Get enough sleep to rest your voice.
2. Maintain proper nutrition: protein to regulate the blood sugar, fruits and vegetables to maintain regularity. The respiratory system works more efficiently when foods are successfully digested, she says.
3. Stretch: simple floor work or yoga.
4. Breathe. Find a routine that's calming.
5. Vocalize, but not to the point of fatigue.
6. Prepare your songs. Learn music that's appropriate for the show. Focus on character development. Bring body, breath, heart, mind, and sound into the piece simultaneously and seamlessly.
7. Dress appropriately.
8. Make sure the music is in the correct key and shows off your strongest vocal abilities.
9. Have your music organized in a ringed binder, with any cuts or changes clearly notated for the accompanist. Make sure the book you bring into the audition room contains only the songs you feel absolutely prepared to perform; leave debatable material at home.
10. Inhale and exhale before entering the room. Concentrate on staying true to yourself while honoring the character you're presenting.
Caplan also has a few words for nonsingers contemplating musical comedy auditions: "The most important element is the character development. If an actor who doesn't fashion him- or herself a singer can at least sing on pitch, can fully dive into the character of the song they've chosen and do as authentic a performance as possible, a solid acting performance is often better than merely singing pretty."
David Lewis
David Lewis was so well-known as an accompanist and musical director in the '70s and '80s that he was cast as a pianist in the 1981 film
The Fan
. He plays for auditions less these days but coaches constantly. At auditions, he says, producers evaluate the mood of the performer as well as the singing: "Everything is watched at an audition. They want to see how you work with somebody. They want to see how the person reacts to commands."
They're also "looking for parts to fill their puzzle," Lewis says, so "people should not be afraid of rejection. It's not personal when you're rejected." That unnecessary fear leads to insecurity: "They walk in with a defeatist attitude almost. People who get the parts are the ones absolutely convinced they are right for it."
Lewis' advice for dealing with the accompanist includes avoiding single sheets of music in a book or sheets that have been taped together, specifying your key, and providing a "road map" that indicates where your selection starts and ends. "Sometimes people just throw music in front of the pianist," he says. "You have to get your connection with the pianist." He adds that "sometimes people get a little too inward in a performance. Even though you're in a room, it should be a bit more theatrical rather than a movie moment."
David Brunetti
A vocal coach of international reputation, David Brunetti travels regularly to Denmark to hold a master class in auditioning at the Danish Musical Academy. He has so much to impart on the auditioning art that he barely stops to inhale. Auditioners are "being judged not only on their prowess as performers," he says, but on how low-maintenance they are. "Don't be overly friendly or pushy. Don't walk up to the table and force yourself on them. They don't want to hire troublemakers. Don't ask what to sing. Go directly to the pianist. Christopher d'Amboise was so smart. He said to me, 'Let me practice how to talk to the pianist.' "
For actors who are not primarily singers, Brunetti advises, "Don't think of it as a singing audition. Think of it as an acting audition. They don't care about your singing if you can carry a tune. Think of it as the composer giving you line readings with the melody. If you're going to compete as a singer, forget it." To both singers and nonsingers, he says, "You want them to have to take a nap after your audition. Sing as if it's the last time you're ever going to sing. Most songs are about people having terrible days. You have to be ready to go there. They'll remember your having gone there and love it."
But wait, he has more: "I always warn people not to over-warm-up and take the bloom off their voice. Talk the lyrics through. If you can find a room somewhere, do one full performance of your songs, so that what they're seeing is the second performance. They want you to be good. They're not your enemy. It seems so obvious." And one last piece of advice: "There are people who will give you a list of songs that are overdone. You should take that into account." But even with an overdone song, Brunetti says, a singer who gives it a fresh spin can win over the audience.
Katie Agresta
Another well-placed consultant is Katie Agresta, who estimates that a third of her coaching these days is with actors either in or hoping to be cast in
Jersey Boys
, whether on Broadway or in one of the many companies around the globe. She's so occupied with her far-flung
Jersey Boys
clients, in fact, that a good deal of her work is done on Skype. The powers behind the show chose her because she'd been devoting much of her practice to rock singers.
"One of the things that happens with rock singers is they're focused on their bands and their music," Agresta says. "When they're trying to audition for Broadway, they have to be very diligent in finding what the show is about. They can't look too glam, too intense. The director is looking for part of a group."
Agresta points out that lots of rock band members are hunting for Broadway gigs but don't have much money for audition classes or coaching. "Show up with one of your songs at a karaoke bar and run the song there," she suggests. "I tell my students that all the time. There's no pressure, no judgment." At a session with her, however, she gets down to the fundamentals: "I have them take apart the song like a mechanic takes a car apart."
Kate Guyton
At Cap21, where the song-and-dance students at NYU's Tisch School of the Arts are trained, Kate Guyton talks about the Fourth Year Industry Practicum, much of which is devoted to auditioning, with guest actors, directors, and casting directors holding master classes. The practicum stresses choosing the right song and the right callback material, developing your audition book, and having a top-10 song list. Questions the students must answer include "Is it vocally appropriate for your type?" and "What do you feel you're best at?," and mock auditions are held, she says, where "things are thrown at you that you're not expecting." That could be the accompanist playing the wrong tempo or missing a key change or a phone call interrupting the audition.
David Craig
For hundreds of singing pros and wannabes, the late David Craig was synonymous with learning how to wow 'em at auditions. Carol Burnett, Sally Field, Rock Hudson, Jack Klugman, Anthony Perkins, and Alexis Smith were among the names on Craig's list, and that's just a smattering. But you can still benefit from his wisdom with
On Singing Onstage
, subtitled
The Six-Volume Master Class Video Library
, in which Craig discusses, among other things, proper auditioning procedures. "David Craig's class was one of the most helpful and enjoyable I have ever attended," said Lily Tomlin, "and David one of the most stimulating teachers I have ever worked with."
What any coach will say repeatedly is that confidence is key. It's what those interviewed said unanimously. It's just as key as staying on key—and, in three words, that's the key.
--
David Finkle
Let the Audience Come to You

Musical director Adam Ben-David keeps it real in his advice to auditioners.
The first question musical director Adam Ben-David asks himself when he's auditioning someone is "Can this person sing the role?" He spent the previous day at an open call for Broadway's
Jersey Boys
, where he and his colleagues had to make that judgment about 300 singers after 16 bars apiece. Ben-David also conducts the show (his previous baton-swinging credits include
Spring Awakening
and
High Fidelity
).
"My one impression overall," he says, "is that actors who come in and don't seem to be trying as hard usually get called back." Casting people "want to see what someone will be like on stage. It's not necessarily an
American Idol
–type competition." Meaning that those who are pushing and trying to impress are usually bypassed.
"Someone who stands still," Ben-David says, registers more meaningfully than someone "singing as loud as they can, acting as much as they possibly can, moving as much as they can." A performer who "stands still and interprets the song, not showing off the highest or lowest note," someone who's "a little bit restrained," draws the most attention. "You can still get a sense of whether they're good singers or actors. They're not trying to condense their whole life into two minutes. The thing I always want to tell actors is, 'Don't feel like you have to give everything away in that five minutes. Be as simple as possible in your choices. The most powerful interpretations are ones that draw you in.' The note I give most often is, 'Simplify, keep it real, keep it simple. Less is more.' "
While Ben-David's call for restraint contrasts with David Brunetti's push for full-out singing (see the accompanying article), he agrees with Brunetti and other vocal coaches that "certainly you want to hear someone sing a song that's appropriate for the show and their voice…. I can't tell you how many times someone auditioned for [Disney's]
Aida
with a Rodgers and Hammerstein song. That's probably not going to get you the show."
When asked for specific advice about auditioning for
Jersey Boys
, Ben-David replies, "We tend to go for actors that are realistic, Scorsese film actors on stage. The style of acting is almost cinematic as opposed to broad comedy or broad musical theater. In
Jersey Boys
, don't bring in a comedy song. It should feel gritty."

—David Finkle
Hitting the Heights
Four singers in vocally demanding roles on keeping their voices in top shape
Ethel Merman used to say that going into a show was like taking the veil: To keep her voice in shape, there could be no drinking, smoking, or excessive partying. But are such restrictive vows really necessary? Four performers currently facing musical mountains explain how they prepare for the climb every night and reveal the tools they use to maintain those top notes.
Nancy Opel
In Off-Broadway's
The Toxic Avenger
, the musical version of the cult horror film, not only does Nancy Opel play three roles—the sinister mayor of a polluted New Jersey city, the crabby mother of the title mutant hero, and a caustic nun—but in a showstopping number called "Bitch/Liar/Slut/Whore" she plays two of them at the same time. On top of that, the show features a hard-driving rock score by Bon Jovi keyboardist David Bryan.
Back Stage
: How do you sing two different roles in one song?
Nancy Opel
: In musical theater, usually you switch keys if it's two women singing together—to delineate between the two characters, to make them feel or sound different. David Bryan didn't want to do that, because he said that was musical theater and not rock. So I said, "What do you suggest I do?" He said, "Just do it up the octave." I said, "Okay, but I'm not quite sure how that's going to sound." That's really how it happened. I literally sing this one song with myself, and because he didn't want any key changes, I sing in one octave and then I flip up to another one for the other character. Is it hard? You bet it is. But luckily, because it's rock, I can kind of grind it out at the top; I can get away with it.
Back Stage
: Do you have to care for your voice differently than for other shows?
Opel
: It's hard work. It's probably the most demanding show I've ever done. Physically it's challenging in terms of blocking, movement, etc. It's also extremely challenging just because there's only five of us in the cast and there's no time to duck out and be lost in the crowd. My general vocal care situation is all about getting enough sleep. For me, if I start to lose sleep, the first place it hits me is my voice. If I don't get enough sleep, I have to warm up twice as much as I would generally. By the way, I warm up thoroughly before every show. Also, I don't drink anything alcoholic during a show. An occasional something, but literally I mean a once-in-a-blue-moon thing, because all alcohol dehydrates you, and that's death for a show like this.
Back Stage
: What does your warm-up involve?
Opel
: I do a completely legit warm-up, as if I were going to sing Rodgers and Hammerstein. I would also say the two things that are really important to me in performing are enough breath and breath control. Interestingly, I learned a lot about breath control and support in my acting school at Juilliard more than with a vocal coach. I learned a lot about diction. I think those are the two key elements to singing in a healthy way: breath and diction. If you don't have adequate breath support, all the strain goes straight to the cords, the neck, the throat, and you get a lot of tension there. Once you get tension there, it's more likely you'll get vocal issues. One of the best ways to kick a score out into the audience is to have excellent diction too. You look like a better actor and you can use slightly less power if you've really got your diction going for you.
Michele Mais
The only cast member to have performed in
Rock of Ages
in all its incarnations, Michele Mais has played Justice, the big-hearted strip-club owner, in Los Angeles, in Las Vegas, Off-Broadway, and now on Broadway. She's never missed a performance of this hard-driving tribute to the rock bands of the '80s. How does she do it eight shows a week? One of her secrets is something called a neti pot.
Back Stage
: What are the challenges of singing these hard-rock songs in a theatrical setting?
Michele Mais
: They're rock 'n' roll songs, so there's a certain amount of belting involved, and the crowds have been so amazingly forthright, applauding all the time and singing along with us. You will get excited sometimes and you'll overextend your voice, especially on a four-show weekend. This show is on a weird schedule. When I've had a four-show weekend before, I've had a Monday off. In this situation we have Wednesdays off. There's a lot going on right now with the Tonys, and we sang on
The Today Show
. I'm not complaining. I'm very excited about all the hoopla surrounding the show. But you can overextend your voice and you can get tired. Since I've been living in California for the last 20 years and I'm just back in New York recently, there's a whole slew of new vegetation that I'm not used to. So I'm having allergic reactions, and so are a lot of people in the cast. I've found the neti pot is my best friend.
Back Stage
: The neti pot?
Mais
: It's from India originally. They make them in plastic and ceramics. It's almost like a gravy ladle. You pour this saline solution into your nostril; it goes through your sinuses and comes out the other side of your nose—not the most glamorous thing to do, but it really does clear out the sinuses and takes out any debris or mucus and helps to flush out that whole area. It's really been a godsend for me. I also make sure I do warm-ups before I sing and cool off when I'm not singing. All the performance is muscle work, so you need to flex those muscles and relax them. As the show goes on, you get stronger and stronger. You build up the stamina to do the shows. Eight shows a week is intense.
Back Stage
: How do you maintain your energy with this crazy schedule?
Mais
: You just build up stamina. You rest when you can. The show is pretty high-paced. I have a little bit at the beginning, then my role re-enters near the end of the first act, then I'm throughout the second act. I have a little bit of time in Act 1 to regroup and pace myself, but once I get going, I'm going. It's awesome because you get swept away with the other actors and the audience. You can't help but pump it up. The audience really does help; they give so much energy and excitement to us that it's just amazing.
Back Stage
: Do you have advice for performers who've done mostly conventional musicals and want to expand into rock?
Mais
: I would say take really good care of yourself. When people come to see the show, you want to go out and have a drink with them. You really have to monitor yourself and just know when to go to bed and get a lot of rest. That's really important. And when you're offstage, be quiet, don't talk as much. Learn your body and your voice and what you need to do to rest it. Your voice is continually changing as you get older; you've got to monitor it and be aware of those changes.
Tituss Burgess
Nicely-Nicely Johnson is one of the plum roles in
Guys and Dolls
. He provides comic support for leads Nathan Detroit and Sky Masterson, then just before the final curtain, he stops the show with "Sit Down, You're Rocking the Boat." Tituss Burgess has experience with big numbers, having led an aquatic chorus for "Under the Sea" in
The Little Mermaid
, but he found Nicely-Nicely in the current Broadway revival of the classic tuner a tougher assignment.
Back Stage
: How do you prepare for your big 10 o'clock number?
Tituss Burgess
: The main issue is I don't sing like that anywhere else in the show. Most of the show, I'm singing in my middle register. The first month of performances or so, I would get really nervous because I suppose I wasn't as warmed up as I should have been. Now I spend the majority of my time backstage pacing and keeping my energy up. This is to sort of trick my body into thinking that I've been participating in the show more than I actually have, so that my voice is up and awake, so that by the time that song comes around it's not such a jolt to my system. I'm backstage running up and down stairs, doing anything I can to keep my blood flowing.
Back Stage
: How do you maintain vocal health eight performances a week?
Burgess
: I have a fantastic teacher named Joan Lader. She teaches everybody from Patti LuPone to Betty Buckley to Roberta Flack. She has revolutionized my approach to the technical aspect of singing and to vocal health. I open my mouth with great confidence these days, because she's first a speech pathologist. She showed me which muscles to manipulate and how to place notes. During the show, when I'm onstage but not the primary focus, I'm actually warming up and doing all sorts of exercises with my throat where I don't have to create a lot of sound. But it's still making the muscles contract and expand, which is essentially the same as warming up with sound, because it's utilizing the basic muscles. There's also the daily regimen. I know that if I have two shows the next day, I need to go straight home and I don't consume acidic things. I have terrible acid reflux. My secret weapon is coconut water. It hydrates many, many times more than regular water. It has more potassium in it than bananas. You can get it at Duane Reade or health food stores. I get those big liters and I drink the
whole
thing.
Back Stage
: Is this show easier or more difficult than
The Little Mermaid
?
Burgess
: I would say that this is harder. I was onstage more in
Little Mermaid
and more active, so it was easier to sustain that type of vocal height that was required. With this show I have less to do, and then I have this mountain to climb at 10:10 every night. It requires me to be engaged the whole time, even when I'm not onstage. That takes a lot of work. I'm exhausted when the show's over.
Back Stage
: Do you have any advice for those starting out on how to make their vocal power last?
Burgess
: My teacher in college used to say, "Don't sing any higher or louder than you can pretty." I laughed at that at first, but I noticed a lot of people overextend and sing out of their range or register, and that truly is the most unhealthy thing you could possibly do for your voice.
Louis Hobson
Broadway's
Next to Normal
is heavy in more than one sense. Not only does it deal with difficult emotional issues—the bipolar disorder of a suburban mother and the resultant dysfunction of her family—but its mostly sung-through score consists of more than 30 songs (by composer Tom Kitt and lyricist Brian Yorkey). Louis Hobson's challenge is playing both the mother's understanding doctor and her fantasy, rock-star version of him.
Back Stage
: You go through a lot of changes as the doctor; what are the demands of the role?
Louis Hobson
: I come from a classical background vocally and I've had to sing a lot of different types of music. I did one of the first readings of the show seven years ago, and it was unlike any music that I'd ever sung before. The way Tom Kitt writes is very specific. The performer is not required to come up with any
American Idol
–style licks. Everything is written down. That was very comfortable for me coming into this process. Vocally, the show traverses through several different styles. It's through-sung, and a lot of the time what I'm doing is having a conversation and I happen to be singing. So making it sound conversational is the first thing I try to do. There are other moments when I have to sound like a rock star and another one where I'm hypnotizing Diana, so I have to sound sort of calming. It changes as I move through the show.
Back Stage
: You mentioned you had classical training. Did that involve opera?
Hobson
: Yes. My vocal training was with an opera singer. I sang a lot of choral music and opera roles and then got turned on to musical theater. I always approach any show that I do from that perspective. I think a good vocalist should be able to sing anything.
Back Stage
: Do you have to take better care of your voice with this show? Are the demands greater?
Hobson
: I take pretty much the same care of my voice as I would with any other role. I refrain from going out and drinking, or drinking a lot of coffee. I try to stay healthy and work out. Also, I have dairy and wheat allergies, so anything that makes my nose stuffed up I don't do much of. So, very little dairy, very little sugar, very little wheat, very little coffee. I let myself splurge every once in a while, but for the most part you have to be like a monk, especially on Broadway. This is my first Broadway show and you have to be healthy.
Back Stage
: Do you have a vocal coach you see regularly?
Hobson
: I have a vocal coach named Mary Anne Wells. She's been fantastic. She mostly helps me with auditions, but I check in with her when I have vocal issues and I just want to make sure I'm singing correctly. For the most part, I feel comfortable in the show. I don't feel I'm doing anything to damage my voice. If I do have problems vocally, there's tons of voice doctors that are great. I know that Bobby [Spencer] and Alice [Ripley] have both been visiting them on a regular basis, because their parts are much more demanding than mine.
Back Stage
: Do you have any recommendations on keeping the voice healthy?
Hobson
: There are things every vocalist should do. You shouldn't smoke. One thing I do is I don't eat late at night. I don't eat after 9:30, because I get acid reflux. Even a little bit of acid reflux will mess you up the next day vocally. Over time, that wears down your voice and you can develop nodes. Eating less than three hours before you go to bed can be bad. Avoid highly acidic things like orange juice. It tends to make me phlegmy; also it tends to erode the natural lubrication on your vocal cords. When I do have vocal issues, I make up a little concoction of hot water, honey, a slice of lemon, and some apple cider vinegar, and that tends to help me. I also eat a lot of ginger and lots of tea—not black tea, since it will dry you out. Just staying lubricated is the best thing. When you get dried out, that's when you get problems.
--
David Sheward