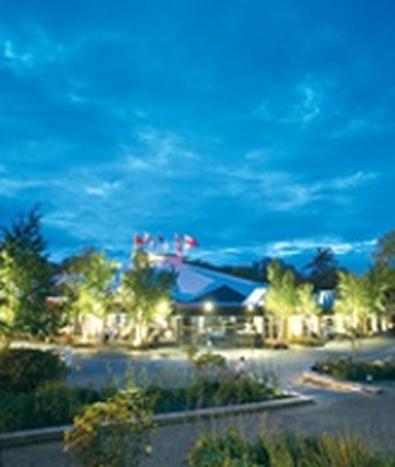 Beautiful beaches may beckon when the thermometer starts to spike, and summer relaxation may be a natural part of the rhythm of the year. But before buying that new bottle of suntan lotion, take a minute to consider what many performers do during the summer: They work.
Summer can be a terrific time to exercise your acting muscles in summer stock or train in a summer program. But from humble hamlets to venues a mere stone's throw from major cities, summer theatres offer more than a chance to learn new skills or improve old ones. They also provide an opportunity to network and stretch: to surprise yourself with what you can do professionally and with whom you can do it. So unless you plan to live for a few billion years, the sun will always be there. Summer training is now.
Here are profiles of just 10 of the hundreds of summer theatres in the United States.
Sacramento Music Circus
Sacramento, Calif.
It's not really a circus, but this popular summer-stock theatre (seven productions in eight weeks) does perform in the round.
Originally housed in a parking-lot tent, the 56-year-old Sacramento Music Circus (the summer program of California Musical Theatre) moved to the modern, air-conditioned, 2,200-seat Wells Fargo Pavilion in 2003. Four aisles lead to the stage, and performers say it feels wonderfully intimate, with the back row only 40 feet away. This is Sacramento's oldest professional performing arts organization and California's largest nonprofit musical theatre. Then-unknowns Madeline Kahn, Joel Grey, and Eileen Brennan appeared here in the 1960s.
The schedule is intense: Each show rehearses for two weeks and then performs for one. While each production has its own acting company, a hard-working actor could theoretically appear in every other show. The 2007 lineup consists of a special two-week run of Les Misérables, plus Nunsense; Kiss Me, Kate; Annie; Hello, Dolly!; Jekyll & Hyde; and 1776.
"Our mission is to preserve American musical theatre as well as advance it," explains Artistic Director Scott Eckern. A former drama teacher at the University of the Pacific, Eckern has been with the organization for 23 years, taking over the top post -- with Richard Lewis as executive producer -- in 2002. The company repeats shows every six to eight years, Eckern explains, so new generations can see the classics. Repeats are mixed in with works the theatre hasn't previously staged; this year, for example, is its first go at Jekyll and its first in-the-round staging of Les Miz. Eckern adds that when a classic is revisited, the aesthetic of its production is always based on today's understanding of human behavior. "You look at it through the eyes you have now," he says.
For 2007, Glenn Casale will helm three of the seven shows (the most any director can stage in a season, due to the schedule). The company generally hires seven different choreographers and musical directors, mostly from Los Angeles and New York.
About 2,000 performers audition each year, in Los Angeles, New York, and Sacramento, with about 125 hired on a Resident Musical Theatre Association contract (the Pittsburgh Civic Light Opera is the only other theatre in the country to use this particular Equity agreement), which usually includes housing at two hotels next door to the theatre.
Unlike many summer theatres, Sacramento Music Circus eschews celebrity casting. "We used to do it, but no longer," Eckern says. "We found that in our community, the first desire was to see quality productions. That opened us up to really find the best talent."
Nontraditional casting is a given: In a recent production of Fiddler on the Roof, the three main sisters were Caucasian, African-American, and Asian; Belle in a staging of Beauty and the Beast was African-American, as was Oklahoma!'s Ado Annie; and in Damn Yankees, Applegate was played by a woman. Usually the casts are an equal mix of returnees and newbies, plus a few local nonprofessionals. All are salaried.
"I'd always wanted to work there because I heard from friends it's a wonderful place to work," says Los Angeles-based actor-singer Valerie Perri. In the last few years, she's appeared at Music Circus in And the World Goes 'Round and as Golda in Fiddler. "They're the most organized, generous producing company and management," she gushes. "They don't have hang-ups about having to hire a star. They hire good people who are right for the role." She adds, "The compensation is fair, and they don't skimp on production values. You never feel you're in a rinky-dink production." A fellow Angeleno, Michael Dotson, agrees. A veteran performer who's worked all over the country, Dotson has been in the ensemble for 23 Music Circus shows and praises the theatre's across-the-board professionalism. "Most if not all of the people I've worked with there could easily do that same show on Broadway," he says.
Dotson adds that the audiences are particularly supportive: Some 11,000 of the 130,000 summer patrons are subscribers. He also loves the in-the-round stage: "They've hired a couple of directors through the years who hadn't worked in the round. That can be a challenge [in a large-scale musical], but I've yet to see anyone who hasn't risen to it."
"Actors come here from all over, they're here for three to nine weeks, and we want to make sure we pay attention to them," Eckern says. "We try to address them as human beings first, the artistry after that."
Sacramento Music Circus' summer season runs July 10-Sept. 2. Equity principal auditions will be held in NY on Feb. 19 & 20. NYC chorus calls will be held on Feb. 22 & 23. For more information, visit www.sacramentomusiccircus.com.
-- Jean Schiffman
Coeur d'Alene Summer Theatre
Coeur d'Alene, Idaho
The work is steady, the audiences -- averaging 32,000 per summer -- are enthusiastic, and the programming is nothing but musicals, often including area premieres. And for actors looking to spend the summer putting up shows in a summer stock-like setting, the location of Coeur d'Alene Summer Theatre is hard to beat.
Located 30 miles from Spokane, Wash., on picturesque Lake Coeur d'Alene in the northern Idaho panhandle, the company operates out of North Idaho College and performs in the campus's Schuler Auditorium, which holds 1,178. "We're a resort town, much like Aspen or Sundance," explains Roger Welch, the theatre's artistic director for 13 years. "A large portion of our audience comes over the state line from Spokane. They come over here to play golf and to see musical theatre."
Which is exactly what Coeur d'Alene Summer Theatre has been offering since it began as the Carrousel Players in 1967. A typical season consists of four musicals that run back to back for 12 weeks for a total of 36 performances. The company also produces a spring musical: This year's entry is a revival of the theatre's first show, Carousel, chosen to honor the company's 40th anniversary.
Coeur d'Alene draws its actors primarily from the Seattle and Portland areas, with occasional performers and designers coming in from Los Angeles and New York. Cheyenne Jackson, who starred in the Broadway musical All Shook Up, has appeared here, as have actors Randee Heller and Jack Bannon.
Bannon's wife, Ellen Travolta (sister of John), is a frequent performer with the company and a member of its board of directors. Not only did the family fall in love with the theatre, they bought property in Coeur d'Alene and live there a good portion of the year.
"There's no summer stock anymore, no place for the kids to go," says Travolta, who will play crusty rehearsal pianist Jeanette Burmeister in The Full Monty this summer. "You get paid decently, and they bring in a lot of Equity people. You might get to do a part that, if this were the star system, they'd bring in people who did it on the road. But here, new people get a shot."
"It's an opportunity for younger people to work with some wonderful professionals in the field," agrees Welch. "So it's great for people to go on to the next level. Quite a few of our performers who have come through, within a year or two they're on Broadway. That's happened several times to us."
A full company of artists and designers typically totals around 100. Musicians from the Spokane Symphony, which is dark during the summer, make their way to Coeur d'Alene, trading in their classical repertoire for a season of musical theatre.
Despite its familial tie, the theatre hasn't yet secured John Travolta for a production, but the actor has come up to see his sister perform. He also took part in a benefit to help raise money for a new state-of-the-art sound system. "He came up on stage and talked and sang with us. He had a ball," says his sister. "He touts this as some of the best theatre he's ever seen."
As an actor, Welch secured his first professional job at the theatre in the mid-1980s. After a few years away, he returned as artistic director in 1993. "I've worked at Oregon Shakespeare Festival and in Seattle. I've done a couple of tours," he says. "There's something unique about Coeur d'Alene. Not only is it beautiful here, the quality of the company is quite extraordinary for the size of the town we're in and the area we're in. It's always felt like family." This year's season will feature Thoroughly Modern Millie, The Full Monty, the Stephen Sondheim revue Putting It Together, and a familiar chestnut, Kiss Me, Kate. The company typically mounts a production in two weeks.
Sometimes an actor is cast in more than one show, but there's no guarantee. "This year will be kind of unique," Welch explains. "I'll probably have similar needs for Thoroughly Modern Millie and Kiss Me, Kate, but the shows in between will require different types."
Coeur d'Alene Summer Theatre has premiered one new work -- a World War II-era musical titled Our Shining Hour -- but mostly Welch sticks by his mandate to bring "a little Broadway to our own backyard.... I try to bring shows that not only will excite our audience, but [audiences] that haven't been here. Our audience, I think, really enjoys getting to experience a show without having to go to New York."
Coeur d'Alene Summer Theatre's season runs from June through August (dates to be announced). For more information, visit www.nic.edu/summertheatre.
-- Evan Henerson
Summer Repertory Theatre
Santa Rosa, Calif.
The name pretty much spells it out.
If you're hired by or enrolled at Santa Rosa, Calif.'s Summer Repertory Theatre (located on the campus of Santa Rosa Junior College), you can expect to spend 11 weeks from the end of May to mid-August putting up five plays and performing them in repertory. Each of the 25 acting-company members hired each season will have roles of various sizes in three productions.
Sound like a lot of work? It is. But the actors who take the plunge each year -- generally ranging in age from 18 to 38 -- know that the on-the-job training and resulting résumé credits are as valuable as they are fun to earn.
"Getting to work in a conservatory atmosphere, getting to do what I love six days a week -- all day, every day -- instead of doing something else is amazing preparation, hopefully, for the real world," says LaRena Iocco, who spent her first summer as a company member in 2006. "It is hard work, but it's well worth it."
Last summer, Iocco played a headmistress in The Prime of Miss Jean Brodie, the Mayor of Whoville's wife in Seussical, and a courtesan in A Funny Thing Happened on the Way to the Forum. The following year, while auditioning for a conservatory in Southern California, she encountered a casting director who knew SRT's program. "The program is a perfect steppingstone from an upper-division four-year or graduate program to move on to a bigger summer-stock program or a bigger repertory program," says Artistic Director James Newman. "On the one hand, we have the support of 35,000 audience members who come to see our plays each summer. Equally important is that our students get jobs in the future, which is the difficult part of being in theatre."
Last year Newman succeeded Frank Zwolinski, the company's founding artistic director. The 2007 season -- the theatre's 36th -- will be the first that Newman has programmed. He'll also direct the season's big musical, Rupert Holmes' The Mystery of Edwin Drood.
Following Drood will be Molière's The Learned Ladies, the musical Working, Jonathan Larson's Tick, Tick...Boom!, and Phyllis Nagy's adaptation of The Talented Mr. Ripley. The company uses both the 618-seat Burbank Auditorium and the intimate, 200-seat Newman Auditorium (which is not, the artistic director hastens to add, named for him). Despite the theatre's campus location, Santa Rosa Junior College is anything but a steady pipeline to SRT. Indeed, Iocco, who is completing her A.A. degree at the college, is the rare case of a local student joining the company. The theatre more regularly hires students from places like the University of California at Irvine, San Diego State University, CalArts, and the Pacific Conservatory of the Performing Arts.
"The students come almost exclusively from California," Newman says. "We do enroll everyone in classes here at the college, so it's more financially feasible for in-state students." Through a partnership that Zwolinski set up with the college, student performers have all their tuition and related fees paid through scholarships funded entirely by the prior year's box office. In return, the theatre earns money for the college through its productions. "I think more programs should structure like this," Newman says. "It's important in that I'm not out there begging for money."
The program's "classroom" consists of the rehearsal rooms and stages where the company does its work. Three and a half weeks after the start of rehearsals, the season's big musical -- which employs the full company -- opens, then the remaining productions go into rehearsal. This way, practically every company member is performing in one show and rehearsing another at all times. "They run seven weeks and four of them are in full rotating rep," Newman says. "The schedule is crazy."
This summer, George Scott will return for a third season in Santa Rosa. He knows he'll have work as a design assistant -- most likely in costumes -- but there could easily be other work as well. In past summers, Scott has served as both performer and costumer, sometimes on a single show, as he did for Rent and Beauty and the Beast.
Summer Repertory Theatre's season runs June 21-Aug. 11. For more information, visit www.summerrep.com.
-- Evan Henerson
The New Harmony Theatre
New Harmony, Ind.
"We want to reach the point where no material is too daunting," proclaims incoming artistic director Lenny Leibowitz about his vision for the New Harmony Theatre, located about 30 minutes from Evansville, Ind.
After a yearlong search that included more than 40 candidates, Leibowitz was chosen to take over from Scott LaFeber, a popular, well-respected director who headed the theatre for 10 years. LaFeber has been appointed to the theatre faculty at Emerson College in Boston.
Formerly artistic director of the Civic Theatre of Allentown, Pa., Leibowitz has directed at theatres across the country, including the Public Theater in New York City, Olney Theatre Center in Maryland, the Huntington Theatre in Boston, and Intiman Theatre in Seattle. He is also an accomplished musical director and piano soloist, having performed with the Philadelphia Orchestra. His hope, he says, is "to build on the legacy of this extraordinary theatre, a landmark in the region, but veer the theatre toward a repertory model."
To that end, Leibowitz predicts this will be New Harmony's "most ambitious season." And he speaks with energy and enthusiasm as he lists his inaugural productions. The season opens with Peter Shaffer's revised version of Amadeus, which opened on Broadway in 1999. "I don't believe the revised version has been staged in any of the major theatre cities close to Evansville," notes Leibowitz, who will direct all three of the company's productions this summer. The other two are Oscar Wilde's The Importance of Being Earnest and the two-character musical I Do! I Do! by Tom Jones and Harvey Schmidt, the team best known for The Fantasticks.
"No roles have been precast," says Leibowitz of the 2007 season. He also provides a rehearsal schedule: Amadeus begins rehearsing May 22 for a June 8-24 run; The Importance of Being Earnest begins rehearsing June 19 for a July 6-22 run; and rehearsals for I Do! I Do! will begin on July 10 for a July 27-Aug. 12 run. These are full-time, Tuesday-through-Sunday rehearsals, with performances Thursday through Saturday evenings and Sunday afternoon.
Operating under a LORT D contract with Actors' Equity Association, New Harmony casts "primarily out of New York," Leibowitz says. "This season we'll also hold extensive regional auditions.... I enthusiastically invite actors from the region" to audition. As for what he's looking for, Leibowitz says he admires actors -- both union and nonunion -- who are "willing to leap into the material with abandon," in particular "impulsive, creative actors who enthusiastically bring ideas." The salary for Equity actors, who constitute three-fourths of the company, is about $544 per week, he says, plus health and pension benefits, travel, and housing.
Nestled on the banks of the Wabash River in southwestern Indiana, New Harmony is, according to Leibowitz, a "magical" place to be, "an enchanted kingdom and an enduring lineage of the utopian society built in the 1800s. The community and the theatre are wonderful hosts." The company operates out of Murphy Auditorium, a 367-seat theatre with "one of the most beautiful proscenium arches I have ever seen," he says.
And there, he adds, audiences are plentiful, intelligent, and "hungry for challenging, complex material."
Local auditions were held in mid-January on the campus of the University of Southern Indiana. Equity principal auditions will be held on Feb. 5 in New York. Appointments will be taken for general auditions on Feb. 6 and 7. The New Harmony Theatre's season runs June 8-Aug. 12. For more information, visit www.newharmonytheatre.com.
-- Bruce Burgun
Oklahoma City University's Summer Musical Theatre Program
Oklahoma City, Okla.
"Our summer program is for high school students who think they'll want to have careers in musical theatre," explains JoBeth Moad, director of the Performing Arts Academy at Oklahoma City University. "We offer intensive pre-college training in voice, acting, and dance. Since we're training for musical theatre, we don't emphasize one discipline over the other. One of our goals is to help kids determine if musical theatre is what they want to pursue professionally or even on the college level. They leave the program saying, 'I love this. This is for me,' or 'It's not for me.' Whatever the kids decide, they've had a wonderful time."
This summer, the academy will offer two three-week sessions, culminating in a production of either Les Misérables or The Pajama Game. But Moad says performance is only part of the program: "We're an educational institution that tries to instill a foundation of expertise. Every day, students take music theory, piano, acting, and dance on a rotating basis. In the afternoons there are master classes and acting coaches who work with the kids. Evenings are spent rehearsing the production, which the kids have auditioned for. We try to produce kids who have a good grounding in the basics. All of our teachers are either Oklahoma City University faculty or guest artists at the university. Participants receive the same training that our music majors do at the Bass School of Music."
Among the university's music alumni are Tony, Grammy, and Emmy nominees and winners, including Kristin Chenoweth, Kelli O'Hara, Ron Raines, Mason Williams, and Metropolitan Opera star Leona Mitchell. "We hope that when we do The Pajama Game, Kelli O'Hara will stop by," says Moad of the star of the show's recent Broadway revival.
Founded in 1996 as a music camp for local youngsters aged 9 to 14, the program has grown enormously. By 2001 it had expanded to include high school students, and today it attracts kids from around the nation. Last summer, 60 high school students from 15 states attended. This year, thanks to word of mouth, Moad says, the program is anticipating 80 students, hence the two sessions. The students live in a gated community in campus dorms, within walking distance of the cafeteria and the $38 million Wanda L. Bass Music Center, which houses the program and a state-of-the-art auditorium. "It's a self-contained, nice, small, safe campus," Moad says.
Yet the program does not come cheap: $2,300 for tuition, room, and board, though financial aid is available. There's also an "early bird special" -- a 10% discount for those who apply and are accepted by March 1. Scholarships are also available to those selected for various scholastic awards.
While junior high school students need not audition -- an expression of interest is sufficient -- an audition is necessary for high school students, either in person or recorded, preferably on DVD. "Each student should be prepared to sing two songs," Moad says. "One song should be a pre-'70s classic musical theatre piece, such as a Rodgers and Hammerstein song, for example. The second song should be a contemporary piece. We generally like to see one upbeat song and a more serious ballad. Ideally, students who want to attend should be able to play the piano and read music. That's a very important foundation."
Ninety percent of those who audition are admitted to the program, with a fair number choosing to audition for the college when they reach the appropriate age. Asked if teachers offer students an assessment of their potential, Moad says no: "We let them come to their own conclusions."
Oklahoma City University's Summer Musical Theatre Program runs June 17-July 7 and July 8-28. For more information, visit www.okcu.edu/music/academy/summerprg.aspx.
-- Simi Horwitz
North Shore Music Theatre
Beverly, Mass.
Located in the coastal community of Beverly, Mass., a suburb of Boston, North Shore Music Theatre is one of the most attended theatres in the country, says John La Rock, its enthusiastic associate producer. He points out that its audience exceeds 350,000 annually, with a base of 22,000 subscribers. The nonprofit theatre earns 80% of its revenue from ticket sales and its annual budget is $12.5 million.
But size is only one of its virtues. It's also a unique space that offers performers "special opportunities to connect with their audiences on a human level," La Rock says. "We celebrate the actor and the actor's craft. We are a 1,538-seat, 15-row theatre in the round, where no one in the audience is more than 50 feet away from the actor. We're not burdened down with sets. There are challenges that come with that. There are no places for actors to hide on stage. But actors love coming here, in part because they have to prove their chops."
North Shore Music Theatre is also a major launching pad for actors. Last July it produced a revival of Singin' in the Rain with Matt Loehr in the lead; shortly thereafter he was cast in his fourth Broadway show, Mary Poppins. Similarly, last September actor Nicholas Rodriguez, who played the title role in North Shore's production of Jesus Christ Superstar, was hired to understudy the title role in Broadway's Tarzan. And Paul Vogt, a former regular on MadTV, played Edna Turnblad in the theatre's production of Hairspray last October and did so well that he's slated to make his Broadway debut in the role on Jan. 30.
"We do six mainstage musicals in the course of a season," La Rock explains. "They are either current Broadway shows" -- which the theatre must obtain special permission to produce -- "a few premieres, classic shows that need another look, or classics that are being reinterpreted in some way, such as casting with culturally diverse actors." In fact, from performers to tech staff to administrators, diversity is one of the theatre's central missions. "We're attracting many more African Americans and Hispanics," La Rock says. "Now we're hoping to see more Middle Eastern and Asian theatre artists here as well."
The 2007 season will begin in April with Crazy for You. "It's been done before," La Rock says, "but not in the round." Following that will be a revival of Seven Brides for Seven Brothers, co-produced with Houston's Theatre Under the Stars and New Jersey's Paper Mill Playhouse. Next comes Disney's High School Musical, which was chosen "because it's about students who are not interested in musicals. We think this show will talk to some of our younger audiences." The fourth show is a musical premiere, The Three Musketeers, "which explores heroism -- seeking a dream, brotherhood, and proving yourself in your father's eyes," La Rock says. Forever Plaid will follow, "and our sixth show is Les Miz," he says. "We're one of the seven regional theatres that have gotten permission to do the piece while it's still on Broadway."
Each show runs for three to five weeks, preceded by three to four and a half weeks of rehearsal, under an Equity Council of Stock Theatres (COST) contract. Ninety-eight percent of its actors are Equity members, with the rest participating in Equity's Membership Candidate Program. Nearby housing and transportation are provided. "For each show, approximately 500 actors audition and 22 are selected," La Rock says. "We receive headshots and résumés but suggest if an actor is interested in a particular show, that should be said in a cover letter. It should also include the actor's special abilities. For principal and supporting roles, auditions consist of songs and sides from the show."
North Shore Music Theatre's season runs April 24-Nov. 11. Local auditions will be held in Beverly, Mass. for NSMT's Crazy for You on Feb. 12. For more information, visit www.okcu.edu/music/academy/summerprg.aspxwww.okcu.edu/music/academy/summerprg.aspx.
-- Simi Horwitz
Summer Stock at the University of Findlay
Findlay, Ohio
This year, audiences attending Summer Stock at the University of Findlay in Findlay, Ohio, will have a chance to take in a trio of shows -- including one that Artistic Director Scott Hayes says they probably haven't seen before: Cheaper by the Dozen. But mostly this small-town Ohio theatre provides a company of professionals, college students, and even two high school students with the opportunity to work at their craft.
Hayes casts professional actors at auditions in New York, the Southeastern Theatre Conference, and regional auditions in Ohio, and estimates that he sees about 300 actors for the six roles he fills with professionals each season. Ten college students are drawn from schools nationwide, while the high school students are from Ohio. There are certain things Hayes looks for at auditions. First, he wants actors who can handle the workload: Three shows -- this year including You're a Good Man, Charlie Brown and Into the Woods -- are presented in a five-week season, and the emphasis on musicals means that "nonmusical actors are not considered," he says. Hayes also wants to get a sense of who the actor is: "If I see the teacher instead of the student, then I'm not interested."
In the six years Hayes has been in charge, the theatre has shifted its emphasis from featuring local college talent to bringing in actors from around the country. Once they arrive, they have their work cut out for them: All three productions rehearse and open at the same time, then run in repertory. A youth conservatory runs concurrently and features performers aged 6 to 14. If a show -- like Cheaper by the Dozen -- happens to call for a young actor, he or she is cast from the conservatory. These opportunities help give young people some insight into the profession and whether they'd like to pursue it.
The company mounts its productions in a fully renovated, 200-seat facility on the University of Findlay campus that Hayes calls "a little gem of a theatre." Since the university owns a number of houses on campus, guest artists don't have to live in college dorms.
The changes Hayes has instituted have helped increase the audience for the 30-year-old company. In fact, he says, the trust that's been built between the theatre and the community means "we could probably put on a whole season of unfamiliar shows and we would still do well."
SummerStock at the University of Findlay runs June 27-July 29. For more information, visit www.findlay.edu/academics/.
-- Ed Huyck
The Utah Shakespearean Festival
Cedar City, Utah
Each summer, tens of thousands of visitors descend on the small college town of Cedar City, Utah, to take in the unique attractions of the Utah Shakespearean Festival. And each summer, dozens of actors and other theatre professionals travel to the mountains between Utah and Nevada to participate in a unique working environment. Some of them even stay. Kathleen Conlin came to USF in 1990 as a director but has since made the theatre her home; she now works as its associate artistic director and casting director.
The Utah Shakespearean Festival, hosted by Southern Utah University, was founded in 1961 and through the years has grown from a few thousand ticket buyers to more than 100,000 annually. In 2000 the theatre received the Tony Award for outstanding regional theatre, as chosen by the American Theatre Critics Association.
USF presents six shows each summer in two theatres: the outdoor Adams Shakespearean Theatre and the indoor Randall L. Jones Theatre. This year's season will include three works by Shakespeare -- King Lear, Twelfth Night, and Coriolanus -- along with the world premiere of Lend Me a Tenor: The Musical, Thornton Wilder's The Matchmaker, and Shaw's Candida. A fall season follows with Agatha Christie's The Mousetrap, Shakespeare's The Tempest, and Yasmina Reza's Art.
Only recently added, the fall season employs a completely different company of about 25 actors -- due to overlap in the summer and fall rehearsal schedules, according to Conlin -- with fall performances held only in the Jones Theatre. Yet the skills required by the actors are the same.
For example, Conlin says, they need to be able to handle a tight schedule. Most will end up in two or three shows, all of which open at the start of the season. Rehearsals for the summer season begin in early May, leaving about five weeks until tech rehearsal and opening night. Actors must also be comfortable performing both indoors and outdoors, and "we also want actors who can really connect with the audience," she adds. Conlin describes the staging of each show as "active," so USF requires actors who can keep up their energy despite a grueling schedule in which they may play different roles in different theatres on the same day. "Once the actors learn the ropes, they get acclimated very quickly," she says.
While there is turnover from year to year, the company always features veteran performers. A resolution passed by the Utah Legislature in 2006 -- in honor of Fred C. Adams, the theatre's founder and executive producer emeritus -- counted "170 musicians, 376 electricians, 218 directors, 447 designers, 314 props artists, 957 carpenters, 877 Greenshow performers, 260 makeup artists, 2,007 actors, 291 stage managers, and 1,272 costumers" who had worked there.
For Conlin, the off-season is also busy, as she needs to fill roles in six plays with at least four-dozen actors. "I'm auditioning all the time," she says. About half the company each year consists of Equity members. The theatre draws actors from New York, Los Angeles, San Francisco, and Ashland, Ore. (home of the Oregon Shakespeare Festival), who get to perform for appreciative audiences, tackle the lesser-performed works of the Bard, and spend the summer in one of the country's most beautiful environments, surrounded by Bryce Canyon National Park, Cedar Breaks National Monument, and the Dixie National Forest. "On their days off, nearly everyone is heading out to go hiking or sightseeing," Conlin says.
The Utah Shakespearean Festival's summer season runs June 21-Sept. 1; the fall season runs Sept. 14-Oct. 27. For more information, visit www.bard.org.
-- Ed Huyck
The Shakespeare Theatre of New Jersey
Madison, N.J.
Located on the Drew University campus, the 44-year-old Shakespeare Theatre of New Jersey is one of the nation's most ambitious classical theatre groups: Shakespeare's Henry V, Henry VI, Measure for Measure, and A Midsummer Night's Dream, Molnar's The Play's the Thing, Ionesco's The Bald Soprano, Saroyan's The Time of Your Life, and Maeterlinck's The Blue Bird are all on the schedule for 2007.
And that doesn't include the work of the theatre's summer training groups: the Junior Corps (for ages 11-14), the Senior Corps (ages 14-17), the Apprentice Company (for actors in the early stages of training), the Intern Company (for early-career professionals in nonacting disciplines), the Next Stage Ensemble (for more-experienced young actors, including Apprentice Company alumni), and the Non-Equity Company (for actors accruing Equity Membership Candidate points, who work with union actors in mainstage shows).
Even by telephone, it's clear that Artistic Director Bonnie Monte is exacting yet supportive of the actors who train at her theatre. The Junior Corps is "the one group you do not have to audition for," she says. "And we really pride ourselves that the Apprentice Company isn't a forced-labor camp, for while there is some crew work, it's minimal." She also takes pride in the theatre's "ambassadorial troupe" -- the Next Stage Ensemble -- which performs hourlong abridged versions of two classics (including one by Shakespeare) in repertory and on tour, with actors also taking classes in movement, voice, and other skills.
While noting that actors "can come in at any level if they qualify," Monte admits to a certain rigor in her expectations: "When we go through submissions, we look at who has classic training, who has engaged in college in Shakespeare and other classic work, so we know they'll have some understanding of language. We look for special skills -- combat training, voice work, mask work, clown work, if they can speak a number of languages, if they have dance background -- and the more special skills, the better." Where an actor has trained also has an influence: "If actors only have a musical theatre background, we would bring them in if we did a musical, but probably not for a general audition."
And that's just the start of the process. "There's usually more than one audition for the Apprentice Company, plus a pretty comprehensive application process, plus three letters of reference and a statement about why you want to be here," Monte says. "You need a lengthy phone interview. Of course, if you've been through some of the categories, we obviously know you fairly well. But when you're not being measured by the others in the Apprentice Company...[we] look for like-minded people, for a determination toward excellence, not mediocrity.
"We look for people who are committed and have a fair degree of, not just intelligence, but who read," she continues. "I can't tell you how many people have never read The Glass Menagerie or Romeo and Juliet. And it's not reading plays, but everything making up a theatre artist -- a renaissance mentality. Avid curiosity goes a long way. People who have traveled tend to have a more sophisticated sensibility; people who have such a high level of dedication that they're able to engage in the difficulties of intensive training." Finally, Monte likes "people who are nice. If one actor is snarky and one is nice, clearly I'll go with the nice one. Ego is a good and healthy part of being a theatre artist, but no one gets enough money to put up with that."
Monte cites actor Jared Zeus, "who has gone through a kind of 10-year training with us," as someone who "represents the program's philosophy." Zeus, she says, exemplifies "the belief in training as a lifetime pursuit; that for theatre engaged in classics, training is not helter-skelter but a disciplined part of the work."
Speaking from Los Angeles, Zeus talks glowingly of his experience with the theatre, which will continue this summer when he'll appear in The Play's the Thing. "I grew up in Summit, N.J., 15 minutes from the theatre," he says. "My parents go to the theatre frequently, and I used to go, too, so when I expressed interest in going to school for theatre, my father asked the theatre if anyone could help me with my audition. I was 17 and auditioning for college, and Joe Discher, the associate artistic director, was very helpful." Zeus got into the Apprentice Company in 1997, the Next Stage Ensemble in 1999, and the Non-Equity Company in 2000. His union card soon followed.
"The Apprentice Company is intense: acting classes in the morning, voice class as well, movement class, scene nights," Zeus recalls. "It was great to act for actors. Feedback would come by speaking to other actors after the scene night and through our teachers, so it was ongoing. In Next Stage you put on plays in rep, and because they're hourlong and because you're touring to schools, parks, libraries, and whatnot, you can more casually get into Shakespeare. In the Non-Equity Company, you do mainstage and late-night productions, and that stretches you most of all. It's the classics, Three Days of Rain, Orpheus Descending...."
While pursuing work in L.A., Zeus looks forward to returning to theatre each summer, where he regularly notices changes in his work: "I find that language comes so much more easily. Especially when you work on classical plays, there's a translation you do -- things are heightened that wouldn't be heightened otherwise, and that's a skill that gets honed over time." How do you learn such skills? "By something Bonnie said years ago," he says. "She was talking about how it's great to have all this education, but that the best education and acting training comes from your life experience -- how you relate it to what you're doing. You understand more fully the more you live."
The Shakespeare Theatre of New Jersey's season runs May 1-Dec. 30. For more information, visit www.shakespearenj.org.
-- Leonard Jacobs
Stages St. Louis
Kirkwood, Mo.
"We're crazy" is Jack Lane's explanation for Stages St. Louis' campaign to break ground on a new performing arts center by late 2008. Lane is executive director of the company, which is preparing for its 21st season. "It's the hardest thing you could possibly do -- raise this kind of money," he says, adding, "It's really interesting. There is no performing arts center in St. Louis that a theatre owns. We all rent. The MUNY rents; St. Louis Rep rents out of Webster Conservatory. We perform in a 400-seat theatre in a town just outside of St. Louis called Kirkwood. As Stages grew -- for many years Actors' Equity said we were the fastest-growing professional theatre in the United States when it came to subscribers and the number of Equity contracts -- we maxed out.
"We were playing to sold-out house after sold-out house," Lane continues. "We were not able to pull any more revenue to the box office; we had stretched our season as much as we could. We started with 24 performances in our first season; now we have 130 performances in our season, which is six months. It got to the point where it was either grow or die. There was no other theatre facility that really worked for us. So we said to the board, 'We'll just go more and more into the hole. We might as well just raise some money to build our own facility, because St. Louis needs to build a regional facility.' That was decided about six years ago, and we've been heavy-duty at it for approximately three years."
Rehearsals for the first show usually begin in May; the season stretches to the first week of October and this year will consist of A Little Night Music, The Full Monty, Crazy for You, and a "family production," Snoopy!!!. Lane is one of the founding members of the company, which began with "a miniscule budget of $50,000. Long story short, it's now operating at a $3.4 million budget for 2007. We also now have a second arm of the company, which is the Performing Arts Academy. That's a year-round academy."
Approximately 1,000 students are enrolled in the academy, ranging from 18-month-olds to senior citizens. "The bulk of students are 6 to 16," Lane says. "It's all the disciplines of musical theatre -- voice, music, dance, drama -- and there's also improv, group voice, private voice, and an early-childhood series. We've got some senior citizen classes. We try to keep the space as active as much as we can."
The company's new 80,000-square-foot facility will include room for an expanded academy in addition to a 734-seat mainstage and a 200-seat second stage. "We do hope to offer, starting in the fall, preparatory classes for conservatories -- to get high school kids ready to audition for them," Lane says. "We've met with a number of conservatory leaders to get that program going, but there is no degree program as of yet."
Recent performers at Stages St. Louis boast some impressive credits. Chris Jones is playing Frankie Valli in the national tour of Jersey Boys; he flew back and forth to New York for those auditions while rehearsing and performing in Stages' production of Grease. Jayne Paterson, who played Sally Bowles in Stages' production of Cabaret, is currently starring in the revival of Jacques Brel at New York's Zipper Theatre. David Elder, who played the Emcee in the same production of Cabaret, played Billy Lawlor in the Broadway revival of 42nd Street and will be returning to Stages to star as Bobby Child in Crazy for You. Another alum, Jenna Coker, is now appearing Off-Broadway in Evil Dead: The Musical.
Lane is currently in New York to conduct Equity auditions for the upcoming season. His advice: "It sounds like a cliché, but the biggest piece of advice is to be yourself. Don't try to layer anything on; just be who you are. It always works the best. I think it's important to have appropriate material for the shows you're auditioning for. Your headshot should look like you. We get the picture and sometimes get very excited, then the performer comes in and it's not even close to what they look like. Also, try and relax. We really like to get to know the person just as much as their talent. Life is short. We'll work more with someone that's talented but seems like a terrific person than with someone who seems like a megatalent and seems to have a real edge and is difficult. We'll bypass that person. Team spirit is important when you've such a short rehearsal period. We're very big on checking up, talking to other theatre companies. It's a small business."
Equity principal auditions were held in New York on Jan. 30. An Equity chorus call for dancers will be held in New York on Feb. 5. Stages St. Louis' season runs June 1-Oct. 7. For more information, visit www.stagesstlouis.com.
-- David Sheward