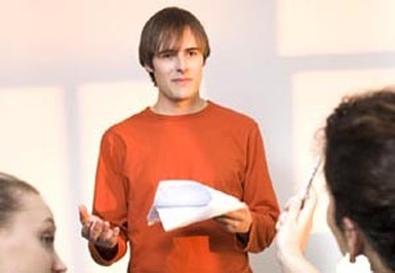 Maria E. Nelson and Ellyn Long Marshall met 25 years ago over the phone. Marshall was working in casting for New York's Public Theater, Nelson was an agent, and the two hit it off during a business call. They started working together shortly thereafter. Over the years, their company, the Orpheus Group, has established itself as a major presence on the New York scene. The pair has worked with both respected theater companies (INTAR) and critically acclaimed independent film productions ("Girlfight," "Real Women Have Curves," "Amreeka"). Seeking to spread their wings, they recently formed a new company, Liberty Films, to produce indie features with multicultural themes.
Their First Film
Maria E. Nelson: We started in theater. And then we got a call from L.A. one day from a producer: One of the casting directors they had hired wasn't able to do the job. So they were in a bit of a bind, and the film was going to be shot here in New York. They called us on a Tuesday and said, Could we be ready within that week to give them a casting session? It was for the feature "Above the Rim." We weren't that well-versed in basketball, let me tell you.
Ellyn Long Marshall: We became well-versed in a short period of time.
Nelson: When they got here, we had a full session of basketball players who were actors. We surprised ourselves.
Talent Search
Marshall: We've got great memories for talent. One or the other of us will remember someone that we've seen two years ago that came in to audition, possibly didn't get the role—but you do remember good stuff. We do the regular agent submissions; we go to see as many workshops and showcases as we can. The projects we've worked on are eclectic in terms of type. There are no boundaries, and that includes picking people up on the subway.
Nelson: We try to keep a really open-door policy. We've been in situations in which an actor will pick up the phone and call and say, "Listen, I really feel that I'm very right for this role. Will you see me?" At the end of the process, if the individual really feels they are right for it, we will see them. We're that open.
Marshall: I remember in one case, it was for a stage piece—we were casting for "A Raisin in the Sun." A young lady [Monet Walton] came in, and her résumé was totally musical theater. She was so earnest about this and she said, "I know I can do this role." We brought her in and she booked it.
Nelson: You don't close the door, because you never know what's around the corner.
Discovery Channel
Marshall: Michelle Rodriguez came from an open call [for "Girlfight"]. It was a totally instinctual thing. We'd been talking about this role for literally a year with the writer-director, Karyn Kusama. She was very specific about what she wanted this person to be. We saw hundreds and hundreds of young ladies. When we saw her, I just knew immediately that was the girl. She had no credits and came in off the street to this open call and she was fabulous. Same thing with America Ferrera [for "Real Women Have Curves"]. She'd had more training but was still very young.
Nelson: [Ferrera] was training here in New York, and we sent her the script. A manager called us and said, "I have this girl, she's new, but I would really like you to take a look at her." We just had this feeling about this girl. We knew that from the minute we read her. She just had a certain quality—you know when a person can do it. We had to really convince the network that she could do it.
Marshall: We worked with her. We have this thing called love for actors and respect for actors. When we know a person is right for it, if we have the freedom, we will keep bringing them in, putting them on tape, working with them ourselves in our own office. And it has worked.

Audition Craft
Marshall: I love to read with the actors. I've acted and directed as well. So knowing what the director wants, which is extremely important, I do like to read with them. I do like to give them notes.
Nelson: After having long sessions with your director and getting to the point where you feel that all of you are seeing the same thing and looking for the same thing, we have a tendency to then get very specific with the actors. If we see that they're right for it and we see that they've got a spark, we really work them. We give them as much preparation as possible. Because the whole idea is to have an actor be the best they can be.
Marshall: A lot of actors don't realize that it's not just coming in and, as they put it, nailing it. You can nail it all you want, but if a director has a faint hint that you might be a problem, personalitywise, they will ask us that and we have to be truthful. There's much more to it than the craft. It's who you are as a person. That's just as important.
A New Leaf
Nelson: Aside from the casting, we have a new production company. Our first production that we will be coming out with is called "Dona Blanca." It's inspired by the same gentleman who inspired "Maria Full of Grace" [producer Orlando Tobon]. We have six films on the burner, and we're ecstatic. It allows us to continue casting and at the same time allows us to do what we basically have done for other people. After a while, especially with independent film, you get that call saying, "I have the script; would you please help me?" We have talked producers and writers and directors through making a film beginning to end. So we've decided, "Okay, now we're actually going to put it out there." After 25 years, we're still having a real good time doing what we're doing. It's so much fun, because we love actors so much.
Maria E. Nelson and Ellyn Long Marshall will take part in the panel discussion "Declare Your Independents: Working in Independent Films" at Actorfest NY on Sat., Oct. 24. For more information, visit Actorfest.com.