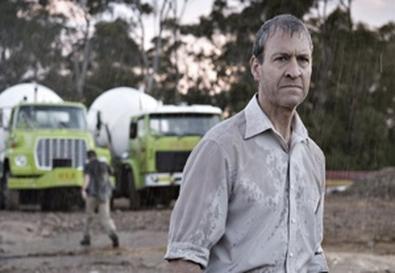 A tightly drawn, cohesive, and suspenseful film noir, "The Square" tells the story of an adulterous couple whose misconceived schemes involving thievery and arson lead to murder and blackmail. There are twists and turns in the narrative that in less-skillful hands could feel foolish and contrived, but in this flick they're organic and, within the genre's parameters, totally believable. What's especially striking is that "The Square" is the first full-length feature from Australian stuntman-turned-director Nash Edgerton. His brother Joel Edgerton co-wrote the fast-moving script (with Matthew Dabner) and has a featured role as an arsonist for hire, who finds himself involved in a killing he never bargained for.
All the acting is nuanced. David Roberts is superb as a sensitive, low-keyed husband who falls in love with another man's wife. As their affair escalates, he becomes calculating, desperate, and ultimately overwrought with guilt. At moments all the elements are at play, especially when blackmail letters start arriving. It is a layered performance. As his young lover, Claire Van der Boom also evokes a complex character who is, above all else, a survivor. She is brilliantly conniving and self-serving while at the same time a vulnerable and terrified wife. Anthony Hayes is equally plausible as a shady businessman and brutish husband who in the end you almost pity. Lucy Bell, playing the arsonist's girlfriend, paints an intriguing, ambiguous figure. The character is beleaguered, childlike and inarticulate, yet manages to express rage and take revenge through silence and a delaying tactic that has grave consequences. Her motivations are not even clear to herself.
"The Square" is an intense film, and its momentum builds. Another plus is the bleak, nonspecific locale. One assumes the events are unfolding somewhere in Australia, but it could almost be any lower-middle-class community that is neither rural nor suburban. It's a netherworld and the perfect backdrop for the life of an Everyman. After all, the film is very much about ordinary people embroiled in extraordinary circumstances. Again, the creators could have easily crossed the line, hinting at lofty themes of "universality." But the aesthetic is surprisingly subtle. Credit must go to director of photography Brad Shield and production designer Elizabeth Mary Moore for their contributions to a fine, tight thriller.
Genre: Drama.
Written by: Joel Edgerton and Matthew Dabner.
Directed by: Nash Edgerton.
Starring: David Roberts, Claire Van der Boom, Anthony Hayes, Joel Edgerton, Lucy Bell, Bill Hunter.