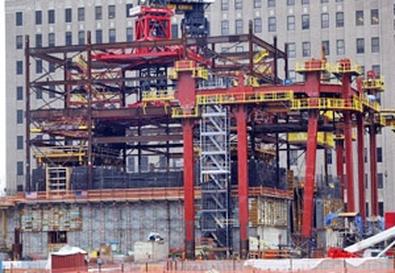 While stakeholders have different emotional, fiscal, and political investments in the rebuilding of New York's World Trade Center site, basic facts about the project remain consistent. Most Americans know, for example, that construction is under way on a 1,776-foot building to be called the Freedom Tower. Less attention, especially in recent years, has been paid to the notion of a performing arts complex near Ground Zero as well.
In the coming weeks, however, when ground is broken a few miles to the north on a 59-story Midtown apartment complex that will provide Off-Broadway's Signature Theatre Company with a permanent home, some people may start to wonder what happened. After all, Signature, together with the dance-oriented Joyce Theater, was selected in June 2004 to be among the tenants in a performing arts complex set to rise at the World Trade Center site, following a competition that attracted dozens of nonprofit theater groups and other organizations. Within three years, Signature was hunting for other space. Today, the possibility of a World Trade Center performing arts complex remains in flux.
And public officials know it. In testimony to a City Council hearing in October, Kate Levin, commissioner of the city's Department of Cultural Affairs, said construction on the site is proceeding in such a way that if the foundation for a performing arts center isn't laid within four months—roughly by February 2010—it likely will never happen at all.
Why is this important? Think of it this way: More space and more productions mean more auditions and more jobs. Think of it this way, too: A thriving performing arts complex in Lower Manhattan will spur more arts-oriented groups to make the revitalized neighborhood their home. Work begets work; economic development begets economic development. Actors also know that top-quality spaces are always at a premium in cramped Gotham.
Affixing the Signature
For Signature artistic director James Houghton, the announcement of the Signature Center, a $60 million partnership that will ensconce the company inside a skyscraper on West 42nd Street and 10th Avenue—in Manhattan's theater district—is a bittersweet conclusion to the story. The unique mission of the group, which was founded in 1991 and devotes whole seasons to one playwright or set of theater artists, has been tremendously successful; it long ago outgrew its current home, called the Peter Norton Space. "As a midsize theater," Houghton explained, "what happens over time is you have to broaden the foundation of what you do and how you sustain your business model."
That's why from the beginning, he said, the idea of moving Signature downtown had a dynamic feel: "When we were designated for the performing arts center downtown, there was a great sense of urgency to get this ball rolling, to get these buildings going, to give a sense of renewal to bring life back to the area that's so desperately needed." To characterize the overall timetable as accelerated is understatement: Within a single summer, Houghton said, acclaimed architect Frank Gehry had been brought on board and the gears of fundraising were set to rev up.
By Houghton's count, however, there are "40 or 50" different categories of stakeholders in the World Trade Center plan, from the governor (George Pataki in 2004) and the mayor (still Michael Bloomberg) to representatives of the victims of the Sept. 11 attacks to government agencies. "We had a positive collaboration with everyone," he said, "and there are a lot of smart, good people who are all trying to do the right thing. But it got to a point when things got more and more complicated." The biggest obstacle: The acreage of the proposed performing arts center turned out to be too small, requiring theaters to be stacked on top of each other, thereby substantially increasing the overall technical costs.
"Then the city asked us to look across the street," said Houghton, at Fitterman Hall, owned by the City University of New York and highly damaged by the Twin Towers' collapse. "But we were back to the same problem: We'd be on too small a parcel, had to stack theaters together with the Joyce, so costs were extremely high."
Signature and the city kept space-hunting. Eventually, the company announced that it wouldn't move downtown at all (the Joyce remains on board) and found a construction site in Midtown that is across the street from its current home. Houghton is thrilled, especially as New York City is pledging $25 million toward the project. Yet he maintains that a performing arts complex at the World Trade Center must be more than a dream: "The initial vision—this notion of culture aligning with the World Trade Center memorial to create a buffer from commerce and a tribute to those lost on 9/11—was on target. I'm hopeful the Joyce Theater continues to find its roots there. Thousands upon thousands of hours have been put into this vision."
Menin Charge
The chairperson of Community Board 1, which covers the World Trade Center site, is Julie Menin. She's a classic go-getter: lawyer, journalist, host of a WNBC interview show, member of the jury for the competition to design the World Trade Center memorial. She also serves on the board of the Lower Manhattan Development Corporation and founded Wall Street Rising, a nonprofit group focused on downtown revitalization.
Menin is not just hopeful about a performing arts complex; she's outspoken about it. And she insists that all stakeholders start taking seriously the timetable Levin outlined in October. In an issue of the community newspaper Downtown Express published right before Levin's testimony, Menin wrote that the lack of progress on a complex has been "a great source of disappointment." She demanded that public officials "respect the very strong desire of the community to see the promised PAC built as it was intended in a timely manner."
"That's because we have an extremely narrow window to get this work done," Menin said. "We can't foreclose the possibility that the site is still viable for a complex." The issue, she said, isn't the fiscal downturn and isn't the dramatic drop in the New York commercial real estate market: "The reason for the delays at Ground Zero is there isn't one entity or one individual in charge. What we have is a multiplicity of agencies that together make things extremely difficult. Three governors have been involved in Ground Zero, and one mayor. And any number of different elected officials."
Menin also said the artistic community must do its part. She exhorted actors, writers, directors, dancers, and visual artists—not to mention artistic directors, executive directors, funders—"to let our elected officials who control Ground Zero know a performing arts center isn't just a priority; it's one of the most important things we can do. What we want to do is make Lower Manhattan a world-class cultural facility. A performing arts center revitalized moribund Miami. Why can't New York City do that?"
She accused many of the World Trade Center stakeholders of worrying unduly about the 10 million square feet of office space currently under construction on the site: "What I'd say to those who never put the performing arts center first is this: You're doing this backward. If you want to revitalize an area [and] then charge the highest rent for office space, you need this performing arts center. There must be much more out-of-the-box thinking. We've got to think about all the ways in which we can utilize the arts."