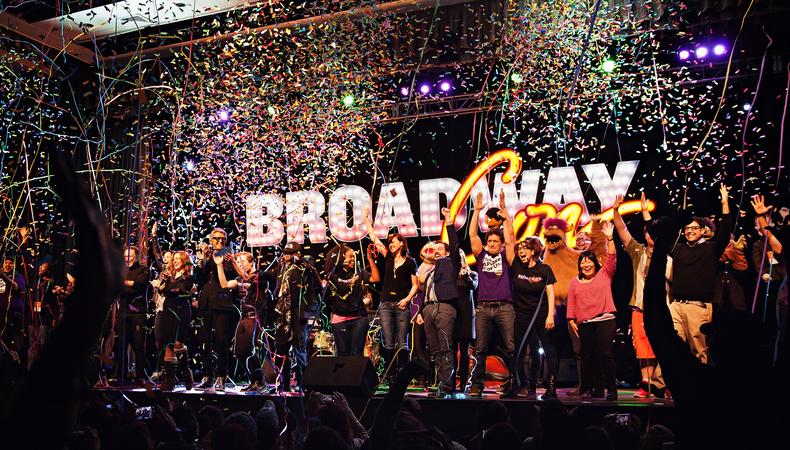 The Great White Way had a very special event Jan. 22–24 in the New York Hilton Midtown, and we're not talking about Winter Storm Jonas.
The inaugural BroadwayCon, a weekend of panels, workshops, fan meetups, and performances, brought together some of today's most active theater artists and thousands of attendees from all over the country. Created by event organizers Melissa Anelli, Stephanie Dornhelm, and "Rent" star Anthony Rapp, the first-ever conference gave fans a chance to collectively celebrate and bond over their love of all things Broadway.
"I'm really grateful and really proud," Rapp told Backstage at the event. "I'm just so glad that so many people in the community are participating." Asked why it took until 2016 for such a function to come together, he praised the efforts of Anelli, Dornhelm, and co-presenters Playbill and Mischief Management. "It needed the right people to do it, and they're the right people. Because they understand the 'why' of it. It's not just some cash grab. It's a celebration and an opportunity for our community to come together. It will of course benefit everyone who's a part of it, but the reason why we all do this in the first place is because we love it."
In addition to autograph sessions with Jonathan Groff, Lesli Margherita, Telly Leung, Andrew and Celia Keenan-Bolger, and the cast of "Spring Awakening," and others, the conference included musical workshops with the likes of Rapp, Michael McElroy, and Rebecca Luker. Industry pros held panels on topics ranging from diversity onstage to directing, designing, producing, and marketing theater. The original "Rent" cast had a mini-reunion, while a panel about the makings of Broadway's current hit "Hamilton" included tidbits from each of the principal cast members and an off-the-cuff rap verse from Lin-Manuel Miranda.
"I think in the world of fans, this legitimizes us," said "Hamilton" lead Renée Elise Goldsberry. "There has to be this outlet, there has to be more than just the stage door after a show. It just shows how ripe the idea was, so kudos to these creators."
Her castmate Okieriete Onaodowan agreed, adding that as a former Comic Con participant, the similarities between Broadway fans and comic book geeks are strong. "They're very loyal, they care so much about the shows. Not only that, they go to great creative lengths to show their love, which is what a lot of comic book fans do, with their own versions of costumes and songs."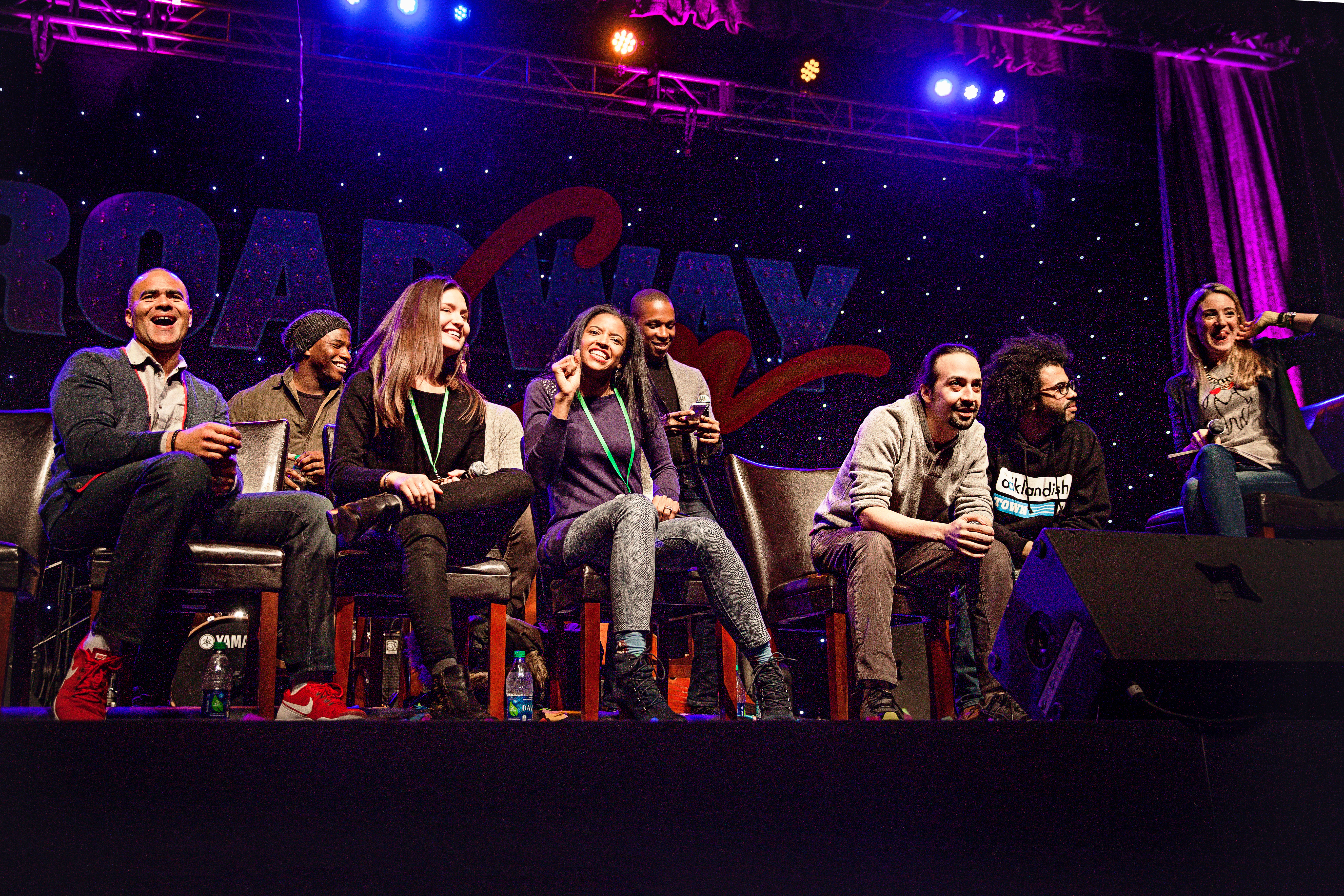 The cast of "Hamilton" at BroadwayCon. Photo by Cheri Root.
The event was officially kicked off with an original mini-musical created by David Alpert, Jason Wetzel, and Marc Kimelman detailing how BroadwayCon was born. Featured in the show were Rapp, Danyel Fulton, Rob McClure, Annoying Actor Friend, Ann Harada, Steve Rosen, and special guests Goldsberry, Tommy Tune, Lena Hall, and Ben Vereen—not to mention a video message from Rapp and his "If/Then" castmates Idina Menzel, James Snyder, and LaChanze.
Anelli marveled at the event's success despite the massive snowstorm on its second day, which clogged NYC streets and shut down every current Broadway show. "It went beyond our wildest dreams and expectations. Even with the snow, there was a 'we're all in this together' feeling to it." At one point, she added, she spent five minutes walking among the guests. "In that five minutes I met two Phantoms, the 'Side Show' twins...and was handed a gift card for a complimentary pie from a Mrs. Lovett!"
Is it too early to start preparing our costumes for next year?
Inspired by this post? Check out our Broadway audition listings!