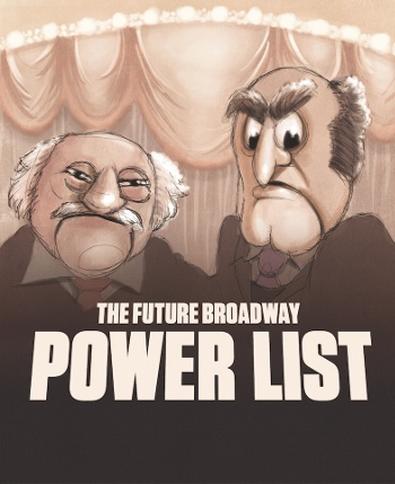 From Alex Timbers and Leigh Silverman to Jennifer Ashley Tepper and Ryan Scott Oliver, these are the men and women who will shape the theatrical world for years to come.
Annoying Actor Friend
While Broadway's current reigning king of gossip, Michael Riedel, regales his readers with 50-year-old dish about Stephen Sondheim and Barbra Streisand, the viral Web presence known only as Annoying Actor Friend took to social media to implore members of Equity to not accept sending out low-tier national tours of major moneymaking hits such as "Newsies" and "Kinky Boots." The result? An Equity town hall meeting about the controversial topic. NY1's Frank DiLella may have questioned whether AAF's satirical voice is cyberbullying, but the theatrical community is lucky to have someone talking truth—both online and in a monthly column for this magazine.
Chad Beckim
As co-founder and co–artistic director of Partial Comfort Productions, Beckim champions stories about human adversity and resilience—including two of his own most recent works, the post-prison drama "After.," and his public school–set "And Miles To Go." With a sharp ear for naturalistic dialogue, Beckim creates daringly original scenarios in which the common man finds himself in uncommon situations. Broadway, awash in adaptations and holdovers from known entities of the past, could only benefit from a voice this fresh.
Bisno Productions
Debbie Bisno and Roberta Pereira are hardly superstars of the commercial producing world, but in the last five years, their Bisno Productions has laid the groundwork for a fascinating career. Despite the occasional cash cow ("Annie"), they mostly back intriguing outliers such as "War Horse," "Mothers and Sons," "Grace," and the West End revival of Peter Nichols' "Passion Play." Some shows hit and some don't, but Bisno and Pereira nevertheless seem dedicated to avoiding the typical commercial diet of low-risk razzle-dazzle. If they keep it up, they could become a go-to shingle for plays with a point of view.
Jeremy Blocker
Blocker became New York Theatre Workshop's current managing director earlier this year, following a successful tenure as the MD of Ars Nova, where the wunderkind manager oversaw six world-premiere productions (including "Natasha, Pierre and the Great Comet of 1812") and grew the institution's budget by 50 percent. Next season's shows at NYTW include an adaptation of Ingmar Bergman's "Scenes From a Marriage," and a new work from Ayad Akhtar, last year's winner of the Pulitzer Prize for drama. Blocker's current perch has a great track record of developing shows that then launch successful Broadway runs, including "Once," "Peter and the Starcatcher," and even "Rent." Could this sharp manager be destined for a similar trajectory?
Bekah Brunstetter
One of the most distinctive voices to emerge in the last decade belongs to the prolific Brunstetter, whose output includes "Be a Good Little Widow," "Oohrah!," "To Nineveh," and the upcoming "Cutie and Bear." Her nickname might as well be "The Magnet"—she's collected pretty much every award given to Off-Broadway playwrights. Brunstetter currently calls her home Los Angeles, where she serves as a staff writer on ABC Family's "Switched at Birth." And that's fine. The bigger a name she becomes, the bigger a draw she'll become when she makes her inevitable Broadway debut.
Philip Himberg
The artistic director for the Sundance Institute's Theatre Program, Himberg is the power behind some of the buzziest plays and musicals of the last few years, regardless of their proximity to Times Square. From Annie Baker's "Circle Mirror Transformation" to Stew's "Passing Strange" and current Main Stem offering "A Gentleman's Guide to Love and Murder," playwrights have found a creative haven with Himberg and his team every summer in Park City, Utah. The best part? Himberg and company's modesty when it comes to the success of their fellows.
Steven Hoggett
Hoggett has become Broadway's most bankable movement director, with "Rocky" and "Once" currently drawing crowds, and the memory of "The Glass Menagerie" and "Peter and the Starcatcher" still commanding respect. Yet despite its broad appeal, his work retains an unconventional feel, blurring the line between traditional hoofing and stylized blocking. With "The Last Ship" and "The Curious Incident of the Dog in the Night-Time" both hitting the Rialto in October, Hoggett will spend at least another season setting the bar for boundary-pushing movement.
From Alex Timbers and Leigh Silverman to Jennifer Ashley Tepper and Ryan Scott Oliver, these are the men and women who will shape the theatrical world for years to come.
Samuel D. Hunter
By now, pretty much the only location Hunter's plays have not been performed is on the Broadway stage—but local critics seek out even his regional plays for review in their outlets. The soulful Idaho-bred writer first made a splash with the Off-Off-Broadway play "A Bright New Boise," and as subsequent plays such as "A Great Wilderness," "Rest," and the wildly acclaimed "The Whale" (which made its New York premiere in 2012 at Playwrights Horizons) focus with tender precision on lost souls, Hunter makes it clear he knows exactly where he is going.
Dave Malloy
Talk about an unlikely success: An electropop opera based on "War and Peace" that also serves audiences a full Russian meal sounds destined to be a noble failure. Yet "Natasha, Pierre and the Great Comet of 1812" became one of the season's biggest sensations, generating three separate runs—two of them in for-profit venues built especially for the show. At least half the credit goes to Malloy, who wrote and composed the entire work and starred as the original Pierre. His vision was both audacious and coherent, and it proved that commercial theater doesn't always have to be about moonlighting movie stars and hoary revivals. Sometimes, a bold work of art is all it takes to break through.
Ryan Scott Oliver
Oliver is the best composer working today without a major production. His songs are routinely included in showcases; his musicals are released on CD ("35mm") and staged in concerts ("Jasper in Deadland"). Whenever theater aficionados gather and talk, his name crops up with unvarying frequency as the songwriter you must listen to. So it's only a matter of time until Oliver himself gets the showcase he so richly deserves: a spectacular mounting of one of his chewy, thought-provoking works.
Christopher Oscar Peña
Chances are, you may have already seen something of Peña's. This California native has taken New York by storm, having done shows associated with such notable institutions as the Public Theater, Naked Angels, New York Theatre Workshop, Theater for the New City, Chicago's Goodman Theatre, and London's Old Vic. His last play, "a cautionary tail," enjoyed a run this past summer at the Flea Theater, and he is currently a fellow in the Lark's Playwrights' Workshop. Peña's Web series, "80/20," which he both created and acts in, was recently named an Official Selection at the 2013 New Media Film Festival in Los Angeles. Pretty soon, the question isn't going to be "What has he done?" but "What isn't he working on?"
Leigh Silverman
It takes an especially good director to helm the premiere production of a challenging play. If it doesn't work, audiences may never give the show (or the writer) another chance. Credit Leigh Silverman, then, for steering successful envelope-pushers like David Henry Hwang's "Yellow Face" and Madeleine George's "The (curious case of) the Watson Intelligence"—both of which were nominated for the Pulitzer Prize—and tackling everything from solo shows to sprawling musicals. With her latest Broadway credit, the spare, beautiful take on Jeanine Tesori's "Violet," Silverman could convince a much broader audience to care about unusual and intelligent work. As a bonus, the show continues her knack for finding the heart in spiky material—which never hurts when you've got tickets to sell.
Jennifer Ashley Tepper
Tepper may be best known to the general populace as the mastermind behind the real staging of the fictional musical "Hit List" from Season 2 of NBC's "Smash." But as the head of programming at 54 Below—this generation of theatergoers' answer to Joe's Pub—Tepper is also responsible for celebrated concerts such as "If It Only Even Runs a Minute." Proving herself both a zeitgeist predictor and theatrical historian with her eclectic programming, Tepper is leading the conversation on contemporary musical theater.
Alex Timbers
"Rocky the Musical" sounded like a joke, but the presence of Timbers as director made even skeptics pause in their mockery. He'd already made a name for himself with the singular "Bloody Bloody Andrew Jackson" and "Peter and the Starcatcher," both Off-Broadway productions that retained their charm and magic when transferred to the Great White Way. Then came "Here Lies Love," the sold-out, wildly lauded Imelda Marcos disco musical. And sure enough—Timbers' work on the climactic boxing match is what has made "Rocky" a must-see. Calling him the savior of the American musical may not be far off.
Adam Szymkowicz
One of New York's most prolific writers, Szymkowicz is a postmodern provocateur who tugs at the thread of an idea until it unravels in the most resonant and unexpected ways. His work runs the gamut of genre-bending, whether it's superhero nurses ("Hearts Like Fists") or the seedy underbelly of the clown mafia ("Clown Bar"). Other writing credits include everything from the Web series "Compulsive Love" to Tyler Perry's "House of Payne." This wildly diverse body of work has made Szymkowicz a mainstay among practically every Off-Broadway theater company looking to produce stories that are irreverent, ambitious, or just plain fun. Maintaining a blog chronicling the methods of his contemporaries certainly doesn't hurt: His posts, simply titled "I Interview Playwrights," have reached 650 and counting.
Inspired by this post? Check out our Broadway audition listings!