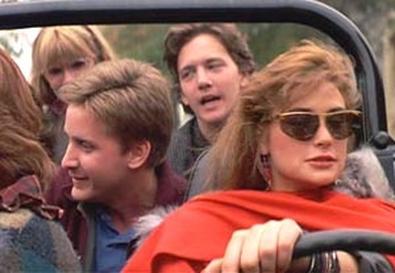 ABC has the hots for "St. Elmo's Fire," a contemporary take on the 1985 movie that launched the filmmaking career of Joel Schumacher.
After strong interest from multiple networks, ABC landed the dramedy series project, exec produced by Schumacher, Topher Grace, Dan Bucatinsky and Jamie Tarses and to be written by Bucatinsky.
"Fire," which has received a script commitment with a penalty attached to it, hails from Sony Pictures TV, whose feature sibling owns the rights to the original movie.
That film, co-written and directed by Schumacher, was one of the defining movies of the Brat Pack genre. It starred Emilio Estevez, Rob Lowe, Andrew McCarthy, Demi Moore, Judd Nelson, Ally Sheedy and Mare Winningham as friends who had just graduated from Georgetown University and chronicled their adjustment to adulthood.
"More than anything, the movie evokes a feeling that doesn't go away," Bucatinsky said, "the feeling of bonding with your friends who become your surrogate family."
Added Grace, "It's the feeling of that time in your life when everything is possible but you can't figure out how to make it possible."
The series version will use the movie as a takeoff point and as an inspiration as it introduces six new friends: three boys and three girls.
What will remain is the setting -- Georgetown and St. Elmo's Bar & Restaurant, now called St. Elmo's Bar & Grill, where the friends hang out. And if the set-up looks a little bit like "Friends," that's OK with Bucatinsky.
"I feel it is time to re-create 'Friends' in the hourlong genre and feel like this is the perfect opportunity," he said.
Grace and his Sargent Hall Prods. producing partner Gordon Kaywin got the idea to do a contemporary TV series based on "Fire" when the two came across the movie on TV.
They took the idea for what would be their first TV show to Sony TV and the studio-based Tarses who, as an NBC executive, developed "Friends" and found "Fire," a more dramatic version, intriguing.
The trio recruited Bucatinsky, who has a blind script deal at Sony, and the group reached out to Schumacher, who also came onboard.
Eighties' remakes are hot at the broadcast networks this coming season with the launches of contemporary versions of "Parenthood" and "V."
Bucatinsky and Schumacher are repped by CAA. Grace, who is filming "Valentine's Day," is repped by WME, Brillstein Entertainment and attorney Michael Gendler.
– Nielsen Business Media