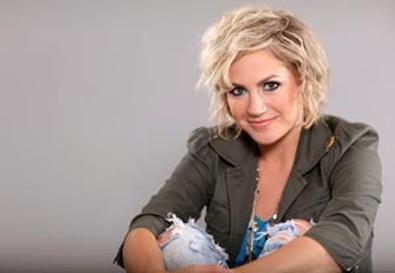 It is not uncommon for dancers to shift into careers as choreographers. But few do so as quickly and successfully as
Stacey Tookey
has. With virtually no professional choreography experience, Tookey garnered an invitation to choreograph for the hit TV show "
So You Think You Can Dance
" and received two consecutive Emmy nominations for her work. "The exposure that show has brought me is amazing," she says. "I now have so many opportunities to choreograph, I can't believe it."
Born and raised in Edmonton, Alberta, Tookey began dancing in the basement of her house, where her mother operated a commercial dance studio. "I don't remember a time when I didn't dance," Tookey says. "I started taking classes when I was 2½. My mother trained me all the way until I was ready to start my professional career. There were other instructors, but my mother was my main teacher, and my inspiration."
At her mother's studio, Tookey was introduced to a vast variety of dance forms, including ballet, jazz, modern, tap, musical theater dance, and hip-hop. "And I also studied Highland dancing, which is Scottish," she says. "I competed at an international champion level of Highland dancing. I also was a baton twirler and did a little bit of German dance and Chinese dance. The way it happened was that some teacher would approach my mother and tell her she should offer such-and-such kind of dancing at her studio. My mother would say, 'Okay, I'll give it a shot. I'll put Stacey in the class.' I loved everything about dance, so I latched on to all these different styles."
It wasn't until she was much older that Tookey realized how unique her multifaceted training made her among professional dancers, most of whom train predominantly in one form. Her eclectic background served her well throughout her career. When she was auditioning for a Bette Midler show, the choreographer asked if anyone could do any kind of ethnic dancing. "So there I went and pulled out my Highland fling," Tookey says. (She didn't get that job but did work with Midler on another project.) "And I've gotten other jobs because of my baton twirling, and also my figure skating, which was something else I did growing up."
A Valuable Break
At the age of 17, Tookey suffered a severe injury in London while representing Canada at the Royal Academy of Dance's Genée International Ballet Competition. (The competition is named for Adeline Genée, a Danish-born British ballerina whose career flourished at the beginning of the 20th century; she was a major force behind the founding and development of Britain's Royal Academy of Dance.) "I was jumping on pointe, doing a 'Coppélia' variation," Tookey explains. "In my head I thought I was just having pain from shin splints, but what was actually happening was I had stress fractures halfway through the bone on each of my legs, and they were breaking while I was dancing."
Though devastated at the time, Tookey now considers the injury a valuable experience: "I learned at a young age the importance of taking care of your health and your instrument. You only get one body." A year later, when her legs had healed, she landed a job as an apprentice with Ballet British Columbia. "But there was still the little girl inside of me who had taken all these different kinds of dancing," she says. "And while I'd thought being in a ballet company was my dream, I felt I was missing something."
Tookey took on an additional job as a dancer-cheerleader for the local NBA team, the Vancouver Grizzlies. "So here I was, in pointe shoes during the day, and then at night I'd change into my little shorts and combat boots and do hip-hop," she says. "I also explored a tap company for a while and danced in a jazz company in Vancouver as well. It was my time to dabble in a lot of different styles of work, and to grow up. Dancers forget that they need time for that. They're so eager to go out and hit New York or L.A. when maybe they're not ready yet."
Tookey eventually did hit New York, as well as Los Angeles, where she danced in a variety of small companies, opera productions, stage shows, and TV programs. After dancing for five years in Celine Dion's "A New Day" show in Las Vegas and assisting well-known choreographer Mia Michaels, Tookey was invited to choreograph for the Canadian version of "So You Think You Can Dance."
"I was completely honored, because I didn't have any real credentials as a choreographer," she says. "I just took a couple of my good friends from Celine's show, got in a studio, taught them some of my movement, and made sure to include partnering, because I know they use a lot of partnering on the show. Then I made a reel and submitted it. And the show just opened its arms to me and launched me into choreography."
The producers of the American version soon invited Tookey to choreograph for their program, and with her highly expressive contemporary movement style, she swiftly became a recognized creative force in the world of commercial dance-making. Having directed a "SYTYCD" live touring production, Tookey is now interested in becoming a director. "In many ways, choreographers are directors," she says. "They make decisions about costumes, lighting, and camera angles, so I think it should be a pretty easy crossover."