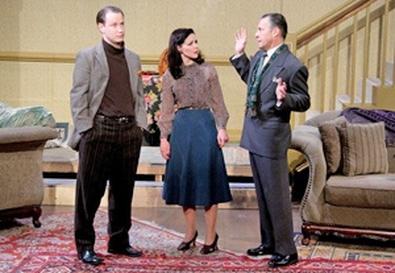 Same problems, different outfits. Oh, can we identify with this houseful of 1930s up-and-coming actors—each so hopeful, each surmounting personal struggles for the love of their art. Add in the similarly tough economic times, factor in the perceived bright line between film and theater, and the audience is embraced by the immediacy of this beloved play by George S. Kaufman and Edna Ferber.
With the precision and coordination of a Swiss watch, director Barbara Schofield wrangles the 25 or so actors on and off the stage and into charming tableaux. The action takes place in the living room (generous scenic design by James Spencer) of the fully booked Footlights Club, "a club for stage girls." In the main story line, spunky Terry Randall fights all temptation so she might remain a stage actor, while glamorous Jean Maitland heads to Hollywood to become a contract player. Schofield finds a pleasingly neutral style between modern realism and the heightened energy of Depression-era films. Amanda Weier, playing Terry, has the quippy delivery of Katharine Hepburn (who played Terry in the film version) and creates an admirable, sturdy but not abrasive heroine. Kim Swennen, as starlet Jean, provides the dazzle as well as a touch of vulnerability.
Subplots enrich the play. Most entertaining are the practice sessions of the two Marys, played by Michelle Lema and ?Laetitia Leon. But most eye-catching is the performance of Stephanie Erb, faithfully expressing the liveliness of that era's films, the great wit of Kaufman and Ferber, and the bounding energy of a houseful of aspiring actors.
Lead actors land the one-liners. The veteran actors show their experience when they find graceful ways to pick up the props and jewels dropped by the less-seasoned ones. With a full hand—and apparently endless warehouse—costume designer Shon LeBlanc supplies the vast numbers and varieties of charming daywear, eveningwear, and jammies, plus shoes, hats, and bags. Then he clothes the men—from handsome tuxedos to the obligatory yellow-plaid, ill-fitting suit for the comic relief.
So what's missing here? Not all the actors are up to the challenges of this production's style, nor any acting style. Too bad this sinks our complete enjoyment here. But credit Open Fist Theatre Company with giving so many actors a chance to ply their skills onstage—an opportunity the devoted women of the Footlights Club would be fighting for.
Presented by and at the Open Fist Theatre, 6209 Santa Monica Blvd., Hollywood. Jan. 22-March 13. Fri.-Sat., 8 p.m.; Sun., 2 p.m. (323) 882-6912. www.openfist.org.