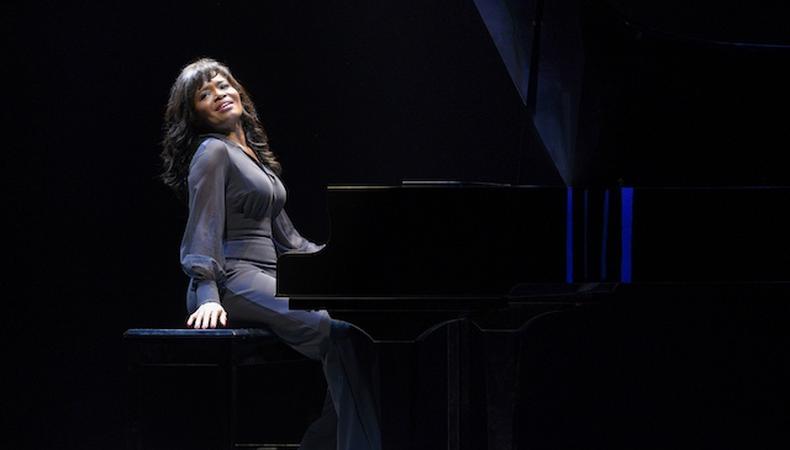 It was New York City, 1989, and with no agent or manager at the time, LaChanze picked up a copy of Backstage and saw an audition calling for a young African American female to play a character named Ti Moune. The show was Lynn Ahrens and Stephen Flaherty's Broadway-bound "Once on This Island."
"I went in, and I was the only person there because at the time it wasn't cattle calls like it is today," LaChanze recalls. It was two people behind a desk, reading their books, barely paying any mind. But once she opened her mouth and began singing, "they stopped reading, and they sat up, and they asked me to come back," she says. "I was an actor hitting the pavement, and I got my start from Backstage," she says. "I owe you guys a lot."
LaChanze was nominated for a Tony later that year for her breakout role in "Once on This Island," and she went on to win the industry's top honor in 2006 for her performance in "The Color Purple." Now, the veteran stage and screen actor is portraying the disco queen herself, Donna Summer, in "SUMMER: The Donna Summer Musical" at the La Jolla Playhouse. We caught up with her to talk about what it takes to channel the iconic performer—plus she offers must-know career advice for those looking for their big break: "You have to enjoy what you're doing."
Did the music of Donna Summer play an important role in your life?
LaChanze: Who doesn't love Donna Summer's music? It was part of my childhood, always heard around the house. What was more impactful for me was I didn't know as much about her life. That became more fascinating to me than her music; it was learning how that music came to be. She never really wanted to be a disco queen. The idea of being a sex goddess was rather shameful for her, and she fought against that image for years. She was this public figure, sensual and open to having a great time. But personally, she was very spiritual and connected to her roots. She calls herself an ordinary girl, and that was part of her identity. That dichotomy is what I found to be the most interesting and revealing thing about her.
What's the biggest thing you've learned as a performer from this show?
As singers, we're always taught to sing forward and place everything in the front of our resonating chambers. Donna Summer always sang in that space and had it naturally. Her muscle memory, the way she was built, she was a natural singer. So, in voice technique, we learned how to sing like that. My preparation was constantly singing in the frontal mass. If I ever have any vocal problems, it's because I'm singing incorrectly—Donna, however, she always sang correctly.
What advice would you give your younger self?
In my own one-woman show, "Feeling Good," I talk about my childhood and write a letter to my younger self in the show. The most important thing I would tell her is to trust my instincts. Just trust them. They're little whispers from God, I think. You've heard it a million times, but it's true: Listen to that inner voice. I would also say for myself, have more fun. I was a very ambitious, young actor, grateful and getting out there, working hard. I was single-minded in pursuit of my career. I am also the oldest of seven and had this extreme responsibility for everyone around me. I was a caregiver and not taking care of myself as much as I should have.
What was your memorable survival job before your first big break?
The quirkiest job was a summer job coming home from college, I was a telemarketer where I sold cemetery plots. And it was terrible because our call list was nothing but a bunch of senior citizens, and our motto was "We're the last ones to let you down." It was a horrible job because we would cold call, and we would tell them they've just been awarded a free cemetery plot. You can imagine the reactions. Some would scream and hang up the phone or freak out and start crying. It was just a bunch of kids home from college. We were kids, laughing and joking. It was so much fun.
What performance should every actor see, whether film, TV or stage?
I think every actor should see "August: Osage County," for several reasons. The comic timing is exceptional in that. How the characters are written, and the actors I saw stayed so determined on who their characters were. They were so beautifully written. It's a great study in character development, emotional arc, timing, and how an ensemble works together. I thought it was a fantastic, brilliantly written piece of theater that can rival any Shakespearean play I've ever read.
How do you prepare before each performance?
I spend some time vocalizing, and if it's my exercise day, I run three miles at some point in the day. I believe if your body is warm, your voice is warm. About a half-hour before, I do a full vocal warmup. I drink more water than one person should drink because if your body is hydrated, your core is hydrated. And before I get on that stage, I pray. I also eat a nice healthy meal because if I'm onstage and I'm hungry, that's all I'm thinking about. I like to have that fuel in my body. It keeps me from being distracted by my physical self. I also have one word to activate my process. With Donna Summer, my word is "discovery." I'm actively seeking and learning who I am on that stage as Donna every night, and it keeps it active for me. Each role that I play, I find a word that keeps it active for me.
What advice do you have for actors to nail auditions?
I know everyone says this, but you gotta have fun. You have to enjoy what you're doing. It has to bring you, the actor, personal joy and satisfaction for what you're doing. Whenever you work on your material away from everyone else, and you get to the core of why you chose to be an artist in the first place, if you get back to what you enjoy about doing this part, take that into the room and nine times out of 10 they will enjoy it because you are enjoying it. One of the ways I find myself fully committed is reminding myself I like what I'm doing and I'm going to go here and enjoy this for myself, and they will enjoy it, too.
Looking for West Coast work? Check out Backstage's Los Angeles audition listings!