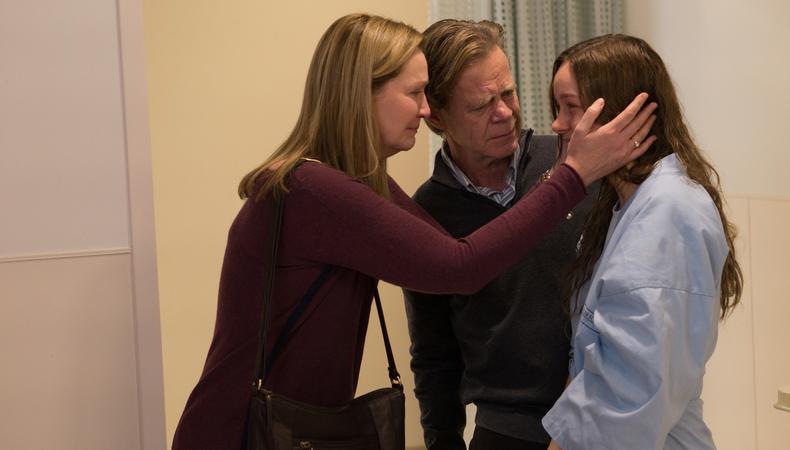 From "Room" to "Beasts of No Nation," some of this year's most powerful performances came from actors in smaller—but never small—roles.
Joan Allen, "Room"
"Room" is the kind of no-fuss indie that hinges on emotionally riveting—and, in this case, devastating—performances. Stars Brie Larson and Jacob Tremblay deliver twofold, and they've got a bevy of critical plaudits to match. But sometimes a film's quietest moments and characters can make for an unexpected punch to the gut. That's where veteran actor Allen comes in. Director Lenny Abrahamson's adaptation of Emma Donoghue's 2010 novel is the story of Ma (Larson) and Jack (Tremblay), who are held captive for seven years in a dilapidated toolshed. Ma is the only person in the world—a world that Jack doesn't know expands beyond the shed he calls Room—who's looking out for her son. After their escape, however, Ma's mother, Nancy (Allen), helps Jack adapt to his new surroundings while Ma deals with demons of her own. Allen brings to the role the perfect temperament of a mother's grace, wisdom, and love without letting us forget that she, too, is a woman rushed by the waves of mourning and loss. Despite her apparent stoicism, it's clear that Nancy is protecting her grandson by keeping grief at bay, saving it for behind closed doors. We know from the start that Ma would do anything for Jack, but as a pillar of emotional fortitude, Allen's Nancy quietly becomes as powerful a distillation of a mother's love. —Benjamin Lindsay
Benicio Del Toro, "Sicario"
"Sicario" director Denis Villeneuve told Backstage that working with Del Toro was "one of the great, inspiring moments" of his life. Watching the drug-war thriller, it's easy to see why. The actor gives credence to the idea that a great performance doesn't need much dialogue; as the inscrutable Alejandro, Del Toro uses silence and uncommon stillness to draw in his audience (as well as Emily Blunt's wary FBI agent, Kate) throughout most of the movie. An earlier draft of Taylor Sheridan's script gave Alejandro pages of exposition that were eventually cut, allowing the actor to hang back and remain an enigma.
Then come the film's final scenes. Kate realizes too late who Alejandro is and what drives him, and the audience can only watch in heart-pounding awe as the story's focus shifts across the Mexico-U.S. border to lay his intentions bare. Del Toro plays menace in a way no one else can, moving like a predatory animal, pitiless and alarmingly calm. The violence he unleashes chills to the bone precisely because it is executed so mercilessly. Alejandro's retribution would almost appear casual, were it not for the intensity—and, just maybe, pain—in Del Toro's eyes, gestures, and voice. —Jack Smart
Idris Elba, "Beasts of No Nation"
In one scene in "Beasts of No Nation," the child soldier battalion leader known simply as Commandant (Elba) is snorting brown-brown, a potent mixture of cocaine and gunpowder; Elba's performance in this devastating portrayal of war-torn West Africa is just as intoxicating. He's a heady mix of terrifying magnetism and explosive power that keeps his onlookers, both in the film and in the audience, at rapt attention.
The actor damn near saunters into frame—preceded by the words "Get out of the fucking way," yelled by one of his gun–toting soldiers—and dominates the screen from then on. As the sole motivator and father figure to the many orphaned children who populate his small army, Commandant meets their eyes with ferocity before he sends them into battle. He chants and touches their chests, his large hands making them appear even smaller.
Directed and adapted for the screen by Emmy winner Cary Joji Fukunaga ("True Detective"), such a bloodthirsty character would've appeared a two-dimensional reduction in less capable hands. But as he's already demonstrated on "The Wire" and "Luther," Elba is able to brilliantly carve a complex man out of what could have become a trite cliché. —Briana Rodriguez
Oscar Isaac, "Ex Machina"
"I'm gonna tear up the fucking dance floor, dude. Check it out." It may not be the most impactful line in writer-director Alex Garland's sci-fi thriller "Ex Machina," but delivered by Isaac, it certainly ranks among the most memorable. Isaac plays Nathan, the multibillionaire tech genius and founder of Bluebook who, secluded in a house-turned-research facility on his mountainous estate, invites employee Caleb (Domhnall Gleeson) over for a top-secret opportunity. Turns out, it's to test the credibility of his latest creation: humanoid A.I. robot Ava (2015's breakout Alicia Vikander). What at first seems like the chance of a lifetime swiftly sinks into a who's-playing-who head trip—interrupted, of course, by a much-blogged-about (and equally trippy) midfilm dance break. Off the dance floor, Isaac's Nathan is criminally charming and impassioned, but drunken mood swings abound for the troubled genius, and the line between sad and sadistic is blurred as his brow deepens with madman malice. Entertainingly keeping audiences on their toes, he's a Victor Frankenstein–esque antihero in whose corner of the ring we stand—out of equal measures adulation and fear. —BL
Julianne Nicholson, "Black Mass"
There are few pretty sights in "Black Mass"; death, guns, and Johnny Depp in truly disturbing makeup fill most of the two-hour film. But that's what makes Nicholson's performance all the more special. In the midst of all the gangsters and cops is Nicholson as Marianne Connolly, the wife of crooked FBI agent John Connolly (Joel Edgerton), whose relationship with the infamous Boston crime boss James "Whitey" Bulger (Depp) ultimately lands him in jail.
Though she can't prove Whitey's a killer and isn't aware he's an FBI informant for her husband, his presence alone makes Marianne squirm. And given just a glimpse of her most significant scene in the trailer, the "Law & Order: Criminal Intent" actor is the film's best-kept secret. When Whitey attends a dinner at the Connollys' and Marianne pretends to have fallen ill to avoid dining with him, the Irish mobster takes it upon himself to check on her upstairs. It's in this scene, with Depp's hands stroking her face, threatening her life, that the audience is as breathless as Nicholson. —Rebecca Strassberg
Cynthia Nixon, "James White"
Nixon delivers in her most compelling role to date as a conflicted mother diagnosed with cancer. Written and directed by Josh Mond ("Martha Marcy May Marlene"), Nixon's Gail White candidly explores the peaks and valleys of both the illness and raising a slacker son.
She reveals Gail's character with punctuated inflections, wild-eyed bewilderment at forgetting what year it is, and broad-shouldered indignation when her son, James (Christopher Abbott, "Girls"), calls her crazy for smoking and organizing books while blasting the appropriate "Say Something" by the '90s band James. As it becomes clearer that her 20-something son is unable to cope with his own demons, his father's recent death, and now her sickness, his silence when she seeks him out to keep their "care schedule" catapults Nixon into some of the film's best scenes.
Despite the unenviable task of serving as James' physical reminder of time's ticking, Nixon relentlessly exposes the mental and physical deterioration of a strong woman in breathy increments; whether labored in a hospital bed or relaxed on the couch in their New York City apartment, their fluctuations and Nixon's ability to give them weight keep us dialed in until she exhales for the last time. —BR
Jacob Tremblay, "Room"
In "Room," young Tremblay carries the weight of the world on his shoulders. His world, or rather the world of his character, Jack, is a run-down shed, and within its four walls is Jack's entire life. The 5-year-old Jack refers to the shed as Room. It's where he lives with Ma (Brie Larson), his mother who was abducted by Old Nick (Sean Bridgers) seven years prior. Jack sleeps in Wardrobe so that when Old Nick (his biological father) stops by late at night, he doesn't need to see the abuse his mother suffers. When he wakes up, he's happy, and says good morning to Lamp, Plant, Sink, and his other "friends"—his innocence within Room making his transformation all the more revelatory when the story abruptly shifts.
"Room" isn't an easy film to watch, but if you can wipe away the tears and catch your breath for long enough, what you'll see is something momentous. Though he hasn't yet hit double digits, Tremblay is poised to take this awards season by storm. If he were to win an Oscar, he'd break Tatum O'Neal's record for youngest winner, when she took home the trophy at age 10 for "Paper Moon." Just like Jack, all eyes are on Tremblay as he steps out of "Room" and into the world. —RS
Kate Winslet, "Steve Jobs"
The story of Winslet's casting in "Steve Jobs" has the whiff of a Hollywood fable. After getting her hands on the Aaron Sorkin–penned biopic, the actor determined the role of Jobs' right-hand woman, plucky marketing director Joanna Hoffman, had to be hers. So she sent a wordless email to a producer including pictures of herself in a dark-haired wig. Director Danny Boyle was sold, and discussions with all other eligible actors ceased.
Of course, dark hair and the carefully studied accent Winslet modeled from Hoffman's Polish-Jewish background only partially explain how borderline unrecognizable the actor becomes onscreen. We know we're watching a famous movie star—one considerably more glamorous than the real-life woman she's portraying—but her innate charisma, brittle physicality, and mastery of Sorkin's breakneck dialogue combine to form an immersive performance unlike any other in the film. The screenwriter has been criticized in the past for being unable to write complex female characters; Winslet emerges an undeniable exception. A temper tantrum in the third act becomes, in her hands, an impassioned call for righteousness, shifting the moral nucleus of "Steve Jobs" to Hoffman. Winslet's casting, and her execution of the role, are a testament to Jobs' most iconic tagline; think different, indeed. —JS
Inspired by this post? Check out our film audition listings!