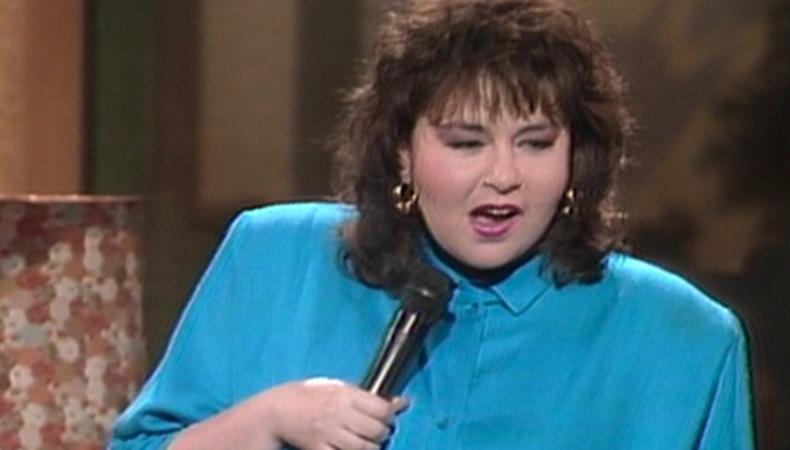 Any aspiring comedic actor or comedian knows there are countless lessons to be learned from watching the greats. And with Jen Kirkman's Netflix special, "I'm Gonna Die Alone (And I Feel Fine)," out May 22, you have some catching up to do before you get to the new stuff.
Here are 17 stand-up specials all actors should watch.
(Add yours! What are your must-watch comedy routines?)
Maria Bamford, "The Special Special Special!"
Released in 2012, Bamford (who's also got an incredible résumé of voiceover credits—many of which she exhibits during her standup) performed "The Special Special Special!" for an intimate audience of two: her parents. From God to Kirstie Alley, Bamford covers it all in her very special special. (Currently streaming on Netflix!)
Roseanne Barr's 1987 HBO Special
As one of standup's leading ladies, Barr helped clear the path for some of today's favorites such as Sarah Silverman, Chelsea Handler, and Amy Schumer. And just a short clip from her 1987 HBO special below proves the powerhouse Barr was and continues to be.
Mike Birbiglia, "My Girlfriend's Boyfriend"
One of the most recent specials on this list, "My Girlfriend's Boyfriend" is more of a "one-man show" than a stand-up comedy hour. Birbiglia is adored by fans and comedians alike, and worked with a director, lighting designer, set designer, and many others on this 2012 feature. And if you find yourself on a Birbigs kick, "Sleepwalk With Me," written, starring, and directed by the comedian, deserves honorable mention. ("My Girlfriend's Boyfriend" is currently streaming on Netflix!)
George Carlin, "Jammin' in New York"
The late Carlin is regarded as one of the most beloved stand-up comics of all time, and "Jammin' in New York" shows him at his very best. "You ever been sitting in a railroad train in the station and there's another train sitting right next to ya, and one of them starts to move...and you can't tell which one it is?" he asks, causing the audience to erupt in laughter. With masterful facial expressions and physical accompaniments, Carlin's performances were always fully dimensional—something every comedian should aim to be.
Dave Chappelle, "Killin' Them Softly"
Long before his wildly successful television series, Chappelle released "Killin' Them Softly," a stand-up hour as enjoyable today as it was 15 years ago. The comedian knows you can't be afraid to tackle political or social issues. Check out the entire thing below!
Louis C.K., "Chewed Up"
Of his many notable stand-up specials ("Oh My God," "Live at the Beacon Theater, and "Hilarious" among others), C.K. put out "Chewed Up" in 2008 shortly after the short-lived "Lucky Louie" went off the air. The special revitalized the actor's stand-up career and gave the gem below. (Currently streaming on Netflix!)
David Cross, "Let America Laugh"
In 2003, "Let America Laugh" gave us a behind-the-scenes look of Cross's comedy tour of small rock clubs across the U.S. Incorporating stand-up routines with raw footage of the comedian, the program is even more fascinating to watch now that Cross has gone even further in his career.
Ellen DeGeneres, "Here and Now"
She might have become one of the most successful daytime television hosts ever, but never forget that DeGeneres was an insanely hilarious stand-up force (and still is). "Here and Now" is a must-see for her fans and anyone looking to watch some influential comedy.
Zach Galifianakis, "Life at the Purple Onion"
A comedic genius all his own, Galifianakis puts himself on display in 2007's "Live at the Purple Onion." Watch him expertly interact with innocent audience members, break the fourth wall, and play his uptight Christian brother Seth Galifianakis (a character for the DVD) below.
Janeane Garofalo, "HBO Comedy Half-Hour"
In 1995 Garofalo stopped by "HBO Comedy Half-Hour" to give her take on everything from the film industry to Hollywood and the lifestyles of the rich and famous. She was great back then and we can't wait to see her on the upcoming "Wet Hot American Summer: First Day of Camp."
Whoopi Goldberg, "Direct from Broadway"
It's a stand-up fairytale: Goldberg created "The Spook Show," a one-woman show composed of different character monologues in 1983. Mike Nichols took it to Broadway where it ran for sixth months. Steven Spielberg saw it, and offered its star a role in "The Color Purple." The rest is history. The special won this comedy pioneer (and EGOT winner) her Grammy in 1985 and is considered, for good reason, one of the most influential stand-up routines of all time. Haven't seen it yet? Get comfortable.
Eddie Izzard, "Dress to Kill"
This 1999 special earned Izzard two 2000 Emmy awards and remains a huge part of his legacy. The British actor-comedian tackles America's concept of history, and even retells British history from Stonehenge to the Reformation. A massive two hours in length, "Dress to Kill" is a fine lesson in true artistry.
Steve Martin, "A Wild and Crazy Guy"
What with all his incredible banjo playing, acting and writing, it's hard to remember what a wonderful comic Martin was when he was starting out. As one of comedy's first real big comedians, his NBC special "A Wild and Crazy Guy" serves as a reminder of what a knockout talent Martin is. Check out the clip below; we can all learn a thing or two.
Eddie Murphy, "Delirious"
Released in 1983, "Delirious" features some of Murphy's raciest material (not all of which as aged well), and is a testament to taking risks. And who can ignore that red leather suit? (Currently streaming on Netflix!)
Patton Oswalt, "No Reason to Complain"
Released in 2004, "No Reason to Complain" was Oswalt's first hour-long special, and the comedian brought his very best material for the occasion. Check out a clip below.
Chris Rock, "Bring the Pain"
Winner of two Emmys, "Bring the Pain" came out in 1996 and brought Rock into the stand-up spotlight. From social commentary to personal examination, the comedian covers it all in this must-see special.
Robin Williams, "An Evening with Robin Williams"
Few would disagree that Williams was an unmatched comedic force, and at his very best he gave us 1982's "An Evening with Robin Williams." The late comedian does a ton of improvisation. Watch the master at work below.
Want a career in comedy? Check out "1 Thing Every Aspiring Sitcom Actor Must Know!"