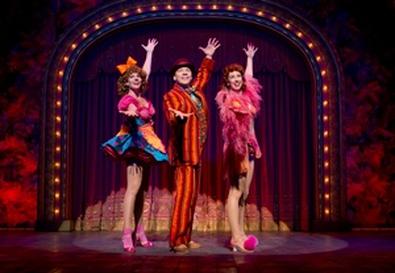 Of the thousands of people who audition for Broadway each year, few ever make it on stage. Some of the luckier hopefuls find themselves working as understudies, swings, or standbys. Understudies and swings perform onstage regularly, usually as a member of the ensemble, and take over a lead role if the actor has a planned absence. Standbys, on the other hand, only perform when a lead actor has an emergency or something happens mid-performance. Otherwise, they spend their time waiting backstage. Although challenging and frustrating, these jobs can help an actor break into Broadway. These are just some of the many performers who launched their careers waiting in the wings as understudies, swings, and standbys.
Sutton Foster
Sutton Foster in "Anything Goes" (Joan Marcus)

Although she gained fame for creating the lead role in "Thoroughly Modern Millie," Foster got her first Broadway credits in the early 1990s as an understudy in "Les Miserables" and "Grease." She then performed as an ensemble member in "Annie" and "The Scarlet Pimpernel" before starring as the adorably naïve Millie Dillmount, a role that won her the 2002 Tony Award for Best Leading Actress in a Musical. In 2008, she created the role of Princess Fiona in "Shrek the Musical" and worked with actor Ben Crawford, one of the subjects in "The Standbys," a documentary by Stephanie Riggs that tells the story of three Broadway standbys and understudies. "When you're an understudy, you are trying to filter through someone else," says Foster in the documentary. When Crawford took over the role of Shrek, the cast had to readjust, she says. "You change one piece of a puzzle, everything will shift."
Cheyenne Jackson
Cheyenne Jackson in "Xanadu"

After doing regional theater in Seattle, Jackson moved to New York City in 2002 and, just a few weeks later, made his Broadway debut as an understudy for the two male leads in "Thoroughly Modern Millie." The following year, he joined the cast of "Aida" as a standby for the lead character of Radames. Jackson then broke out of the shadows, creating the role of Matthew in the Off-Broadway musical "Altar Boyz" and landing a lead role in "All Shook Up" on Broadway. In "The Standbys," Jackson says that an actor, at some point, has to say no to understudy and standby roles and instead pursue lead roles. "But it's a difficult decision," he says. "I mean, who wants to turn down a Broadway show?" In 2007, Jackson got his big break when he took over the lead role of Sonny in "Xanadu" just a week before opening night. "No one wants to be an understudy forever," he says. "We all want to create parts and be the protagonist and get the girl."
Danny Burstein
Danny Burstein in "Follies" (Joan Marcus)

Burstein's portrayal of Buddy Plummer in "Follies" earned him a 2012 Tony nomination for Best Actor, but the honor came after years of lingering in the back alleys of Broadway. In 1992, Burstein made his Broadway debut as an understudy in "A Little Hotel on the Side," which received mediocre reviews and closed after 41 performances. He followed this with understudy roles in "Saint Joan," Three Men on a Horse," "The Flowering Peach," "Company," and "Titanic." Still, Burstein had a difficult time landing a lead role. In 2001, he was the standby for the two male leads in "A Class Act." His big break didn't come for another five years, when he played Adolpho in "The Drowsy Chaperone" on Broadway. Burstein followed this with a lead role in "South Pacific" and "Women on the Verge of a Nervous Breakdown" before joining the original cast of the revival of "Follies" in 2011. After hearing about his most recent Tony nomination, he told
Broadway.com
, "It's great to be invited to the party."
Kelli O'Hara
Kelli O'Hara in "South Pacific" (Joan Marcus)

Before landing her first Tony-nomination for playing Clara Johnson in the 2005 musical "Light in the Piazza," O'Hara did her time out of the spotlight. Her first Broadway credit was for 2000's "Jekyll & Hyde," in which she understudied the role of Emma Carew, Jekyll's fiancé. The following year, she got another understudy job in the 2001 revival of "Follies." Small roles in "Sweet Smell of Success" and "Dracula, the Musical" came after, followed by "The Light in the Piazza," in which she starred opposite Matthew Morrison. This role launched her career. In 2006 and 2008, she scored Tony nominations for her lead roles in "The Pajama Game" and "South Pacific" respectively. She is currently starring as Billie Bendix in "Nice Work If You Can Get It," for which she received her fourth Tony nomination.
Taye Diggs
Taye Diggs in "Rent" (Joan Marcus)

Diggs is best known for creating the role of Benjamin Coffin III in 1996's "Rent." He has also found success in Hollywood, with a number of roles in television and in films like "How Stella Got Her Groove Back" and "Brown Sugar." His first role on Broadway, however, was less flashy. He understudied the role of Jigger Craigin in the 1994 Broadway revival of Rodgers & Hammerstein's "Carousel." Starring Audra McDonald, the production won five Tonys, including one for Best Revival of a Musical. When it closed, though, Diggs moved to Tokyo and got a job performing in "Caribbeanland" shows at the Disneyland there. He landed the role in "Rent" after returning to New York. The musical, which won the 1996 Tony award for Best Musical, launched Diggs's career and introduced him to his wife, Idina Menzel.
Bernadette Peters
Bernadette Peters in "Follies" (Joan Marcus)

One of the most prominent performers on Broadway today, Peters has performed more than 30 films and more than 20 stage productions. But she, too, began her career backstage, making her Broadway debut as a standby for the role of Leslie Maugham in the 1967 play, "The Girl in the Freudian Slip." After this, she was never again forced to wait anxiously on the sidelines. She landed a number of lead roles on Broadway, gaining recognition as Hildy in 1971's "On the Town," Mabel Normand in the 1974 musical "Mack & Mabel," Dot/Marie in 1984's "Sunday in the Park with George," and Emma in the 1984 Andrew Lloyd Webber musical, "Song and Dance," for which she won her first Tony award. Most recently, she starred in "Follies" as Sally Durant Plummer.
Bebe Neuwirth
Bebe Neuwirth in "The Addams Family"

Famous for playing Frasier Crane's wife in the television sitcoms "Cheers" and "Frasier," and for her Broadway roles in "Sweet Charity" and "Chicago," Neuwirth has become one of the most recognizable faces on Broadway. But when she began her Broadway career in 1980, she was as an understudy for the role of Sheila in "A Chorus Line." In 1986, she played Nickie in "Sweet Charity," which won her a Tony Award, but also served as a standby for the lead role of Charity. Neuwirth's career took off in 1996, when she played Velma Kelly in the Broadway revival of "Chicago." Most recently, she performed in "The Addams Family," opposite Nathan Lane, as Mortician Addams. "It's a very complicated job, to understudy," she says in "The Standbys." "It's hugely challenging, because you have to be ready to give a fantastic performance at a moment's notice."
Matthew Morrison
Matthew Morrison in "Hairspray"

Now famous for playing Will Schuester on the Fox televisions series "Glee," Morrison first gained recognition on Broadway as the character of Link in "Hairspray," which he followed up with lead roles in "The Light in the Piazza" and "South Pacific." Before he was performing with J.C. Chasez of 'N SYNC and appearing shirtless on the cover of "Details" magazine, though, Morrison was an understudy. His first Broadway credit was in "Footloose," performing as member of the ensemble and understudying the role of Chuck Cranston. In 2002, he played a phantom in "The Rocky Horror Show," before finally finding the spotlight as the dreamy Link Larkin in "Hairspray." Needless to say, Morrison doesn't have to worry about waiting backstage anymore. Last summer, he toured with New Kids on the Block and the Backstreet Boys, and "Glee" was just renewed for a fourth season.

Lea Michele
Lea Michele in "Spring Awakening"

Her character on Fox's hit television series "Glee" may be snooty and proud, but in real life, Michele's career had humble beginnings. She earned her first Broadway credits at nine years old, playing Young Cosette and Young Eponine in "Les Misérables" and understudying the character of Gavroche. In 1998, she had a small role in "Ragtime" as The Little Girl, followed by a six-year hiatus from Broadway. Michele returned in 2004 to play Shprintze in "Fiddler on the Roof," understudying the role of Chava. But her big break came in 2006, starring in "Spring Awakening" as Wendla Bergmann. Michele gained widespread recognition for her performance, and in 2009 she landed the role of Rachel Berry on "Glee." Now, Michele is in the spotlight more than ever. She made her film debut in "New Year's Eve," opposite Ashton Kutcher, and still stars in "Glee." She would like to return to Broadway, though, and she told "
Harper's Bazaar
" in August 2011, "I plan on playing every role on Broadway…. 'Glee' is only the beginning."