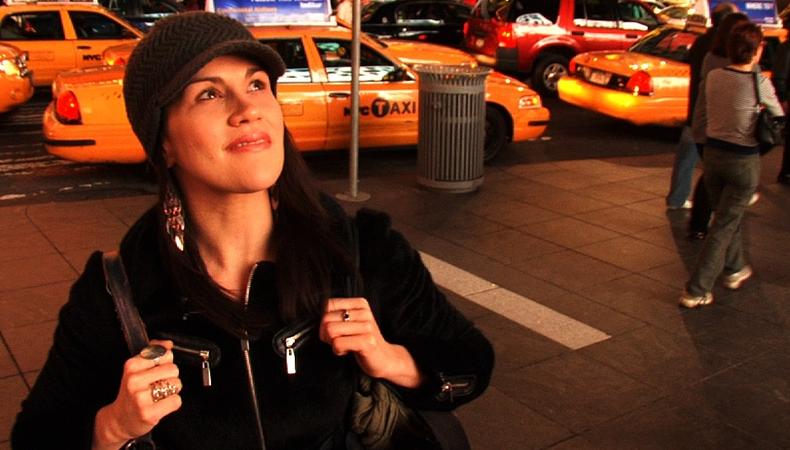 For Broadway standbys, not getting to perform is part of the job. These actors spend night after night offstage, waiting for the moment that a show's star can't perform, and they'll finally be thrust into the spotlight. More often than not, though, the opportunity never comes.

So in her new film "The Standbys," director Stephanie Riggs raises the curtain on three of these patient performers—Merwin Foard, Ben Crawford, and Aléna Watters—who have spent the majority of their musical theater careers as standbys, understudies, or swings. The result is a revealing behind-the-scenes look at the personal and professional lives of talented individuals who know what it really means to be a working actor. (As Crawford asks at one point in the film, "Do you want to be a star, or do you want to have a career?")

Foard is a Broadway veteran who has been an understudy or standby for most of his three-decade career, most recently covering Nathan Lane in "The Addams Family"; he is currently on Broadway as F.D.R. (and the understudy for Daddy Warbucks) in the revival of "Annie." Crawford was the standby for Brian d'Arcy James in "Shrek," before finally taking over the onstage role in the show's final few months. And Watters was a standby for Karen Olivo as Anita in the "West Side Story" revival and a backup dancer for Bette Midler before landing a role in Broadway's "Sister Act."
"When I was putting the film together, I was specifically looking for three types of actors," Riggs told Backstage after a screening of "The Standbys" in New York on Monday. "I wanted one that was an ingénue, so you could see Broadway through her eyes, and it was glorious and beautiful and everything that we think of when we think of Broadway. I wanted a professional who had been there in the ranks, year after year, show after show, who knew what it took to be the backup and keep your head held high, and still do a fantastic job at it. And then I wanted somebody who was in the 'second act' of their story, which was Ben." Riggs said that Watters, her film's aspiring ingénue, is "so open, and available, and fearless. That's what it takes—to actually put your heart on the line."

After the screening, Watters spoke to Backstage about her career and offered advice to her fellow actors.

What did you learn from participating in the film?
Aléna Watters: It was really terrifying, but I trusted Stephanie to let me be honest. It was really difficult. But it was also a really positive experience for me because it helped show me that there are times when you're on top of your game and doing a great job, but they just need something else and it's totally out of your control. And it doesn't mean that you're not good or you're not doing a good job; they just need something else. So it helped me, as difficult as it was, learn to not take it as personally. It's still personal. It's always going to be personal, because I'm the product. But it helped me grow.

Have any casting directors been especially supportive or influential in your career so far?
Watters: Dave Clemmons gave me my first professional credit. I was a standby for Karen Olivo and Eden Espinosa in "Brooklyn: The Musical" before it came to Broadway, when I was still in college. So Dave Clemmons believed in me, not even out of college, to take that job. And then Stuart Howard gave me my first Broadway credit [in "West Side Story"]. And Telsey + Company has been really great about bringing me in for things and believing in me. Telsey is definitely huge in getting the jobs that I've had.

Did you get any jobs from Backstage?
Watters: Yeah! I go on Backstage to check the auditions, open calls, EPAs. That was definitely a huge part of my life, especially before I got my Equity card.

What is your advice for young aspiring actors?
Watters: For me, it's about patience and trust. I know with all my being that this is the industry I'm meant to be in—something creative and artistic. And I trust the universe will open up the opportunity for me to shine when it's right. Trust that your opportunities will come, and keep going after them.

I would encourage young women—specifically in theater and musical theater, but I think it would apply to other things—to take all the opportunities that you can, because if your goal is Broadway, you're not going to get it right away. You might, but it doesn't happen often. So take the opportunities you have in front of you, whether it's community theater or regional theater, concerts, or school plays. Do all that you can do to build and grow who you are, and also have life experiences, and spend time with friends, and travel, so you can bring those experiences into the work. Take whatever opportunities that you can and keep striving for that goal, but don't say, '"I'm not going to do anything until I get to Broadway."

"The Standbys" will be released Dec. 7 in theaters in Scottsdale, Ariz.; Bloomfield and Lisbon, Conn.; Cranford, N.J.; New York, N.Y.; and Bloomsburg, Selinsgrove, Camp Hill, Fairgrounds Square, and Williamsport, Pa. as part of the DigiNext In-Venue Film Festival.