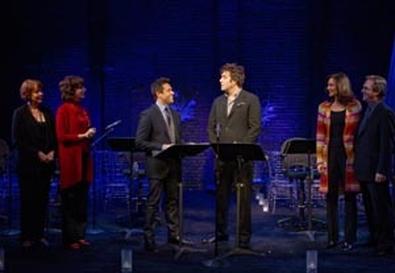 How do you address a topic as complex and weighty as gay marriage in a 10-minute play without being superficial? It sounds like an impossible task. That was the challenge presented to eight playwrights for "Standing on Ceremony: The Gay Marriage Plays," a program of short pieces conceived by Brian Shnipper that began life in Los Angeles and recently had simultaneous one-night productions at more than 40 theaters across the country. Now in an open-ended Off-Broadway engagement at the Minetta Lane Theatre, "Ceremony" puts a human face on a hot-button issue and delivers laughter and tears rather than propaganda.
The show begins with Jordan Harrison's light and funny sketch about a couple tweaking their wedding vows to reflect political correctness and the ever-changing legalities surrounding same-sex unions. It ends with José Rivera's poetic take on the same topic, with another couple exchanging marriage pledges stressing the solidness of their love rather than society's shifting view of it. In between, the tone ranges from the stinging satire of Paul Rudnick to the bittersweet ambiguity of Moisés Kaufman to the detailed and humorous portraiture of Wendy MacLeod and Mo Gaffney.
The most multifaceted and far-reaching entry is Doug Wright's clever dramatization of a real Facebook thread in which all sides of the argument are given voice. The only piece that does not entirely succeed is Neil LaBute's "Strange Fruit," which relies too heavily on his signature themes of sexual preoccupation and random violence without offering any new insight into the topic at hand.
The evening is cleanly staged by Stuart Ross on Sarah Zeitler's elegantly simple set, which resembles a church or public hall with a huge wedding veil stretching over the stage from the balcony and threading through an enormous pair of rings. As with "The Vagina Monologues" and "Love, Loss, and What I Wore," two similar omnibus productions that have had long Off-Broadway runs, a revolving cast reads from scripts on music stands.
Given the relatively small time commitment and the plethora of juicy roles, you can expect to see lots of top-notch performers on this roster. In the current company, Richard Thomas and Harriet Harris are given the biggest opportunities to shine in two bravura pieces. Thomas runs through a dozen emotions in Kaufman's "London Mosquitoes" as a middle-aged academic speaking at his partner's memorial service, while Harris injects hilarious humanity into two cartoonish creations, both from Rudnick's wicked pen. In "The Gay Agenda," she slowly and skillfully builds from genial peacemaker to hysterical paranoid as a conservative housewife who keeps hearing gay voices in her head. In "My Husband," Harris is a pompous Upper West Side liberal, comically embarrassed that her son has no boyfriend, especially now that same-sex marriage is legal in New York. Playing off Mark Consuelos' flustered offspring, Harris spins riotous variations on the old overbearing-mother routine.
Beth Leavel and Polly Draper alternate between sharp edges and soft focus, particularly as two different lesbian couples with starkly contrasting views on their impending nuptials. Consuelos and Craig Bierko, two actors noted for their macho images, provide three-dimensional portraits of gay men.
A note in the press materials states that the producers plan to add pieces from other authors as the run progresses. "As the issue of marriage equality is constantly shifting, so too will the work," it reads. "Theater is, after all, a living, breathing art form." That's certainly true of the moving and funny "Standing on Ceremony."
Presented by Joan Stein, Richard Frankel, Annette Niemtzow, Fakston Productions, Harley Medcalf, and Jon Murray/Harvey Reese, in association with Diana Buckhantz and Niclas Nagler, at the Minetta Lane Theatre, 18 Minetta Lane, NYC. Opened Nov. 13 for an open run. Tue.–Fri., 8 p.m.; Sat., 3 and 8 p.m.; Sun., 3 and 7 p.m. (No performance Thu., Nov. 24; additional performance Fri., Nov. 25, 3 p.m.) (866) 448-7846 or www.ticketmaster.com. Casting by Tara Rubin Casting.