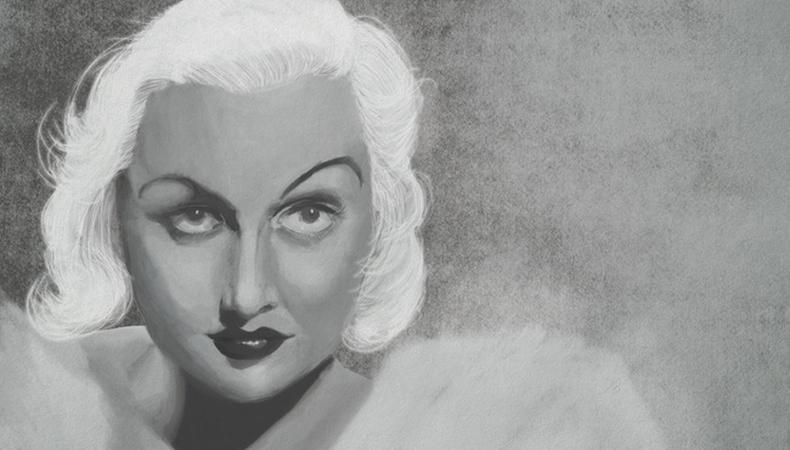 She had me at "Bye." Indeed, if any performance might be crystallized not in a single line delivery but in a single word—or half-word—it is Carole Lombard's searingly elegant turn in "To Be or Not to Be" as Maria Tura, a Polish stage star facing a particularly rude and exacting audience: the Nazi occupation of Warsaw. She deploys this terse kiss-off only twice, if my recent replay of this 1942 classic is any guide, but it sings above the air-raid sirens of Ernst Lubitsch's odd, freighted thriller-farce as a reassuring note of sanity, of clarity—of borders not to be crossed, after all.
First, when ending a session with a love-struck young flier who's come calling to her dressing room—she has coyly encouraged his admiration, up to a point—she plops a pert "Bye" like a period at the end of her sentence, and it registers as a startling little verbal shove, marking the limits beyond which this married woman is not willing to go with a mere flirtation. Of course, the callow flyboy, Sobinski, doesn't take the hint, and Tura must later endure the indignity of having to make her boundaries explicit.
It is against the advance of another, far more forbidding suitor that Lombard's Tura marshals her second bracing sendoff. Coming home after delivering a secret message to the Warsaw underground, she's intercepted by the Gestapo and escorted brusquely to headquarters. At first disarmed to discover her interlocutor is the cultured, goateed Professor Siletsky, a Nazi intellectual oozing continental urbanity, she soon relaxes and sizes up her opponent as a man subject to his gender's native weaknesses (perhaps even more so) but no monster. This clear-eyed objectivity about sex—a signature strength of Lubitsch's that found a perfect handmaiden in the innately earthy Lombard—stands here in service of the film's larger satirical project, which undertook to show history's greatest villains as small-minded fools drunk on power, Goebbels with foibles. (It's no wonder the film was poorly received at a time when these fools were busy using that power to monstrous ends.)
When Siletsky makes it clear that he can render life under occupation far more comfortable for her, in return for her compliance in matters both personal and political, she begs a slight intermission to slip into more suitable eveningwear. Though she will later submit to his punishing kiss and face an even more brutish Nazi paramour, she lays down her marker, as she did with the horny flyboy, with this first departure. As she leaves, Siletsky flaunts his power by telling her that while it's difficult to get into Gestapo headquarters, it's much harder to get out. She responds brightly, without punctuation: "I'm terribly frightened and terribly thrilled—bye!"
There are other Lombard performances worth a look: her definitive ditz in "My Man Godfrey"; her entirely convincing dramatic work in "Hands Across the Table"; even her sassy bride in "No Man of Her Own." But only in "To Be or Not to Be" was she given the fullest measure of that greatest acting opportunity: the chance to show restraint, to underplay, to load subtext under a glittering surface. And what a surface: Swathed in an hourglass wrap by Irene, or with her hair laced with flowers to play Ophelia, Lombard never looked more radiantly glamorous, with the borrowed high-status grandiloquence of the classical actor. But when the dire circumstances of the plot conspire to reduce her to the actor's more typical status of Gypsy or whore—a word Siletsky pointedly almost utters about her—the brilliant facade drops to show a still more brilliant core of resolute integrity. If the jackboots ever came for me, I can only hope I would face them with as clear a conscience and as firm a farewell.

Rob Weinert-Kendt is associate editor of American Theatre and writes regularly for The New York Times.