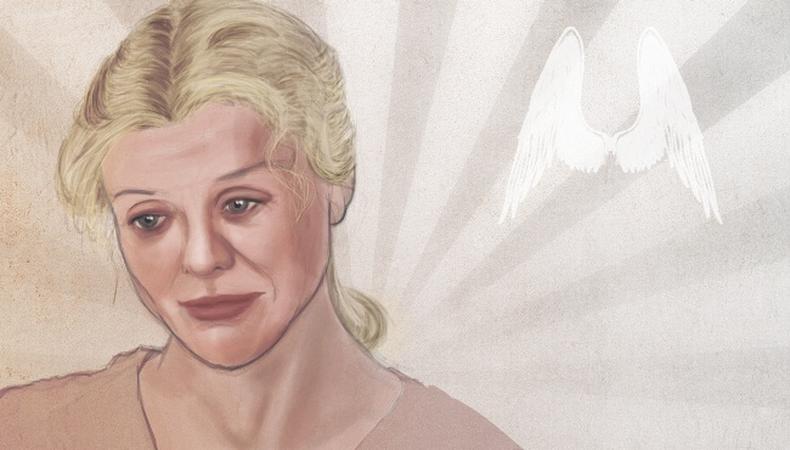 "No chokeholds," Jim Carrey, in his Golden Globe–winning performance as Andy Kaufman in "Man on the Moon," warns Courtney Love as she ambles into a wrestling ring to take him on. It's a warning that Love, as Kaufman's girlfriend Lynne Marguiles, completely ignores.
While most people willing to concede that the Hole front woman and national punching bag does indeed have a film career fixate on her strong 1996 performance in "The People vs. Larry Flynt" (and the white Versace gown she wore to the Academy Awards the following year), what Love does in "Man on the Moon" is actually more nuanced and affecting. Indeed, she's got the movie itself in a chokehold.
Love enters on a note of physical comedy. She and Carrey fling each other around the ring, establishing early on that the actors and the characters they play are justly matched, and while he wins the round, their subsequent date can truthfully be called a draw. But it's before the wallops, in the first moment the two lock eyes, that Love's face (well, the face she had at the time) reveals how completely she's given herself over to the role, how little of the woman we think we know is inhabiting this body.
It's a year before "Almost Famous," in which Kate Hudson will strike the planet breathless with her unkempt blond mop and saucer eyes, and Love's already got the formula down pat. Replace rock music with comedy and she's Penny Lane, all golden curls and flowing tops and a deep understanding of how to love a truly flawed genius. When Kaufman suggests the pair head to Memphis to throw a wrestling match and then get married on "Letterman," the hope in Love's eyes is apparent. But it's the flash of learned hesitance she adds that's brilliant.
It's no small task to play against Carrey, especially as Kaufman. He's brilliantly hammy; he's impossible; he's the star of the show playing the star of the show. Still, it's hard not to notice director Milos Forman's camera sneaking back to Love. There she is in a crowd, at a meeting, by his side. Her character's scalpel-sharp understanding of Kaufman comes through as she soothes his worried parents ringside at a match where he's about to be clobbered. "He's just engaging an audience," she says, sure the answer should provide comfort but confident it's too out there to really comprehend.
Perhaps the most remarkable part of Love's performance is her restraint. As Kaufman's cancer consumes him and the life and business built around him crumble, there's nothing there to betray one of our most famous widows as anything but innocent to how illness and death will ravage her life.
From another actor with a 1999 hit, say, Mena Suvari in "American Beauty" or Heather Graham in "Austin Powers: The Spy Who Shagged Me," such a finely honed performance would lead to magazine covers, beauty contracts, and enough "rising star" accolades to warrant an investigation from NASA. From Love, the performance was mostly ignored—likely because, much like her frenemy Madonna, moviegoers only like to see her play a version of herself—and led only to a handful of other film roles and a more general portfolio as a catchall cultural Baba Yaga.
"Love proves she is not a rock star pretending to act, but a true actress," Roger Ebert wrote around the release of "Flynt," and three years later, again in front of Forman's lens, her talent is still apparent. But sometimes a personality is like a bright flash of light: Even when gone, hidden behind something completely different, it's all anyone thinks he can see.
Adam Rathe is a writer and editor who thinks that there might be a part for Courtney Love in an upcoming Ryan Murphy project.