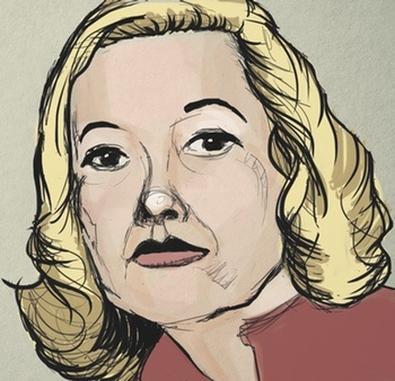 Marilyn Monroe nabbed the role of Cherie in the 1956 screen adaptation of William Inge's "Bus Stop," a part originated onstage by Actors Studio tyro Kim Stanley. A mere two years later, Stanley would go on to play the first of her four film roles: a mercurial, addled movie star modeled on Monroe in the scathing Hollywood-as-devourer parable "The Goddess."
Stanley is probably remembered today for her legendary status as the "female Brando," whose blunt sexuality was just as threatening as her male counterpart's. But it is her bracing work as Rita Shaw in "The Goddess" that should be praised above all of her filmic variations on guttural Medeas (most notably her Oscar-nominated turns in "Séance on a Wet Afternoon" and her portrayal of Frances Farmer's consuming harridan mother opposite Jessica Lange in "Frances").
Blazing white-hot in the minutiae, Stanley's volcanic performance rains biliously all over "The Goddess," virtually burning a hole through the celluloid. After delivering her first of many stunning monologues, declaring with curt abandon that she is "going to Hollywood some day" as yet another horny teenage boy paws at her, it becomes increasingly hard to tell where Rita begins and where Stanley ends. Stanley so ably tunes her emotions, like a delicate instrument, that one fears her brittle strings may snap under the pressure of playing in the jarring and discordant keys she preferred to work in.
Witnessing her character's musical, elementally primal emotional journey is staggering because of Stanley's snappish animal instincts in uncovering each nook of this starlet's psyche, brick by ghastly brick. In one stunning crackup when Rita's baby won't stop crying, Stanley packs a powder keg of anxiety into the scene by simply picking up a pair of scissors. Stanley is not only unpredictable—she's reckless, and there is no telling where she will drive this arc. Even when another actor gives a speech, it is Stanley who commands your attention, sitting perched like a regal bird of prey with glistening obsidian eyes as she savors each morsel of putrid emotional entrails spilled before her.
Stanley's dedication to her craft, to interpreting the character so wholly and intensely in the moment, may be in danger of becoming a relic of the past; it's difficult to imagine any of the new crop of female stars harnessing Stanley's brand of audacious horsepower to behave in such ugly ways. It's much easier to imagine them as Rita wannabes, possessed of the desire to become famous by having nakedly public nervous breakdowns rather than the drive to become a great actor, egged on by the public's macabre fascination with seeing beautiful women self-destruct.
Stanley's performance in "The Goddess" represents the archetypal Hollywood bleached blonde's misguided dreams of being a star, instead winding up at the wrong end of the bottle, wasted on her own demons. Stanley neither condemns nor condones her character's erratic behavior, despite screenwriter Paddy Chayefsky's near-insistent judgments. Stanley never allows him to use Rita as a simple cautionary tale, and her shockingly complex, empathetic performance gives him no control over the character's turbulent interior. Rita is owned by Kim Stanley, not by the man who wrote her, not by the film's director, and certainly not by the audience. This brusque defiance of conventionality cements Stanley's icon status—her Rita lives on as a genuine miracle of film acting.

Matt Mazur is a New York–based publicist who works on campaigns for independent, foreign language, and documentary films. His writing has appeared on PopMatters.com.