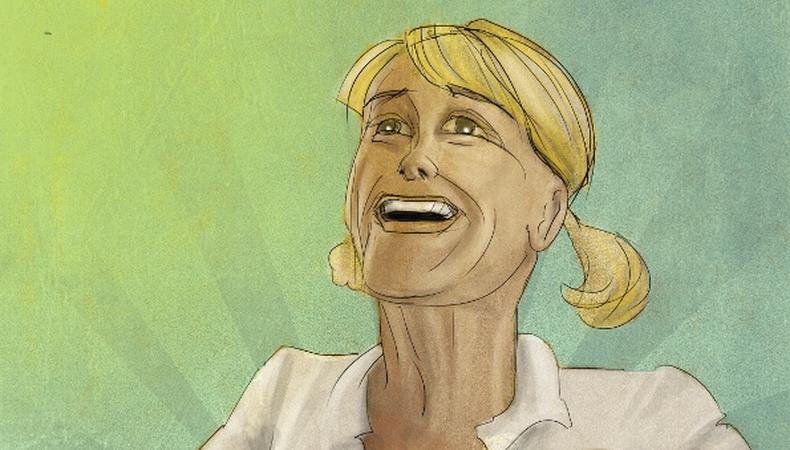 Long before a lead role in one of David O. Russell's films all but guaranteed an Oscar nod, Naomi Watts put on a bonnet, smeared chocolate across her teeth, and violently whispered "Fuckabees" to a department store executive attempting to quell her raging existential meltdown.
This was 2004, when Watts played Dawn Campbell, a corporate spokesmodel who becomes unhinged halfway through Russell's endearingly messy philosophical comedy "I Heart Huckabees." The role is frequently cited as Watts' first and only comedic one—it fell between "21 Grams" and "Funny Games," both of which gave her a reputation for artsy masochism—but it's also one of her best performances.
We first meet Dawn in Jason Schwartzman's subconscious. She sullenly stalks his fantasies in a white drawstring bikini, scolding him with, "Don't look at me. What's wrong with you?" Soon after, she appears in a series of ads as a cheerleader for home goods. "Flags. And bags!" she shouts, inserting unnatural Shatnerian pauses. "Huckabees says, 'Happy Birthday, Mr. President.' Fifty percent off all knapsacks and pocketbooks. Oh say! Can you see? How good this looks? Let freedom ring! At Huckabees. The everything store."
Dawn is, of course, a heavy-handed Consumerist Symbol. Or at least that's all she would be, if Watts hadn't acted these scenes with such demonic glee, flanked on either side by gymnastic duplicates of herself. She's as garish, loud, and terrifyingly sexual as her outfits, and she seems to relish the pure cheesiness of her lines. When the camera cuts closer, she looks manic and nervous, like someone who's had one too many cans of Red Bull. The scenes give some poignancy to Russell's larger message about chain stores. Watts is both the shiny new product and the shopper's anxious, bottomless craving for it.
As memorialized in a YouTube clip of Lily Tomlin going ballistic on Russell on set, the filming process for "Huckabees" was insane. Russell tried to destabilize the cast by physically harassing them, whispering lewd things, subjecting them to marathon days, and yelling new lines at them midtake. When it came out, Roger Ebert wrote in his review that the actors were pretending to understand their lines and "all seem trying to get in on the joke, which is a neat trick."
This brings me to my favorite scene of the film, where Dawn finally comes undone. In the kitchen of her cookie-cutter home with her smarmy boyfriend (Jude Law), she's questioned by the existential detectives about the infrequence and brevity of the couple's sex. Affronted, Dawn goes on the defense and stammers, "It's quantity, not quality!" Dustin Hoffman, who plays one of her interrogators, starts quietly cracking up and corrects her mistake. But it's such a bizarre, hilarious moment that it's unclear whether the line was planned in the first place. Watts corrects herself, and bulldozes forward, growing angrier, chastising the detectives for prying into her private life. Then she yells, "It's not quality, it's quantity!" and erupts into awful shrieks of laughter. It's uncomfortable to watch, and very confusing. Did she fuck up the line again? Was it meant to be sarcastic? Or extremely passive-aggressive? Whatever it was, Watts had finally, in a movie filled with people simplistically verbalizing their existential crises, created a character visibly dismantling onscreen—something I think Russell was trying to achieve all along.
After this, Watts' underused comedic chops really kick in, as Dawn goes on a Homely Rampage, brandishing a bonnet, ill-fitting overalls, and a half-eaten doughnut as an act of rebellion. When Law reproaches her, she replies, "You can't deal with my infinite nature, can you?" She turns up to the Huckabees headquarters and grabs Isla Fisher, a younger, ditzier bombshell brought in to replace her, by the hair. She's a feral animal desperately trying to defend her claim as the face of Huckabees while coming to terms with the ways it's exploited her.
But wait. Dawn has shot a new commercial that might convince her corporate overlords to keep her on. In it, she appears as her new homeless-Amish self, awkwardly clutching a handful of shirts on plastic hangers. "These are the best tops around. Last time, last year, not so good," she says, dejectedly. The camera closes in on her face, which is welling with tears. She shakes the garments and gravely says, "But now, this is the truth." We can assume the spot never saw the light of fictional day. But that same tear-stained face would be used commercially three years later, in the "Funny Games" poster.
Mike Berlin is a writer and editor based in Brooklyn. You can't deal with his infinite nature, can you?