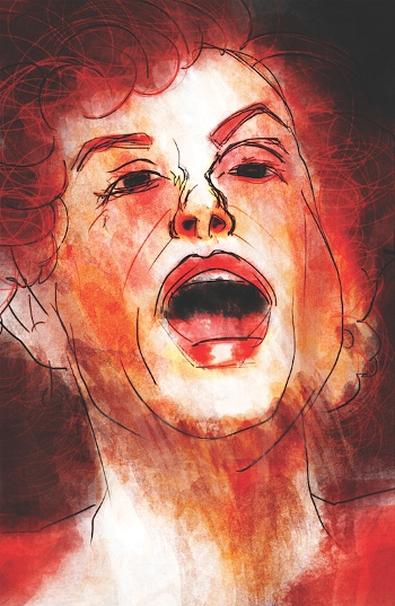 The role of Rose in Arthur Laurents, Jule Styne, and Stephen Sondheim's "Gypsy" is generally referred to as the King Lear of musical theater. Created in 1959 by the legendary Ethel Merman, it has subsequently been played on Broadway by such heavyweights as Angela Lansbury (1974), Tyne Daly (1989), Linda Lavin (1990), and Bernadette Peters (2003). Betty Buckley offered her take on it in 1998 at New Jersey's Paper Mill Playhouse, and there are two films: one with Rosalind Russell (1962) and the other starring Bette Midler (1993). So there were a lot of people looking over her shoulder when Patti LuPone took on Rose for a short summer Encores! engagement in 2007 under the direction of Laurents, the show's book writer, who had already guided Lansbury and Daly to Tony Awards. How would LuPone make the role distinctive?
At City Center, she didn't. There was nothing unexpected or revelatory about her monstrous stage mother, who pushes her two daughters to stardom—one in vaudeville, one in burlesque—while ultimately alienating them and her lover, Herbie. Admittedly, rehearsal time was limited, as was the budget. LuPone sang the part marvelously, and her acting was consistently intelligent, aside from a tendency to go for easy laughs, perhaps prompted by the adoring fan-club audiences. Still, the combustible mixture of iconic role and Broadway star never exploded.
Fortunately, the reviews were encouraging enough to prompt a Broadway transfer. Having already set the bones of a successful production, Laurents could take LuPone back into the rehearsal room and work on the details. Something as simple as getting the star a good period wig (she had worn her own too-contemporary bowl cut at City Center) was a significant improvement, but most of the work done was to clarify, simplify, and deepen the character. In particular, LuPone, without losing laughs or warmth, more fully stressed Rose's narcissism. As I sat in the St. James Theatre watching, I could sense that something was afoot.
LuPone's performance felt stronger and surer, but it wasn't until she reached "Rose's Turn" that it departed notably from her Encores! blueprint. The number is a musical mental breakdown in which Rose finally faces herself and what she's done, and LuPone (and, presumably, Laurents) had reinvented it entirely. Raging and desperately needy, scary, and heartbreaking, LuPone's Rose broke apart before our eyes in what may be the greatest musical theater moment I've ever experienced. And then she took it even further.
"Gypsy" ends with a scene between Rose and her daughter Louise, who has attained stardom as the stripper Gypsy Rose Lee. In it, the daughter takes responsibility for the mother. Rose admits, "I guess I did it for me," not for her children, and Louise asks, simply, "Why?" The answer, "Just wanted to be noticed," leads to Louise saying, softly, "Like I wanted you to notice me." And with that, LuPone's Rose cracked open with sobs, growing more and more wrenching as she stumbled to her daughter and took her in her arms, both begging forgiveness and offering protection. It was devastating.
It took a repeat viewing to understand why. LuPone had actually found that beat at City Center. There, it was arresting but isolated, feeling too self-conscious. On Broadway, it was anchored in "Rose's Turn." We are told that Rose's own mother abandoned her at an early age, something she vows not to do to her kids. Virtually every moment of LuPone's performance of the climactic soliloquy was now connected to the damaged little girl still inside Rose. Feral and furious, that inner child goes on a terrifying emotional rampage. The subsequent sobs showed us Rose realizing that she has indeed done what her mother did. Brilliance.
LuPone could have played it safe; she already had a set of fine reviews. The fact that she didn't is what makes her not only a great star but a great artist. Oh, and she also got the Tony.
Erik Haagensen is the former reviews editor of Backstage.