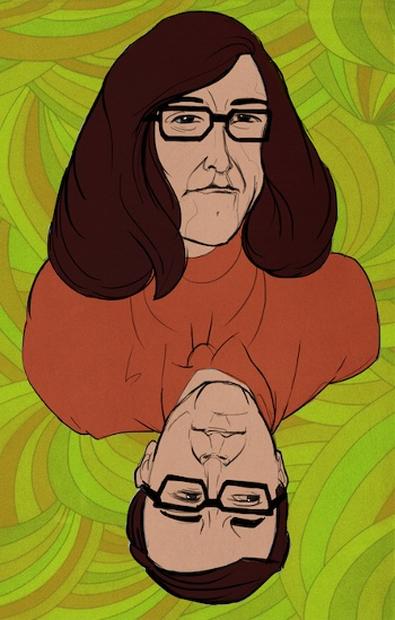 The story goes that Peter Sellers, a brilliant radio-theater performer long before he lost enough weight to be a film actor, built up his cinematic characters from their voices out—perhaps most infamously (and possibly apocryphally), he all but produced a doctor's note to get out of playing Air Force Major Kong in "Dr. Strangelove" because he couldn't find the right voice.
It's easy to appreciate the broad strokes in his best-known work—we all know zee raydiculous foreen assents in Sellers' iconic roles, while in "Being There," Chance's voice is as affectless, grand, and resonant as a walk through an empty ballroom—but for me, the greater treasure in this voice-as-character approach is savoring how he uses his instrument. He could play it as small as he could play it big, and he was every bit the vocal artist that he was the slapstick master. Unfortunately, he seemed to save this pleasure for the many box-office bombs he set to scare audiences out of movie theaters between "Pink Panther" sequels.
"I Love You, Alice B. Toklas!" is an enjoyable yard of '60s countercultural AstroTurf, Warner Brothers' best guess as to what a hippie comedy should be. It's hindered by production better suited for the boob tube than the movie house, and a professionally indifferent soundtrack featuring an Elmer Bernstein score that I imagine required two billable hours of a Wrecking Crew musician plonking away on a sitar. Like most Sellers movies, he's easily the best thing in it, but what makes "Toklas" a precious find is seeing him anchor a film as the straight man, playing family-and-society-constrained everyman Harold Fine as naturalistically as a 1968 contemporary farce would allow. It's thrilling just to see him listening and relating to a fellow actor in a scene instead of treating them like they're the first row of his audience, so watching him handle setup and support other actors' comic flights for a change makes it even easier to forgive this movie's flaws.
The occasional burst of big-chinned reactions aside, Sellers is all thin lips, ink-pool eyes, and second-guessed hand gestures here, drawing the bulk of Fine with his voice; the accent sounds slightly less "Jewish" than "Professional," with an assimilationist tone to my ear, an appropriate choice to play a postwar Jewish kid from L.A. who probably became a lawyer to make his ma happy but now only drops his goyish fig leaf under duress. In every scene, particularly ones with Fine's mother (an incandescent Jo Van Fleet), fiancée (Joyce Van Patten), and law partner (Herb Edelman), Sellers does delicate work in modulating his voice and readings to accommodate his screen mates, and gets laughs but does not deliberately upstage anyone. He often lays down a featherbed of conversational hesitancies and agreeable mumbles for his fellow actors to trample as they play to the back row, an audible illustration of how Fine's drive to make everyone around him happy at the cost of his sense of self is never noticed by his loved ones.
The standout scene—a moment of Sellers' screen charisma, comic timing, panto skills, and vocal virtuosity aligning—is when Harold's brother Herbie arrives wearing "the traditional burial outfit of the Hopi Indians" on their way to a Catholic family friend's funeral. Fine is an irritated but conciliatory big brother; a smooth-talking, troubleshooting, dealmaking lawyer; a baffled, threatened establishment "square"; and a surrogate Jewish mother who's terrified of what people will say when they see Tonto at the cemetery. The genius here isn't just that he cycles through all four in just moments, it's in how his body and his voice take their own paths to each reaction—not even a 23-year-old Leigh Taylor-Young sharing the screen with Sellers for most of the scene can steal the eye away from him for long.
Milo George is an Utne Award–winning critic and editor. He has made and photographed many a tray of experimental brownies for www.milogeorge.com, but refuses to bake with Ms. Toklas' secret ingredient. Respect the integrity of your brownies, people.