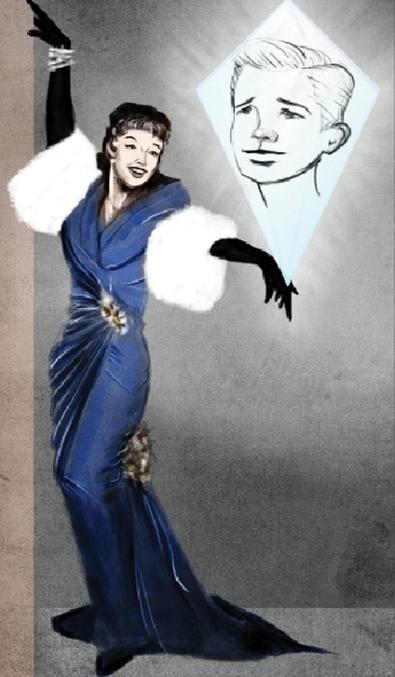 I always adored my aunts; theirs were like second homes, where I learned family recipes and my cousins were like siblings.
But it was the elder woman I met as a girl watching an old movie on TV who taught me being an "Auntie" could be a vocation. And it could mean being unapologetically bejeweled, worldly, charismatic, loving, scheming, sexy, and strong. This woman introduced me to some of my favorite words to live by, "Live! Live! Live!" and "Life is a banquet, and most poor suckers are starving to death." She was Rosalind Russell in the title role of 1958 film "Auntie Mame."
The film's story begins in 1928. Russell first appears sweeping down a staircase while hosting a raucous party, a long yellow-orange wrap floating around her and endless sequins sparkling beneath it. She switches her cigarette holder to her left hand to shake a monkey's hand with her right.
"Well, darling! I'm your Auntie Mame," she says to her 10-year-old nephew, Patrick, who arrives mid-soiree, as if these are the most exciting words ever uttered. He's her only living relative, she says. "Just each other, that's all we have, my little love," she adds, tweaking his nose. To be sure, their relationship is the most important of both their lives.
She tells Patrick she is going to open doors he "never dreamed existed," before perching, post-party, dancer-like on the edge of the sofa, feet on the cushions.
Certainly the repetition of the "Live!" refrain and banquet line, along with an adventurous plot (including world travel and flaming drinks), do much to convey Auntie Mame's message to be bold, brave, and in the moment. But it's Russell's impeccable timing, physical comedy, and energy that sold me on how fabulous learning to "Live!" as an "Auntie" could be.
Take the scene when Patrick's trustee suggests a conservative school for the boy. Just half a beat after her line "Exclusively what and restrictive to whom?" Russell ever so slightly raises her brow. The tiny movement makes the biggest argument I've seen yet to skip Botox.
Her physical humor is convincing when she's doing something no one would ever do, like walk around a fox hunt with ill-fitting boots flopping completely off her feet. And she's believable when shoving a phone cord in her mouth, somehow apparently delighting in the chaos of taking a temporary job (mis)-operating a switchboard.
But Russell also charms while performing something we've seen a zillion times, throwing a bad drink when no one's looking. (She pulls it off with such spontaneity you have to consider maybe this actually was the first time for the old trick.)
In a famous scene, she instructs Auntie Mame's stenographer Agnes Gooch on the staircase about those "poor suckers," exclaiming "Live!" Russell scoops her full skirt, Gooch, and, it would appear, the joy of enlightenment up along the stairs.
As the film ends, Auntie Mame tells Patrick's son, "Oh, what times we're going to have" as they float up those same stairs. Indeed, Auntie Mame's message is worthy of many generations' attention.
I recently rewatched the film. While I remembered the sequins and many of the lines from years ago, now that I am a single, city-dwelling auntie myself, I appreciate the theme and performance even more—especially now that I also grasp the more subversive aspects of the film. Among my favorite discoveries from rewatching is the satisfaction Russell exudes on breaking the news to Patrick's anti-Semitic in-laws-to-be that she purchased their neighboring lot for a home for Jews.
When I got a phone call the other day from my niece about her first day of middle school, I was not in sequins or on a staircase (try PJs on a CB2 couch). But having just watched Russell in "Auntie Mame," I certainly felt a little extra fabulous by the simple fact that I was fielding the call of an auntie.
Melissa Grego is editor-in-chief of Broadcasting & Cable.