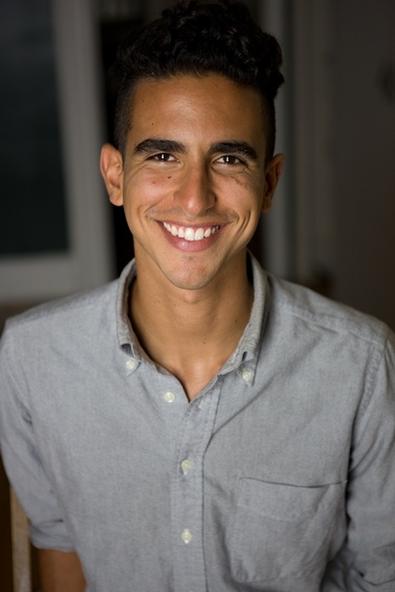 Do we need actors to tell stories onstage? Could audiences perform live instead? Dylan Marron, an actor, writer, and director with the Drama Desk-nominated New York Neo-Futurists, puts those questions to the test in "The Human Symphony," a series of real-life stories reenacted by unwitting audience members receiving instruction via iPod headphones. Created and directed by Marron—but co-written and performed by you!—at the New Ohio Theatre, the show is audience participation on steroids, a thrilling upheaval of conventional storytelling that allows spectators to see themselves onstage in a whole new way.
The inspiration for audience-based performativity came from a 2012 birthday gathering. "It had to be in my mom's apartment because that was the only free space available for a dance party," Marron recalls, "but because of the neighbors you can't blast music. So I was like, silent raves are a thing, why don't I make a big mix on iPods?" Simultaneously listening to the same playlist, his guests danced the night away in complete silence. "At the beginning I made an instructional track that instructed the partygoers to get in line next to someone they don't know, and then to form a grind train like we were at a bar mitzvah." His friends' puppet-like willingness to follow instructions as a group made Marron wonder if the same technique could be applied to the stage.
On audience participation.
"Audience involvement has always been a huge thing for me," says Marron. "I feel excited when I'm part of a show that has audience involvement because there's a lot of risk involved. You're on your toes and you're wondering if you're going to be next. Theater necessitates an audience to exist whereas films can be played to an empty house. With theater, the people creating the art are present with the people coming to see the art. Why not take advantage of that?" Immersion in the story becomes easier because, as Marron points out, "you see one of your own up there. The audience is like, that is an extension of me."
On developing "The Human Symphony."
Through the Neo-Futurists' weekly short form show, "Too Much Light Makes the Baby Go Blind," Marron found a perfect outlet to begin testing the idea. "Every Friday and Saturday night we do 30 plays in 60 minutes," he says. "We are constantly writing short plays with our aesthetic that it's cast-based theater, that we're never playing characters, and that we're never lying to the audience." The earliest incarnation of "The Human Symphony" was a piece called "You Could Be the Star of This Unrehearsed Play," which Marron remembers involved two audience members following iPod instructions, discussing the weather, and dancing. What intrigued him most was the lack of showiness, a story stripped of performativity down to raw truth. "They're not acting. They're totally following you and so when you play stories along with those actions you project character and story and feeling onto those people even though they're not told to perform it. It's kind of creating a canvas for storytelling. To me there's nothing more awesome to watch than people just existing onstage."
On finding material for the show's stories.
Rather than performing pre-written plays, Marron wanted stories that felt as spontaneous as the audience selection process. For inspiration, he solicited from friends on social media real-life anecdotes that he then recorded in a series of intimate interviews. "Real people narrating stories they didn't pre-write is fascinating," he says. "A lot of times when we're asked questions we give the answer we're supposed to give and then our minds trail off into really fascinating back alleys." Those back alleys became the structure for "The Human Symphony," with headphoned audience members reenacting the audio, oblivious to its story or themes. "I like gathering material and then seeing the play [emerge]. It's never going to be what you dream of writing; it's going to be what wants to be written." Marron points out the performers' unawareness echoes real-life narratives; it isn't until we take a step back and envision a story's beginning, middle, and end that we comprehend its structure at all. "The stories we live—we don't know where we are in the arc when we're living them."
On the rise of Web series.
Marron has received critical acclaim for his role on Adam Goldman's thoughtful Web series "Whatever this is." His work in online content has extended to directing and appearing in "Eat Our Feelings." What makes the Internet so exciting, he says, is creators' abilities to greenlight ideas themselves. "That's a great example of the new democratization of art, or more specifically of successful entertainment. You get new stories on the Web."
On advice for actor-writer-director types.
"Keep making work you like and accept the fact that it's a big learning process," Marron advises. "It's about finding your community, and making work with people you love and trust who respect you and your mind, and figuring out exactly what you want to do in this world." Whether it's curating entire stories performed by audience members or developing a Web presence that shows off your talents, there are limitless options for great storytelling. "If you want to tell a story there are ways you can keep honing that. It won't necessarily come immediately at the beginning. Take all of the missteps because they'll lead to the right steps."
Inspired by this post? Check out our theater audition listings!