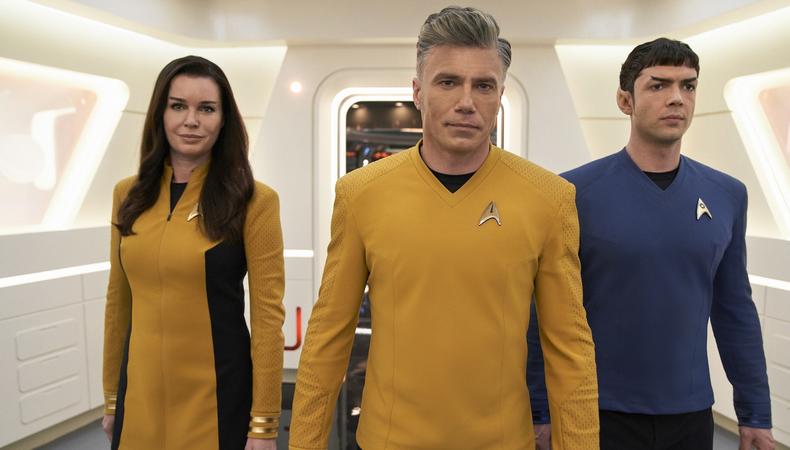 Calling all captains! "Star Trek: Strange New Worlds" is debuting May 5. If you've always wanted to join a franchise like "Star Trek," we decided to round up some similar projects for you to check out. In between reading up on the new series, fans can audition for these science-fiction projects casting talent.
"With You"
Single Core Studios is seeking action for their feature film. This action sci-fi drama follows a team of military contractors and the web of events that their influence has on the world. They are seeking male actors, aged 5–9 and 24–60, and female actors, aged 18–35. Rehearsals will begin in May and production will begin on June 4th in Albuquerque, New Mexico. This project pays $100–$200 dollars per day for an estimated 30 days.
Want this gig? Apply Here.
"Kairos"
Kairos Production/ DePaul University is on the hunt for actors for their short film. The fictional drama is set in the near future where employee productivity is monitored by implanted bombs. They are looking to cast supporting roles and need male actors, aged 40–60, and female actors aged, 4–7 and 20–40. The film rehearses and shoots early-mid June in Chicago. This project pays an estimation of $50 per day.
Want this gig? Apply here.
"Little, Big and Far"
Marlena Skrobe Casting is seeking performers for this feature film. "Little, Big and Far" is an exploration of citizen science, astronomy, and how our connection to the universe informs our sense of who we are as humans. Male Latino/ Hispanic talent, aged 25–45. Shooting will take place for a few days in May this summer in New York City and surrounding areas. This is a professionally paid project.
Want this gig? Apply here.
Immersive Theatre Dark Sci-Fi Experienc
e
"Unshut" is a new, Brooklyn-based startup that wants a few actors to perform in its first-ever interactive event. The experience combines theatre, virtual reality, gaming, and more to immerse people in a science fiction world. A person of any gender and ethnicity, aged 24–34 is needed. Preferably seeking performers from the NYC area who are available weekends and nights. A flat rate of $10–$15 per hour is included.
Want this gig? Apply here.
"Strippers vs. Aliens"
"Strippers vs. Aliens" is a feature film about a group of strippers who attend a bachelor party. But it's all fun and games until they see everyone dead. Now faced with aliens who did the killings, the strippers come together to defeat them. Production is looking for a female, aged 18–25, another female, aged 20–26, and two other supporting characters. Shoots in Charlotte, North Carolina. Pay is deferred, where actors will share 40% of revenue from Amazon and foreign sales. Travel, food, and lodging are also provided.
Want this gig? Apply here.
"Earth Manifesto"
This sci-fi eco-activist web series is looking to put together a sizzle reel and the pilot. The project wants talent, aged 6 and older. Filming will be on TBD dates in NYC. Day rates for pay vary based on role.
Want this gig? Apply here.
Engage! Looking for remote work? Backstage has got you covered! Click here for auditions you can do from home!