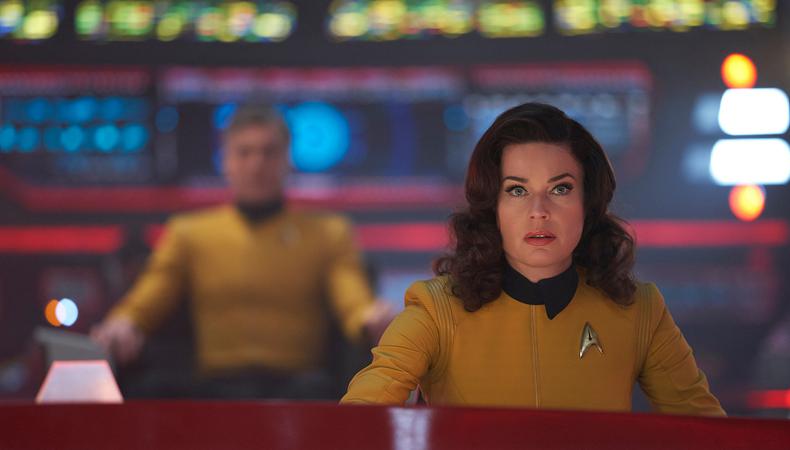 Stay in the loop on industry and casting news with our write-up on who's been slated for recent film and television roles!
Please note that shoot dates are subject to state and county restrictions and may change. Refer to Call Sheet for updates, and keep checking Backstage for the latest news on project development during this time.
"Star Trek: Strange New Worlds"
Following the success of "Star Trek: Discovery" and "Star Trek: Picard," CBS All Access is launching a new series in the franchise among a handful of other original content. Spinoff "Star Trek: Strange New Worlds," co-created by Akiva Goldsman, Alex Kurtzman, and Jenny Lumet, has been added to the streaming service's 2021–22 season. The show will explore the years before Captain Kirk set foot on the iconic USS Enterprise. The crew includes Captain Christopher Pike (Anson Mount), Number One (Rebecca Romijn), and Science Officer Spock (Ethan Peck). Set directly before "Star Trek: The Original Series," "Strange New Worlds" will follow Pike and his crew as they explore alien planets across the galaxy. Casting is going through the office of Simkin/Sitowitz, which has already added Mount, Romijn, and Peck, reprising their roles from "Discovery." Production on the pilot is aiming for a February 2021 start date in Toronto.
"Black Mafia Family"
As part of an overall deal with Starz, Curtis "50 Cent" Jackson will executive produce "Black Mafia Family," based on a true story from 1980s Detroit. The series follows two brothers, Terry and Demetrius Flenory, as they give rise to an influential crime family, getting involved in both the city's drug trade and hip-hop scene. Along the way, the loyalty between the brothers begins to erode. While 50 Cent isn't anticipated to act in the series, his production company, G-Unit Film & Television, will executive produce alongside Randy Huggins, who is also writing the series. Kim Coleman is casting the project, which has yet to attach any actors. Production is set to begin in Atlanta in January 2021.
"The Guilty"
Jake Gyllenhaal is officially signed on to star in upcoming film "The Guilty," a remake of 2018 Danish thriller "Den Skyldige." The Netflix project tells the story of a cop who, after being demoted to desk duty at an emergency call center, receives a call from a woman who has been kidnapped. As he helps her find her way to safety, he grapples with his own difficult past. Gyllenhaal is currently the only actor attached to the crime drama. Betty Mae is handling the casting for the movie, which is set to shoot this November in Los Angeles.
For the latest news, check out backstage.com/resources to find thousands of production listings, casting directors, acting classes, agents, and more!
This story originally appeared in the Oct. 22 issue of Backstage Magazine. Subscribe here.