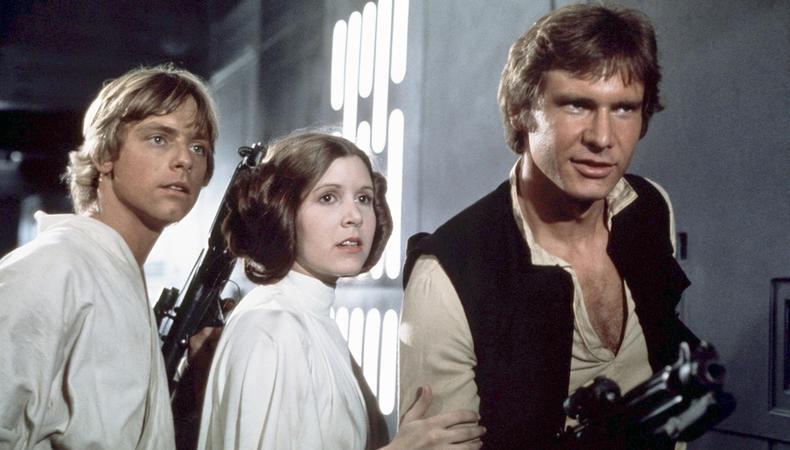 On Broadway and beyond, a curtain can rise as quickly as it can fall; a star can be swapped as easily as Bernie Telsey can say, "That's enough." Theater is the beating heart of New York show business and, if you want to make it here, it's crucial you're up to date on incoming projects, latest castings, and other industry news. Don't worry, Broadway baby, Backstage has your back. Every week, we're rounding up the can't-miss stories no thespian should live without, so you can focus on important matters like hitting your high C. Curtain up and light those lights!
May the musical force be with you.
A "Star Wars" musical is coming to New York—or, rather, a musical about "Star Wars" is coming to New York, clarified by its mouthful of a title: "A Musical About Star Wars — or Why Star Wars Is the Greatest Thing in the Galaxy, Much Much Better Than Star Trek." Beginning performances at Theatre Row March 14, the musical comedy comes courtesy of Tom D'Angora, Taylor Crousore, and Scott Richard Foster, and depicts the bond two Staten Islanders share over the titular film. Crousore, Scott Foster, and Emily McNamara star, with more casting to come.
Susan Sarandon heads back to the stage.
For his New York playwright debut, Jesse Eisenberg (yes, that one) has lined up top-tier talent both onstage and off. Leading Eisenberg's "Happy Talk" will be Susan Sarandon and Marin Ireland, under the direction of Scott Elliott. The New Group production begins performances April 30 at the Pershing Square Signature Center, prior to an official opening on May 16.
Audra is homeward-bound.
Audra McDonald's return to Broadway officially has a time and place. Starring opposite Michael Shannon in a revival of Terrence McNally's "Frankie and Johnny in the Clair de Lune," audiences can see McDonald onstage at the Broadhurst Theatre (soon-vacated by "Anastasia"), beginning May 4. Opening officially May 30, the 16-week limited engagement will be directed by Arin Arbus.
All-female "Glengarry" is a go.
New details have emerged about the previously-announced all-female production of "Glengarry Glen Ross." Producers Jeffrey Richards and Rebecca Gold have confirmed that Amy Morton will direct the revival (presumably on Broadway), having gotten the go-ahead from playwright David Mamet. Mamet's only input, according to the New York Post, was that the original names stay the same for each character (all of whom, of course, have traditionally been played by men). Casting is said to be coming this summer.
A one-night return to New York theater.
Daniel Craig is returning to the New York stage—for one night only. New York Theatre Workshop has announced a March 10 reading of "A Number," a new play by Obie winner Caryl Churchill. Directed by Tony winner Sam Gold (on Broadway currently with "King Lear"), the event will benefit NYTW's Artist Workshop and Education programming and will be held at New York Theatre Workshop's home base in the East Village.