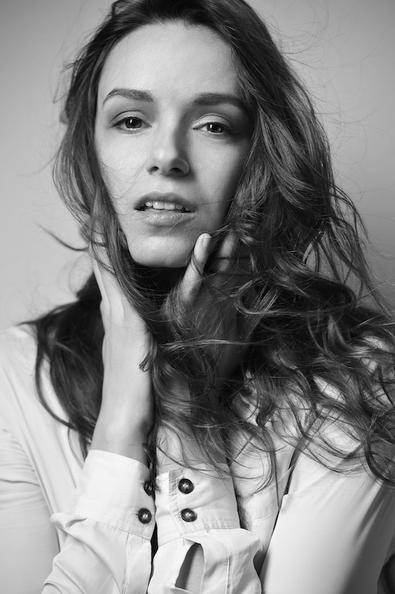 In the new horror film "Starry Eyes," Alex Essoe plays the role of Sarah, a young and eager-to-please actor who faces constant rejection at auditions and eventually feeds her desperate hunger for a role by surrendering her mind, body, and soul to a sinister film company. As a young actor herself, Essoe is able to draw from experience and shed a more personal and realistic light on what it means to struggle in the industry.
"The lack of boundaries [in acting] really appealed to me," she says. "I'd always done theater and I think it's extremely important for an actor to have that experience. You learn so much when you have to tell a story from beginning to end without stopping, in front of a live audience. There's no safety net, which is what I love."
Since then, Essoe has had a productive string of appearances in TV shows such as the CW's "Reaper" and various short films, but "Starry Eyes" marks her first lead in a feature.
Essoe chats with Backstage about her new film, her love of characters, and where she'd like to go from here.
On portraying an actor.
Essoe has to go to very dark places in "Starry Eyes," and while her character must face physical demons, the cruelest ones come from within. "It's universal for actors to deal with rejection and derision," she says. "You have to face yourself on a daily basis and ask yourself tough questions—Is this really what I want? Is it worth all the slog? And so, I was able to draw from that. And then actually expose all of those things that you generally don't want to share with people. You have to share all your flaws. I find that the more personal the role is, the more difficult it is, but also the more rewarding. There is something about it that's sort of cathartic."
In "Starry Eyes," Sarah has a self-aware dimensionality to her that may have been lost in a less realistic film. The character is not perpetually deluded into thinking that everything's going extremely well for her as an actor, but instead, she's constantly tough on herself and questioning whether she's even good enough to be putting herself through such rejection.
"Her flaws are her main focus, to the point where she never gives herself a break. Of course, as a result of that, she punished herself severely," Essoe explains.
On horror from an actor's perspective.
While the horror genre is well-loved, there are many people, industry and audience alike, who consider it of lesser quality. Essoe disagrees. "Horror gets dismissed by people often," she says, "and they don't take it seriously, but horror actually has, I find, the most variety and the richest tapestry of character traits. A character like Sarah, everything she goes through, would have no place in a romantic comedy or a period piece. So many horror sub-genres are the study of human neuroses and human demons. It's such a myriad of personality traits that you can pull from. I find it fascinating. There are so many possibilities, and no limitations. You can apply fantasy, comedy, sci-fi—there are so many other genres at home under the horror umbrella."
On her goals and advice for young actors.
As Essoe conveys in her new film, she is not afraid to dip her feet in treacherous and uncharted waters as an actor. She's hoping to be able to embrace a wide variety of challenges in her future roles.
"I just want to explore every facet of the human condition," she says. "I hope I'm lucky to have roles that allow me to do that. I just love characters so much, and character studies. My dream role would be like Matthew McConaughey in 'True Detective.' If there's one out there for a chick? I would die happy," she says.
The actor also believes that every role on any project serves as a learning experience. "I learned a lot about how to develop my own process, my own approach to character development, and how to take care of myself on set. You can learn a lot in classes but you can't really ever apply those things until you're actually working. In 'Starry Eyes,' I'm in almost every scene, and have almost no breaks in between. One person actually gave me advice when they said, 'When you're filming something like this, you should be sitting down or lying down.' I became very drained from the role quickly, so that was an eye-opening experience."
For young and struggling actors new to the business, Essoe says that the most important thing to remember may sound like common knowledge, but you'd be surprised as to how little applied.
"Know thyself," she says. "That's the best advice that I ever got. Especially for anyone who wants to get into an industry like this, because it is heartbreaking at times and you're tested constantly, as an actor and as a person. So just know who you are and know what you want. And just be professional, show up on time, don't be an asshole to anybody. And don't get sucked into the lifestyle because that's not important."
Inspired by this post? Check out our film audition listings!