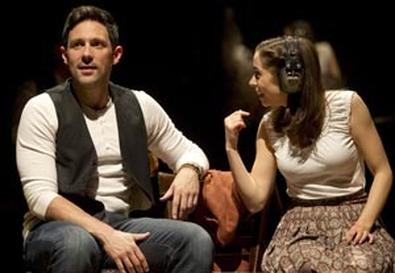 Though
Steve Kazee
and
Cristin Milioti
have Broadway shows to their credit, they have little doubt that co-starring in the Broadway-bound musical "
Once
," is the major turning point of their careers. Based on the indie Irish film of the same title and launched as a staged production at the New York Theater Workshop (NYTW), the intimate show offers the two performers a chance to display their talents as actors, singers, and musicians. Slated to open March 18 at the Bernard Jacobs Theatre, "Once" tells the story of two lost souls who find love through creating music.
Performing in this production is challenging on many fronts, not least the fact that Kazee and Milioti have to play the guitar and piano, respectively. Kazee never had any formal training and Milioti cannot sight read. But even more daunting—and exciting—they report was meeting the two film actors (
Glen Hansard
and
Marketa Irglova
) who, not only originated the roles on screen, but also wrote the music and lyrics. "I was going to be interpreting her music," says Milioti, who recalls being so nervous her hands were sweaty and shaking.
"It's intimidating any time to have a piece of art that someone else created and that person says, 'Let's see what you created based on what I created,' " adds Kazee. "There's no way to create someone else's performance. As with any role, you try to bring truth to it and it will become your own character. If you try to create someone else's performance it becomes a facsimile of a facsimile."
Kazee and Milioti have great fun recalling their journeys with the show and sharing insights with Back Stage.
Back Stage: Did you see the film and how did that inform your performances?Milioti:
I never saw the film and when I got the role I decided not to watch it. I didn't want to be influenced by it.
Kazee:
I'm a huge fan of the film and the music. It stands at a certain level and I didn't want to sully that image. Knowing the material so well and also knowing I had to create something original were the big challenges. I saw 20 minutes of the film on TV fairly recently and that was a strange thing. I found I no longer had the same attachment to the film. My attachment now is to the show we're doing.
Back Stage: What are your stumbling blocks in the performance?Kazee:
It's one of those shows that take everything you've got to hold together. What we're doing as actors, singers, and musicians and the level of complexity requires precise focus. If you're off one bit, you'll throw everyone else off.
Milioti:
I've never done a musical before. It's an emotional whirlwind of singing and acting. I didn't know it would be this hard or change my life. You can't have a drink after the show and you have to be very careful about what you eat.
Back Stage: How did you get these roles?Kazee:
It was a little bit of luck. They had someone in place for the workshop and he had to pull out because he got a film. So, I was called in at the last minute to do the workshop, which became my audition and I stayed with the show.
Milioti:
I was also in the workshop, though initially I played another part. When the other actress, who played my role, didn't work out I went through a series of auditions and they were difficult. I could play chords on one hand, but couldn't play different parts on each hand.
Kazee:
It's amazing how fast you learn something if they shove you out on the stage and say 'Learn it." It's a motivator.

Back Stage: What most prepared you for this production?Kazee:
Scotch. I'm kidding. I just jumped in.
Milioti:
We didn't have much choice except to jump in.
Back Stage: Where do you want to be career-wise in five years?Milioti:
I'd love to do more singing and be in a position to choose the projects and people I work with.
Kazee:
I've learned in my short time in the business that expectations will only leave you flat. I don't know where I'll be in five years. I'm not even sure I'll be an actor in five years. I'm just thrilled to be part of this show. It's just a singular moment in my life when everything is right.
---
Outtakes
Cristin Milioti
- The New Jersey-born actor landed an agent during her freshman year at NYU before she dropped out to pursue acting.
- Appeared on Broadway in "The Lieutenant of Inishmore" and "Coram Boy."
- Guest starred on "30 Rock," "Nurse Jackie," and "The Good Wife."
Steve Kazee
- A Kentucky native, Kazee earned an MFA in acting from NYU's Tisch Graduate Acting Program.
- On Broadway, he played Sir Lancelot in "Spamalot," and Starbuck, opposite Audra McDonald, in the Roundabout's "110 in the Shade."
- Earned a Helen Hayes Award nomination for Best Actor in "The Subject was Roses" at the Kennedy Center.
- Guest starred on "CSI," "NCIS," "NUMB3RS," and "Medium," among others.
"Once" bows March 18 at the Bernard Jacobs Theater, 242 W. 45th St., N.Y. (212) 239-6200 or www.telecharge.com or www.oncemusical.com
.