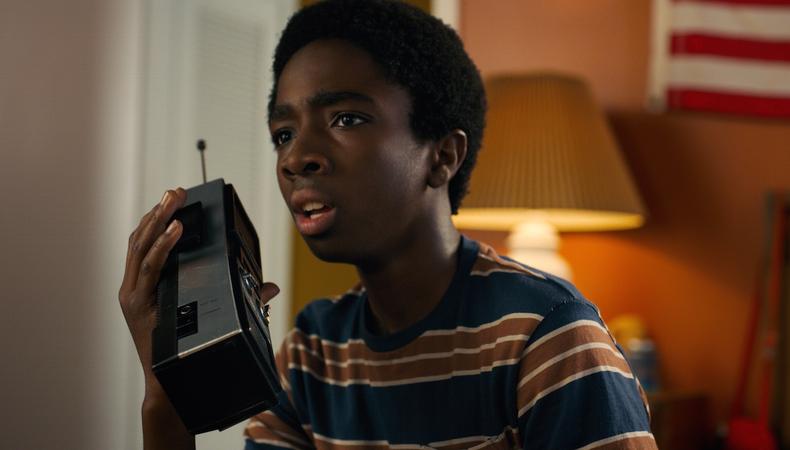 You could read tons of books about child acting to learn the tricks of the trade or you could take advice from acclaimed actors who joined the business before reaching adulthood. Each of these veterans share their insights about having careers before being able to vote.
Caleb McLaughlin, "Stranger Things"
"You're going to get rejected a lot. I still will get rejected. You just [need to] grow a thicker skin. And I think [you should] do community theater, watch movies [with] your favorite actors, and just work on your craft, and one day, you'll nail a job. It took me a while to get where I am now. What people really think is it happened overnight—it didn't. It took a few years and discipline. It happened quicker with my positive energy. You can't always think negative.... Your competition is yourself. Don't think about anyone else because when you think about someone else, you go to the other track, and that's not yours."
Evan Rachel Wood, "Westworld"
"I would say if your child is showing signs of talent and really seems to possess something unique, it's not going anywhere, so there's no need to throw them in front of a camera right away.... If you push somebody out in the spotlight too early and they don't know who they are and they're a kid, then they're going to be told what to do and who to be.... There's a reason why so many child stars have these little breakdowns. Childhood starts to kind of fall away from you if you're not careful"
Angourie Rice, "Every Day"
"I never did acting classes. I got into doing short films for [university] students. When I was doing it, I would maybe do a small audition, but it wasn't incredibly competitive. I think that's the best thing: to just jump into it and just do it. If you want to do training, that's great, and you should do that. But I never did, and I just sort of jumped into it.... You learn as you go along."
Bo Burnham, "Eighth Grade"
"The real beauty of what the kids did in the film was allow the horizon of their thoughts to be portrayed. You don't have to be in control… It feels like a good actor is present but never totally in control of what's happening. There has to be that element of chaos, and the kids have all that chaos in abundance, so that's inspiring to see kids willing to put the unprocessed part of themselves on camera… As an actor, I'd always struggled with having to be in control of everything that I'm presenting, having to be in control of myself and my emotions in order to act with them, and I don't think that's the case. Watching kids who are, over the course of the film, growing and changing as people—[it's better] if you can open yourself up and be vulnerable more [than] have complete control over your emotional arsenal."
Saoirse Ronan, "Lady Bird"
"Everyone below the age of 30 auditioned for 'Star Wars,' even if they were just out of drama school. I think the draw to something like that is the security of knowing that someone's going to see your film. It's going to be in the cinemas for longer than a couple of days. But I think if you're going to do a franchise, it can so easily just become a money-making thing, and that's never been what I wanted to do.... The way that it's presented to everyone is that it's everlasting and that it's easy and that fame means you can get whatever you want. And to a certain extent, that is true, but in other ways, it's so fickle, and to have so much attention on you like that and for it to go—and it can go so easily—is, I think, the real eye-opener."
Ansel Elgort, "The Fault in Our Stars"
"My goal getting into acting was to be a working actor. At LaGuardia, that's how they teach you. They tell you, 'If you can be a working actor, you made it—congrats!' It was never, like, 'I want to be a movie star,' or whatever… So when I got cast in 'Divergent,' it wasn't a question of, 'This is a "young adult" film series. I don't know if this is what I want to do.' It was just, like, 'It's a movie! And they're gonna pay me! And I'm gonna be in Chicago! And I'm gonna be performing!' "
Nat Wolff, "Paper Towns"
"I feel like when I start a new movie, I have to forget everything I've learned and learn how to do it again…I said to somebody, 'I've come of age in a couple of movies. I've got to stop coming of age at some point.' "
Check out Backstage's kids auditions!