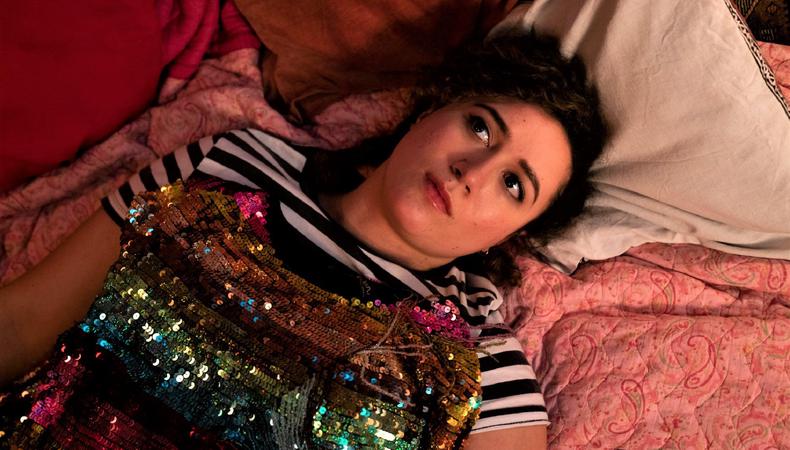 "I hate talking about things in theory, I like doing them," Rose Matafeo declares. That much is evident in the way she self-started her own standup comedy career in her native New Zealand. "I self-produced myself since I was 17, doing my own comedy festival shows," she continues, "so I learned about budgets, marketing, how to get flyers printed—I just basically did every single thing I had to do myself to produce these shows. It was a real solo process; it was such a learning experience. I just wanted to make this thing, [so it was], How am I going to make it? It worked out from there."
"I never ever had a backup plan. Maybe it's false confidence, but I never have had a situation where I have gone, 'It's too hard,' or, 'This is not for me,' or wondering if I should do something else with my life."
Today, she's calling in by video to discuss her buzzy new HBO Max romantic comedy series, "Starstruck," which was just picked up for a second season. Now 29, Matafeo created the series and stars as Jessie, a floundering millennial who has a one night stand with a movie star (Nikesh Patel) and proceeds to explore an on-again off-again, will-they won't-they tango of romance and complication. It's a breakthrough moment for the creator. As someone who, by her own account, circumvented traditional means of training to instead learn on the job through various ad hoc "apprenticeships" in radio, film, and TV, "Starstruck" is a culmination of the skills she's been honing over the last decade.
"I've always had an interest in so many things creatively, and I loved television and I loved film since I was a kid. I wanted to be a director before anything else, and it's an amazing thing to be able to come full circle with it," she says. "I went a really loopy way into creating a show…. I was empowered to make this show through a massive amount of luck, fate, and opportunity—but also lots of work, peripherally. It's all culminated into something like this, which is great because I hate doing things that try to be perfect the first time. I know that's not the case."
Her résumé is already expansive overseas; standout projects include her special "Horn Dog," which won top prize at the 2018 Edinburgh Festival Fringe and is now streaming on HBO Max, and the sketch comedy series she co-created, "Funny Girls." "Starstruck," however, is the first to bring her international recognition, outside of her home country and the United Kingdom, where she's lived since 2015. In hindsight, such successes are credited to the fact that she never had a Plan B.
"I honestly didn't think about it then, but I never, ever had a backup plan," Matafeo says. "Maybe it's false confidence, but I never have had a situation where I have gone, 'It's too hard,' or, 'This is not for me,' or wondering if I should do something else with my life. I don't know why—I should be because it's a very precarious way to make a living. Maybe it's because I have really supportive parents who fostered creativity and let me do my own thing, and I think I have a relative drive to make things, not necessarily succeed but to keep making stuff. That's gotten me through moments where money has been tight or things have been a bit more precarious."
She admits that her own personal drive also raises the bar for those she chooses to work with, and there's been a learning curve over the course of making "Starstruck" as far as "trusting others and learning from others who are very good at their jobs."
"I'm very hard on myself, and I kind of hold people to the same potentially horrific high expectations," she says. "I came from a world where I was in control of everything the whole time. Standup is a world where you're in control, from what you write to how you perform it to how it's gestured."
With that in mind, the conclusive advice she'd give to other creators and comedians who want to get behind the camera and work on a film or TV set is to simply embrace "the fact that you are not always right."
"There's a difference between having a very clear vision and having a dictatorship in how you try to achieve that vision," she emphasizes. "There's an ability to have a creative process that achieves the singular vision. I would tell that to my 9-year-old self: I would say, 'Collaboration can still achieve your singular vision, Rose!' "
Looking for remote work? Backstage has got you covered! Click here for auditions you can do from home!