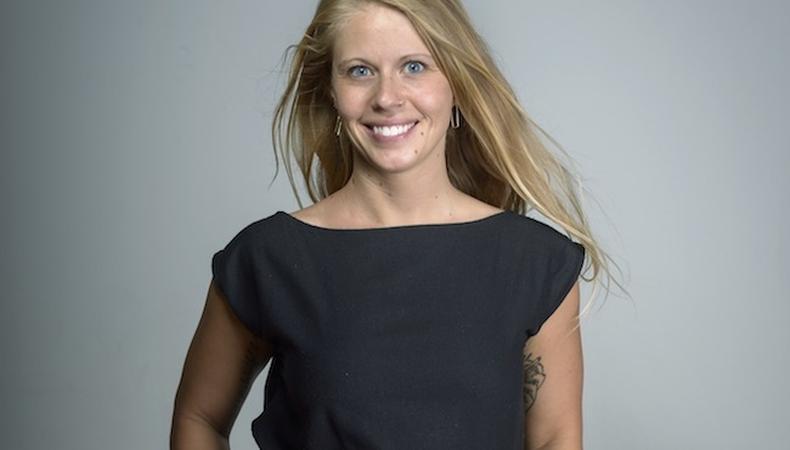 Kristin Damrow is a contemporary dancer, choreographer, and teacher based in San Francisco. Since founding her own company in 2010, she has choreographed and produced over 15 new dance works for venues throughout the San Francisco Bay Area. This year, she was selected for the esteemed ODC Pilot Program, acknowledging her impact in her dance community. We speak with her about the challenges and joys of starting a dance company early in her career.
How did Kristin Damrow & Company develop?
One of my mentors was Liz Burritt, a founding member of the Joe Goode Performance Group based in San Francisco, and she encouraged me to move to the Bay Area. The decision to found Kristin Damrow & Company was challenging at first. Since I didn't have any performance experience in the Bay Area, I had to start off small: a lot of festivals, outside performances, and sort of building the fluff of the repertory we were creating. I wanted to submerge myself in the dance scene as well, so I did a lot of performing and auditioning, mainly to figure out how my work would fit into the dance scene. I was coming at it fresh, so I think a lot about making work is figuring out where do you fit in? How does your work fit in? Can it fit in?
What challenges did you face becoming a choreographer and director at such a young age?
Starting young is hard because you are seen as inexperienced. I was coming at it blindly a lot of the time. Not every college or university has a course on how to run a company. It is completely a business, and administratively there were a lot of challenges that I had to trial-and-error and just learn how to do. My goals have [always] been larger than where I actually was with my own work. I wanted to get into certain festivals and do certain things, but I was having to work my way up the ladder.
What would you like to see more of in the dance world?
The dance world has this competitive nature to it, whether it's dancers in the studio or choreographers competing on the same weekend. I'm trying to, yes, be more community-based, but also just have more conversations with other artists and learn and be inspired by other dancers and people making work. It would be nice to be more welcoming and learn more from each other and share all of those little secrets that people discover over the years. That was the biggest thing about starting a company: You learn to ask for help and learn from other people's experiences. I think it's really valuable, and it would be nice to make it something that is accessible on a larger scale. It's one thing to approach people and have coffee, but to build a more supportive network of creating work would be really beneficial.
READ: How to Become a Dancer
Who are some of your inspirations?
I do a lot of research on other companies. I think it goes back to that nature of "how does my work fit into this larger sense of dance community and dance world?" I love Crystal Pite; she's a large-scale choreographer that I really value in terms of what she is doing in her life and in her work. Kate Weare is another [artist I admire].
What advice do you have for dancers hoping to establish their own companies?
Do it. No matter how scary or intimidating it feels. It does take time and it is a lot of work, but if that's something you really see being of value in your artistic career, it is possible. Don't be afraid to reach out and talk to people and let them know you love their work. Be humble about the experience of trying to make it work and trying to figure it out. On the administrative side, you can reach out to fiscal sponsors that can give you information, because it is truly a business. They may have the resources to help. Dancers Group in SF has really been great for that. I also have my own YouTube channel where I post vlogs that follow the creative process as well as the ins and outs of having a company that can be beneficial for young artists.
For San Francisco–based dancers looking to see Kristin Damrow's work, the company will be performing a contemporary dance about the life and work of Ray and Charles Eames Jan. 25–28 at the ODC Theater.
Check out Backstage's dance audition listings!