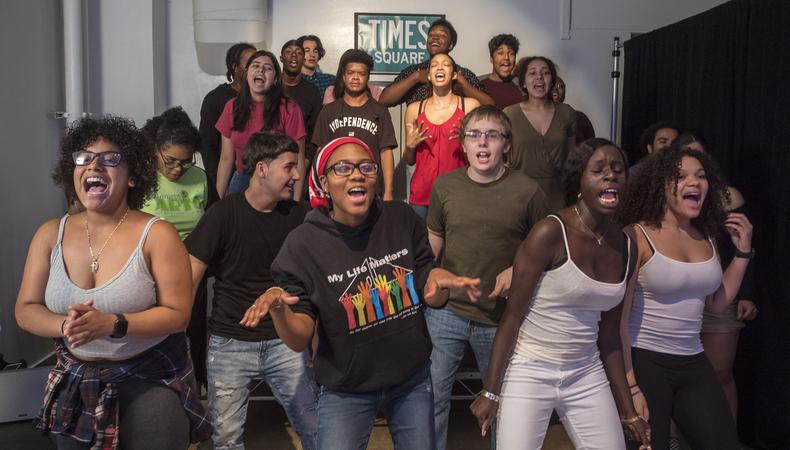 A little over 19 years ago, Liza Politi was working as an actor in New York City when the events of 9/11 changed the trajectory of her life and career. With no work to be had, she fell happenstance into what she thought would be a one-off program assisting high school students hoping to get into performing arts college. It would go on to become a full-fledged nonprofit, Statement Arts, and nearly two decades later it continues to provide invaluable support for students across four of the five the boroughs.
Politi hopped on the phone with Backstage to talk about how the program has maintained a 100% success rate getting participants into college, how you can get involved (you can donate here, and you can watch its alumni cabaret livestream on Nov. 19!), and why nurturing young artists is more important now than ever.
For those who don't know, what is Statement Arts?
We started about 18 years ago at a high school in Hell's Kitchen. All of this was accidental. I did not think I was going to be working with kids, I did not think I was going to be running a nonprofit. I literally walked into a high school in Hell's Kitchen and was going to just run a masterclass kinda thing. And then the first time I met these kids I totally fell in love with them and their hearts and their passion and their energy and their willingness to try things. And 18 years later, we're still slogging along. We're getting kids into college, we've expanded the program, we work with young kids now. We have a 100% success rate getting kids into some phenomenal schools. We currently have six kids at NYU Tisch and almost all of them are on full scholarships or substantial scholarships. We've had two Posse scholarship kids, which is the scholarship that Obama gave most of his Nobel Peace Prize money to. It's a really strong solid program.
What was the original impetus for founding the program?
As I said, we originally started at a high school in Hell's Kitchen to supplement an already fledgling arts program that was continually on the chopping block. We spent eight years in a high school in Hell's Kitchen doing shows and figuring out what a nonprofit is. When the [financial] crisis happened, the school shut down anything that was not nailed to their charter. We had a thriving musical theater program and dance program and acting program and the school just put the kibosh on all of it. At that time we were not sure if we were going to close our doors. We had had a young woman who I'd met when she was a freshman and I'd worked with her all four years of high school, who had just finished college. She came back and said, "The program you guys taught me changed my life and it doesn't exist in my native neighborhood of Washington Heights; could you run a program similar?" I said, "Of course but I don't know anything about Washington Heights so you'll have to come and help me."
So for the last nine years, we've been running our own programs for grades 3-6 and 7-11. For a lot of kids, our program is their only access to art. We have a college prep program that we pull kids from four of the five burrows for, and there have been 125 kids so far that have come through the program and we get them into college. We have a really strong alumni program, too. The program we're working on right now is for once the kids have grown up with us and have come through the program; we're trying to address now, How do we make the bridge from college to life? So we're starting some additional programming and internships.
In your opinion, why is it so crucial to expose school-aged kids and young adults to the arts?
Unfortunately the way most people think about arts—there's not an understanding. There is an understanding about athletics and the skills that you can learn in teamwork and collaboration. But for a lot of kids, that may not be athletics. They may be very creative or artistic and it's the arts that supply that same fulfillment. The arts is where kids can learn to collaborate and communicate and they learn about empowerment, how to speak up and speak out and be themselves. This program, it's everything people need right now in this moment of such chaos and overwhelming problems. The arts is one of the things that really brings people together. One of our dreams has always been to provide kids with opportunities to learn how incredible they already are, to connect them to the power they have inside of them.
How has the pandemic impacted the program?
COVID has taken us and shaken us in a bottle and we're finding our way through. I just learned that of the nonprofits that are at our financial threshold—we're at about the $250,000 a year mark and hoping to expand—only 5% of NYC nonprofits were able to continue with any of their programming because of COVID. I am thrilled to say we're in that 5%. We've been able to run all of our programming—certainly not in the same way we'd done it, but we have been able to successfully revamp and revise and transfer everything over to the virtual world. It's certainly been a learning experience. I have a 30-year background working on one side of the [casting table] or the other. As someone who is really good at walking in the room and working with the energy in the room, working in a virtual platform has been a challenge but still completely necessary. A lot of the problems we're facing now, in addition to a drop-off rate of kids struggling with school in this online world, is we're struggling with kids who don't have access to tech or wifi. We've had kids wandering around parking lots trying to find enough wifi to upload assignments. It's hard. But we're the small but mighty nonprofit, because we just keep going.
What can those in the program expect on the day to day?
In normal times—when we're not smack in the middle of COVID—we start working on the program in January. We physically go and recruit schools in March and April. We have kids audition for us in May, and then we start the program in the month of July. In July we have three weeks of intensive arts education and college prep programs. We have a writing workshop that taps into who the kids really are and help them find their voice and identity. But it also culminates in their college common app essay so when they finish that program, we've tackled that. We have one-on-one vocal classes, we have a music director that teaches a choir ensemble, we have master classes in acting, there's dance.
Originally when this college preparatory program started, our original goal was to level the playing field for kids that wanted to go to school for performing arts. After that first summer, we realized how challenging it is in general for kids applying to college; the application process is so daunting. So after that first year we said, We speak the language of arts and as long as you could use this language with us, we don't care what you want to go to school for. Now our program, depending on the year, 50% are going to go to school for performing arts or creative arts and 50% are gonna go for other things: nursing, banking, law, whatever. We have a young woman this year who wants to be an astrophysicist and I'm like, Amen!
For more information or to donate to Statement Arts, check out their website.