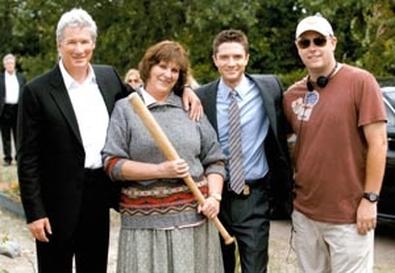 Last week, thousands gathered near a major Midwestern city to rally against what they characterized as an overzealous governor's attack on working people. Star power wasn't lacking, as the crowd—whose size ranged in estimates from 2,000 to 4,000—heard from the likes of Michael Moore, Jeff Daniels, and Mitch Albom.
But the rally had little to do with the massive protests being staged by public-sector unions and their supporters in places like Wisconsin, Ohio, and Indiana. What the folks who assembled outside Detroit on Feb. 24 clamored for were tax breaks—specifically, tax breaks for Hollywood producers.
In the middle of the last decade, states such as New Mexico and Louisiana enacted aggressive tax-incentive programs meant to lure film and television productions from traditional industry hubs such as Los Angeles and New York City. The schemes worked, and soon more states, eyeing the money and prestige that a big production can bring, followed suit. As location scouts began spending more time in flyover country, New York and California initiated their own programs to keep up. Today, 43 of the 50 American states offer some form of tax rebate to film and television productions.
But with statehouses across the country facing budgetary crises, some wonder whether the revenue that productions generate is worth the money it costs to bring Hollywood to Main Street. In Michigan and New Mexico, newly elected Republican governors intend to scale back or eliminate tax incentives. Iowa has already killed its program, which was plagued by corruption. In Massachusetts, where an effort to reduce incentives was defeated last year in the Legislature, Gov. Deval Patrick, a Democrat, recently fired the state's film commissioner and eliminated the department he ran, which was responsible for distributing incentive money. Ohio's new Republican governor sacked the heads of his state's film office shortly after taking office last month.
In Michigan, opponents of the state's program—which offers a 40 percent rebate on in-state spending—are armed with a damning study released in September by a state Senate fiscal agency. The report's author estimated that through the incentives, Michigan spent $208.6 million in 2009 to create the equivalent of 355.5 full-time jobs—or $586,779.18 per job. Proponents are backed by their own numbers. A study released this month by the accounting firm Ernst & Young found that the credit generated $5.94 in local economic output for every dollar spent on incentives in 2010.
But Michigan actor Nina Kircher judges the credit's real impact by what she sees around her. Kircher specializes in voiceover, having worked on numerous national ad campaigns. As she watched much of that work begin to go to celebrity actors in recent years, the film and television productions that showed up in her backyard offered new opportunities. When director-producer Drew Barrymore came to Michigan to shoot the 2009 film "Whip It," Kircher landed a part. Then last June, she shot a scene for the Richard Gere film "The Double."
"That kind of stuff has just been a godsend. I know a lot of people who have worked on 'Detroit 1-8-7' in featured roles," Kircher said of the ABC crime drama. "We actors are very, very grateful to have the opportunities to audition for movies like 'Cedar Rapids' and 'Youth in Revolt.' " Kircher is one of more than 4,000 people connected to Michigan's production industry who have voiced their support for incentives at RicksWrong.com. The website's name references Gov. Rick Snyder, who has included the film and television program in a long list of state tax credits he intends to scale back or eliminate.
Michigan is facing a $1.4 billion budget shortfall. Geralyn Lasher, a spokesperson for Gov. Snyder, said the governor wants to eliminate tax relief for industries that, through lobbying efforts, have had their subsidies written into the tax code. She added that the film and television credit doesn't generate enough revenue or create enough jobs to justify the state's financial commitment to it. "You haven't seen a lot of other states trying to come up to the level that we're at," she said. "As the governor has said, I think states across the nation are realizing that this is unsustainable."
American-Made
For Michigan actors, the jobs that have entered the state through TV series such as HBO's "Hung" and films such as Clint Eastwood's "Gran Torino" have made life a little less unsustainable. From a national perspective, tax-credit boosters argue that state programs help keep work from heading overseas to locations such as New Zealand and Eastern Europe, where relaxed labor laws help studios keep production costs down.
State tax credits are "an extremely important tool in helping to ensure that work stays in the United States," said Nancy Fox, national director of government relations and policy for the Screen Actors Guild. "Without strong state incentives in place, it's very possible that we will see work leave the United States for other countries that have invested in attracting production."
Fox added that incentives create thousands of jobs for SAG members and workers in other industries and provide "much-needed local tax revenue during difficult times." But according to Robert Tannenwald, a senior fellow at the Center on Budget and Policy Priorities, most states would be better suited spending their money elsewhere. Tannenwald authored a December report that characterized most of the research used to promote the economic value of film and television incentives as flawed or biased; he concluded that "in the harsh light of reality, film subsidies offer little bang for the buck."
Tannenwald charged that incentives are too costly, don't generate enough revenue to pay for themselves, and create mostly "spotty, part-time, and relatively low-paying work." "Improving education is a proven building block of a modern-day economy," he said, touting the positive economic impact that can come from state investment in vocational training, pre-kindergarten, specialized academies for at-risk students, and consultation services for small manufacturers. "These are all programs that research has shown have a much higher return on the buck than something like a film tax credit."
Still Popular
But Tannenwald admitted that although film and television incentives may be bad investments, they remain attractive.
"Their benefits are immediate and visible, while their costs are much less visible and spread out over time," he said. "When Massachusetts enacted its film tax credit, within a year you could see orders picking up for carpenters, hairdressers, below-the-line production workers, caterers. You could see vans coming in, setting up for a shoot. You could see famous actors and actresses having breakfast at the local café. You could go up and get their autograph. You could see vestiges of people who had less work before getting more work. Whereas the tax money that went to finance these incentives and brought in this activity reduced government spending elsewhere or forced tax increases elsewhere to fund the incentives. Those costs were spread over all taxpayers and across broad areas of government spending and therefore a broad array of people who provide services to state government."
Though some budget hawks are set on slashing the film and television incentives, the prospect of luring those visible benefits has other states pondering expansion. Oregon's governor wants to increase his state's allocation for incentives by $10 million. Bill Clinton recently endorsed a plan to nearly double the credit offered to projects filming in Hawaii. In Nebraska, a state Senate bill would create a new tax-incentive program where none existed before.
For Tom Carpenter, general counsel and director of legislative affairs for the American Federation of Television and Radio Artists, these are good signs. He spoke highly of Oregon, where existing incentives have helped draw series such as IFC's "Portlandia" and TNT's "Leverage." Incentives "can be a substantial economic driver in a state that has not traditionally had a lot of production," Carpenter said. "Particularly for performers who are trying to earn a middle-class income outside of one of the major production centers, one or two TV shows going to a state like Oregon can really mean a meaningful source of income."
Back in Michigan, the fight continues. Just days after Snyder announced his budget proposal, producers of Marvel's "The Avengers" scrapped plans to shoot part of the film in the Wolverine State. The governor's office claimed that the production demanded approval for a tax rebate faster than it could be given. The news, however, has armed Snyder's critics with an example of work vanished. A second pro-incentive rally is planned for March 3 and a third for March 22.
Kircher tried to attend the first rally but was one of hundreds who were turned away when the venue reached capacity. She will continue to watch with interest as the situation unfolds. Her livelihood depends on it. "Everybody has been so excited about what's been going on lately," she said. "To see it all just go when we're just now getting up to speed on knowing what the producers, the directors, the Hollywood agents are looking for, it's really disheartening."