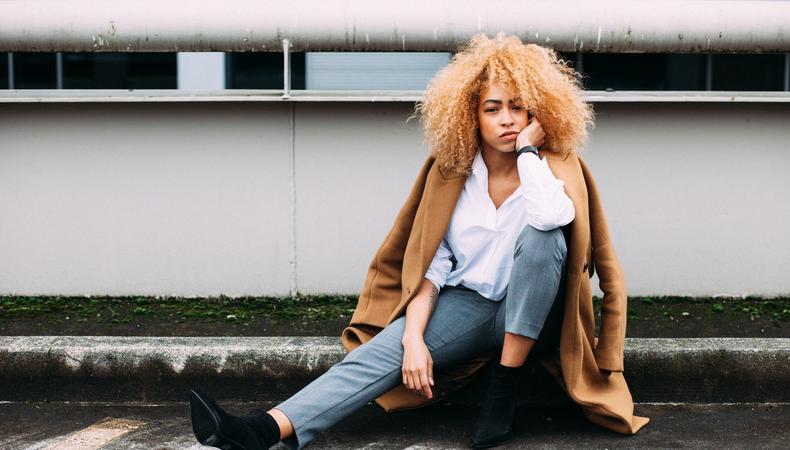 INT. BEDROOM - MIDDLE OF THE NIGHT
A young thespian tosses and turns in bed. A clock on the nightstand reads 3 a.m.
SMASH TO:
INT. THE ACTOR'S MIND - NIGHTMARE
They stare at a phone. Time passes, slow and dreadful. It finally rings. An audition. Suddenly we find them in an audition room.
CASTING DIRECTOR
Wow, that was soooo amazing. Great job.
Thank you soooo much.
Our hero comes screaming awake.
The first audition in weeks. Yet another rejection.
It comes in waves. You have a great few weeks auditioning all the time. You may have even booked something. Then it slows down for a while. You feel a small sense of relief that you don't have to drive to Santa Monica for once. Two weeks pass. Three. Hmmm. Maybe the drive to Santa Monica wasn't so bad.
Before you know it, you've gone from the sweet relief of not having to leave the Valley for a 5 p.m., to the debate of whether or not leaving your hometown was a good idea, finally arriving at the incessant and horrifying existential realization that perhaps you are nothing but a poor player, strutting and fretting his hour upon the stage.
You are full of sound and fury.
You've contacted your reps and asked what else you could be doing to get you in the room. You trust their advice on your updated headshots and reel. And most of all, you "trust the process." But you still feel like you're losing your mind and that maybe you should have listened to your parents when they said a B.A. in theater arts didn't have real-life applications. (It does, don't worry).
But I've never read a Strasberg or Meisner book on what to do when you've spent the last two months gazing into the abyss wondering what made you think a career in acting would give you satisfaction. Gloomy! But therapy ain't cheap and if you've experienced the highs and lows of being in entertainment, you know what I'm talking about and have likely been dying to know: How do you stay sane when you aren't busy?
READ: 8 Ways to Prepare for the Big Move to L.A.
Join a class.
Whether it's an acting, improv, music, or dance class, one of the most important and helpful ways to maintain your grip is to consistently be working on some skill that will further your craft or give you a standout ability. Spend time with a coach who can help you pinpoint what aspects of your audition room technique needs improvement so when the opportunities come around again, you're prepared. If you aren't moving forward, you're dying.
Take matters into your own hands.
No, Batman, I don't mean vigilantism. Don't start sneaking onto lots trying to shake hands. You have an abundance of resources (i.e. Backstage) where you can stay current on what is happening in the industry and find opportunities and roles to submit yourself on. With a "wake up and grind" mentality, you can find one thing a day that you can do to further yourself. And never rule out getting a job or internship within the industry, whether at a casting office, talent agency or production office to ensure you are multi-faceted in all aspects of entertainment.
Find like-minded people.
If you took my first piece of advice, you're now probably making friends who share the same goals as you and are rooting for your success. Ask them if they have recommendations on books, other classes or representatives you could reach out to. While "networking" is near the top of my list of words I hate to hear in L.A., it's important to commiserate with your fellow starving artists. Together you can work on your own online content and produce material that makes you stand out. Whether the role you take on is directorial, as a writer, or a performer, collaboration is key to not only carving out your own opportunities but to sharpening your tools as an artist.
Just be wary that "networking" doesn't turn into 2 a.m. at a house party every weekend; you'll soon realize a lot of those same people promising collaboration are somehow always still in the "developmental stage" of actually accomplishing something any time you ask.
Don't obsess.
If there is one thing you learned from this article, it's that I'm the sanest man in Hollywood. What I mean to say is that hopefully, you've learned some tips on how to divert your attention elsewhere when the stress of wanting to succeed gets to be too much. This is a feast or famine industry where you are either doing really well or really not. But you'll find yourself back in the black sooner or later and if you remember this, you should be able to remain sane.
Mikey Reid has been acting for most of his life. His credits include Sinjin on Nickelodeon's Emmy-nominated "Victorious," "Modern Family," "The Blacklist," as well as in the upcoming feature film "Camp Cold Brook." You can find him on Twitter at @MrMikeyReid and Instagram at @TheMikeyReid.
Get all of your acting questions answered by peers and experts on the Backstage Community forums!
The views expressed in this article are solely that of the individual(s) providing them,
and do not necessarily reflect the opinions of Backstage or its staff.