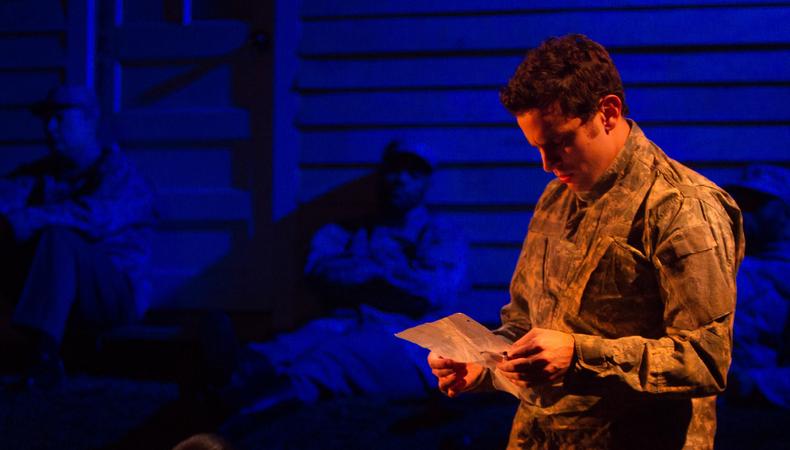 Near the end of "The Steadfast," eight soldiers stand before us, each in a uniform of one of America's major wars, from the American Revolution to the war in Afghanistan. The stage image reproduces a painting by Steve Alpert titled "Legacy" that represents more than 200 years of American fighters in front of the American flag. The artist commissioned playwright Mat Smart to dramatize his artwork, and if the resulting ambitious project doesn't quite add up to a fully coherent play, the first-rate cast of 10 works hard to create a series of affecting vignettes.
In 2003 in Afghanistan, Private Tommy Kellar, 18 (Matt Dellapina), asks for help from Lance Corporal Powell (Cloteal L. Horne), the only woman in the squad, in writing his girlfriend back home, who is annoyed that Kellar didn't propose to her before he left for war. This and a subsequent scene between these characters after a major battle make the two actors stand out, hitting a grace note of humor in some otherwise grim doings. Powell's own marriage is strained; she joined the marines on Sept. 11 without telling her pious pacifist husband, Mark (Nick Mills).
In 1968 three young men (John Behlmann, Alex Ubokudom, and Dellapina) walk in a cold forest toward the Canadian border to escape being drafted into the Vietnam War. In 1863 an escaped slave in Georgia (David Ryan Smith) wants to be smuggled to Boston so that he can join the Union Army. In 1776 a father (Brent Langdon) worries what will happen now that his older sons have decided to take up arms against the British. In the 1950s a mother (Susan Greenhill) sits in front of a red oak tree, refusing to leave even as her house is foreclosed, because her son (Ben Kahre) planted the tree before he died in the Korean War.
"The Steadfast" recalls Robert Schenkkan's 1992 Pulitzer Prize–winning "The Kentucky Cycle" in its use of short vignettes over many generations to create a sense of the sweep of American history. But "The Steadfast" crams in almost as many stories in a little over two hours as the older play did in six, and they are not organized in simple scenes presented chronologically but interspersed and intertwined in ways that are sometimes clever and other times confusing. The main task for director Wes Grantom is too often just moving things along, and the challenge for the performers is frequently to make clear to the audience who they are at any moment, given that all but two of them play multiple roles and the same characters at various ages. Brendan Titley portrays Elmer at 95 years old during the Civil War and then switches immediately in the next scene to Elmer at age 7 during the American Revolution.
"The Steadfast" doesn't entirely avoid the clichés of patriotism, but there is something refreshing about being able to embrace these mostly reluctant warriors without feeling like Newt Gingrich.
Presented by Steve Alpert and Ken Greiner, in association with the Slant Theatre Project, at TBG Theatre, 312 W. 36th St., 3rd floor, NYC. Jan. 23–Feb. 3. (212) 868-4444 or www.smarttix.com.
Critic's Score: B+