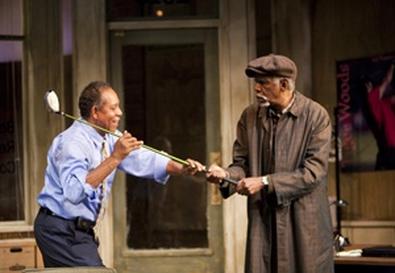 When playwright August Wilson died in 2005, Pittsburgh lost one of its greatest artists. Like others born or raised in the Steel City, such as Andy Warhol and Michael Chabon, Wilson had long since moved away—to Minnesota and Seattle—but the two-time Pulitzer Prize–winning dramatist was inspired by his hometown until his final days, and Pittsburgh has remembered him.
Among other memorial honors, last month the brand-new August Wilson Center for African-American Culture hosted the Aunt Esther Cycle, a festival of full-length plays by the dramatist. The fest took its name from the ancient wise woman prominently featured in Wilson's canon, which charts the African-American experience in the 20th century through 10 plays, one for each decade.
"We had a really exciting time," says Talvin Wilks, the festival's curator. "The beginning was a bit bumpy. But it was a beautiful production."
Wilks, 47, is a New York–based director and dramaturge, and he was asked by the center to help coordinate four different productions: "Gem of the Ocean," presented by Black Rep of St. Louis; "Radio Golf," produced by Penumbra Theatre of Minneapolis; "Two Trains Running," from Pittsburgh Playwrights Theatre; and an ensemble docudrama written by Wilks and Obie Award–winning playwright Ping Chong called "The Women of the Hill," based on interviews with six women in the city's Hill District.
The Hill District features prominently in Wilson's plays, serving as the backdrop for nine of the 10. Equally significant is Aunt Ester's iconic house, at 1839 Wylie St., where several of them are set. The cycle begins in the Wylie house with "Gem of the Ocean," and the house's fate is the dramatic thrust of "Radio Golf," the cycle's 1990s-era finale.
Wilson's "work is accessible and vibrant and historical," says Wilks. "Some audiences may have never seen work by a significant African-American artist. It's a significant body of work that has an impact and draws audiences for many different kinds of companies."
Production Challenges
Although the 65,000-square-foot August Wilson Center is a state-of-the-art facility, complete with a 500-seat proscenium theater, the festival's diverse collaborators faced the usual challenges of breaking in a brand-new stage.
To accommodate four different productions, set designer Felix Cochran created a kind of modular skeleton, so that each company could import furnishings and special pieces to build its distinctive sets. Penumbra Theatre had just finished a production of "Radio Golf," which allowed the company to construct one of the play's two sets with maximum ease.
As each show closed, the next one had approximately 12 hours to assemble its set, tech the stage, and run a dress rehearsal. After a rough start preparing the first show, "Gem of the Ocean," producers were somewhat jittery. But after a technically flawless and well-attended opening night, the organizers breathed more easily.
Luckily, the center is located a few blocks from Pittsburgh Playwrights Theatre, one of the most versatile spaces in downtown Pittsburgh. The theater's artistic director, Mark Southers, invited producers to build their sets in its expansive backrooms. Southers is a prolific producer; the local City Paper once described him as "the hardest-working man in Pittsburgh." He has also worked closely with the center's staff, and he anticipates many future collaborations.
"The center is beautiful," Southers remarks. About the festival, he adds, "I think it went well. I'm inspired now."
This is exactly the kind of reaction that organizers were hoping for. As Wilks describes it, the Aunt Ester Cycle was a kind of test run for future minifestivals, which could become an annual event. The center would be a meeting place for touring companies from across the country, which could regularly revive their unique programming in Pittsburgh.
In recent years, Wilson's work has become a favorite among university and professional theater companies, not only for its African-American themes but for its challenging characters, complex plot lines, and mellifluous language.
"This has really pushed the center beyond capacity, in a good way," Wilks says with a laugh. "The idea was: Can we think of this in a way that helps shape a touring company?"
Pittsburgh benefits from a central location. It stands roughly midway between the theater meccas of New York and Chicago, and while it is known for its professional African-American companies—such as Kuntu Repertory Theatre and New Horizon Theatre—the August Wilson Center could become a crossroads for traveling troupes.
Wilks had the benefit of having worked in Pittsburgh before. For Kuntu, he directed Cassandra Medley's daring drama "Relativity," as well as "Among the Best: The Pittsburgh Crawford and the Homestead Grays," by local playwright Rob Penny, a longtime friend and colleague of Wilson's. While Wilks describes himself as a "hired gun," he hopes to offer his experience to the center again.
"I would love to have a future relationship with the center," he says. Among similar-minded artists, this may become a common sentiment.