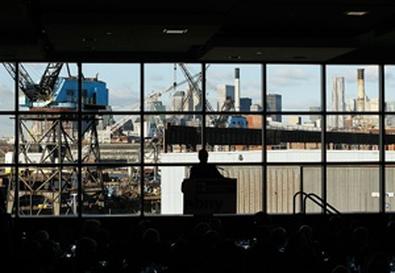 Steiner Studios, the production facility that opened seven years ago at the Brooklyn Navy Yard, opened five new soundstages on Monday to match the growing demand for film, television, and commercial production in New York City.

On Monday, Mayor Michael Bloomberg and Media & Entertainment Commissioner Katherine Oliver joined Steiner Studios Chairman Douglas C. Steiner at a press conference at the studios to commemorate the opening. Totaling 45,000 square feet, the expansion doubles the number of stages at Steiner to 10. Coupled with the existing five stages, Steiner Studios now totals 355,000 square feet, including editing suites, mill shops, and prop storage.

"A little over a decade ago, New York City struggled to attract the lucrative production industry to film here," Mayor Bloomberg said. "Now the city is such a popular and prosperous home to hundreds of films and television shows, we have to work hard to keep up with the demand for stages and production facilities. These new soundstages at Steiner Studios will create jobs, and expanding our workforce development programs with new grants will help the next generation of production professionals start their careers on the right track."

The Mayor also launched initiatives designed to support and grow the production industry, including $500,000 in new grants for training programs that prepare New Yorkers for careers in production and digital fields; a new entertainment component to the city's mini-MBA partnership with NYU's Stern School of Business; and a request for proposals for a "Made in NY" Media Center, which would provide media companies with affordable work space and other services.

"The entertainment and media industries play a major role in the City's economy, creating hundreds of thousands of jobs and contributing to the 'buzz' that makes New York the global magnet that it is," said Economic Development Corporation President Seth Pinsky. "The 'Made in NY' Media Center is a key investment in the future of these sectors, encouraging innovation, supporting content creation, fostering collaboration, and promoting workforce development."

Mayor Bloomberg announced in January that television production in New York City hit a record high in 2011, as the shooting location for 23 series in production during the 2011-12 season. Crain's NY reported that Silvercup Studios and Kaufman Astoria Studios in Queens and Broadway Stages in Brooklyn are also looking to expand.

Steiner Studios opened in 2004. Films such as "Sex and the City," "Inside Man," and "Enchanted," as well as television series like "In Treatment" and "Bored to Death," have filmed there. HBO's "Boardwalk Empire" is currently in production on its third season at Steiner.