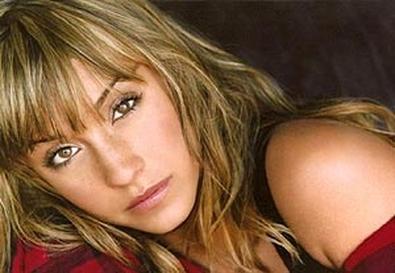 "I want people to take away from this movie that it doesn't matter what age you are or what sex you are, you can do anything. Anything is possible in this life," says Stella Maeve of her upcoming rock 'n' roll biopic "The Runaways."
Based on the teenage all-girl band that launched Joan Jett's career in the '70s, Stella plays co-founder and drummer Sandy West—and she can relate to the rock 'n' roll lifestyle to a tee. The New York City native grew up fast; she was on her own in gritty Hell's Kitchen by the time she was 16.
But acting was her passion, and Stella quickly booked some small movies, scored a break-out role on "Gossip Girl," and moved to Hollywood. Stella hasn't lost her New York edge, but she's embraced the laid-back Los Angeles lifestyle by surfing, painting, and even playing the drums.
Chosen as this week's Girl2Watch, Stella will be featured in a series or articles, fun facts and social media tweets through this week for subscribers of
Girl2Watch.com
.
Actor2Watch
: What would you say was your first real break as an actor?
Stella Maeve
: I think "The Runaways" is. Along with "Gossip Girl," I think this is going to really showcase my work the most.
A2W
: What did you do to get your SAG card?
SM
: I've got to be honest. I don't remember. I was really young.
A2W
:Do you have a horrifying audition moment?
SM
: I went in for this big show on CW. I'm not going to name what it was, but I went in and I hadn't been completely off book. I was off book but I was still holding the lines in my hands, and I kept messing up and I was like, "I'm so sorry. Can we do that over? I'm so sorry. Can we do that over?" And I must have asked them like five times and I know they were enraged.
A2W
: I assume you didn't get it.
SM
: Oh no, no, no, I did not. They were just really funny because they put me out there. They were like, "We had to stop the chick five times," and I was just so horrified and embarrassed afterwards.


A2W
: How proactive are you in terms of going after auditions, finding what's out there, and getting scripts sent to you?
SM
: I have a manager and an agent, so they usually do that for me. That's why they're there. I trust them with everything. They do a really good job. If I ever hear of something that I really want to be a part of, I'll let them know. But normally they send me everything that comes their way.
A2W
: Did you have any training or study with anyone to really hone the craft of acting, or did you just go for it?
SM
: I like to think of it as a natural talent. I think I was the lucky one. I train with John Homa now here in LA. He's one of my dear, dear friends and someone who really believes in me. We work really well together, but not a studio, no.
A2W
: Do you have any tips for any novices out there? Is there anything you wish someone had told you when you were first starting out that you could tell other people now?
SM
: Things aren't always easy, but you just have to keep going and don't let the small stuff bog you down.
Everybody goes in and out of phases. These bad times are not going to last forever. You've got to see yourself doing it. You've got to envision yourself there, and it will happen. And sometimes it's so hard to do that. It's next to impossible because you're like, "Well, this, this, this."
My biggest thing to say is just don't worry about money. I think do what you love and the money will come. And that may be crazy, but I can't even reiterate how many times I had $100 in my pocket, zero money in the bank, driving on an excursion saying, "Forget it. I'm just leaving town." And then you get the call that you booked your next role.