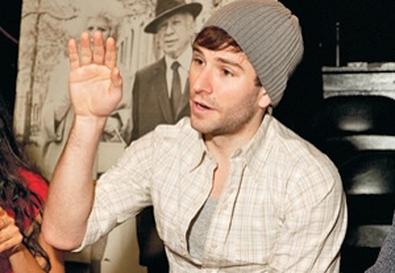 "Stella was tough," recalls Kate Mulgrew of her acting teacher, the legendary Stella Adler. That description is an understatement.
In 1931, Adler was a founding member of the revolutionary Group Theatre, which took Broadway by storm with a series of naturalistic productions of socially relevant plays, such as Clifford Odets' "Awake and Sing" and "Paradise Lost." In 1934, unsatisfied with Group Theatre co-founder Lee Strasberg's teaching of Konstantin Stanislavsky's techniques, the determined Adler traveled to Paris and studied with Stanislavsky himself. She returned to the Group with her own understanding of his work and offered acting classes to other members, including Sanford Meisner, Elia Kazan, and Robert Lewis.
After a sojourn in Hollywood, where she appeared in such films as "Love on Toast" and "The Shadow of the Thin Man," Adler returned to New York and London to direct and act in numerous plays and to teach at the Erwin Piscator Workshop at New York's New School for Social Research. In 1949, she founded the Stella Adler Theatre Studio, later renamed the Stella Adler Conservatory of Acting and now called the Stella Adler Studio of Acting. Her students included such luminaries as Marlon Brando, Robert De Niro, Warren Beatty, Candice Bergen, Harvey Keitel, Anthony Quinn, Martin Sheen, and Elaine Stritch, to name just a few. In 1969, the studio became the first professional training school to be affiliated with New York University's Tisch School of the Arts. Adler's grandson Tom Oppenheimer now serves as president and artistic director.
Back Stage recently spoke with five Adler graduates, who reflected on the studio's 60-plus-year history and Adler's enduring legacy and influence. In addition to Mulgrew ("Star Trek: Voyager," "Tea at Five," "Equus") and Anthony Zerbe ("Harry O," for which he won an Emmy; "The Turning Point"; "Listen to Me"), who also studied with Adler herself, our roundtable included more-recent grads Robbie Collier Sublett ("Gone Missing," the solo show "You Better Sit Down: Tales From My Parents' Divorce"), Nyambi Nyambi ("The Tempest" at Classic Stage Company, "The Merchant of Venice" and "The Winter's Tale" at the Public Theater, all in New York), and Nitya Vidyasagar ("Sesame Street," "The Glorious Ones" at New York's Lincoln Center).
Back Stage
: We'd like to start with each of you explaining your relationship with the Stella Adler Studio of Acting.
Kate Mulgrew
: She changed my life. I was 17 years old. I'd just come from London. I studied with her in conjunction with NYU. I was the youngest member of her master class, the last one she taught. I am now a member of the board here and very active in it and very passionate about it.
Nitya Vidyasagar
: I also got here through NYU, and I just knew that I wanted to be an actor. I don't think I was too clear at the time on what the specific reasons were. I guess the school connected me with the truest reason, which is not only that acting is something I always wanted to do, but also it's incredibly socially important and an enormous honor to be able to participate in.
Robbie Collier Sublett
: I was in a little town in south Texas, and I was looking at schools to audition for, one of which was NYU Tisch School of the Arts. I looked at the various studios, and when I got to Stella Adler, I paused because the mission statement was something to the effect of "This studio believes in growth as an artist and an actor, but also as a human being." I found out they also encouraged studying poetry and listening to jazz and looking at art. I was very into poetry. There was something about the completeness of what the studio purported to be.
Anthony Zerbe
: I was wandering around New York. I had hitchhiked here. I had left college after one year because I wanted to be an actor. I found a lunch counter, and sitting there was probably the original bag lady. She had warts, and I remember she had hair growing out of her warts. Nobody was sitting next to her. I sat on the next stool and said, "Good afternoon." She answered [in a slight Russian accent], "Good afternoon." I said, "I'm going to buy you lunch." We got to talking, and she asked me what I was doing in New York. I answered I wanted to be an actor, and she said, "Then you must study with Stella." I took her class, and that gave me a context for my acting. Later I was drafted and had to stop—this was in the 1950s—but I came back afterwards. Now I teach here.
Nyambi Nyambi
: I started here in 2001. I was actually a business major. I went to Bucknell University. I had done public speaking—they called it forensics, not like in "CSI" but giving speeches—and I never called it acting. I caught the bug when I did a Martin Luther King speech. When you do speeches for forensics, you don't have to memorize them. But I decided to memorize and research it, and that led to me catching the acting bug. So I tried to find theater schools to apply to. I read an article—I believe it was in The New York Times—about Benicio Del Toro, who I really thought was great, and he had studied at the Stella Adler Studio. I thought, "Let me apply there." I called the school, because I realized the deadline was that Friday and it was Wednesday. They were like, "You need two monologues, classical and contemporary." And I'm like, "What's that?" But I tried to scrounge something together. I talked to the theater faculty at Bucknell. I found two speeches—one contemporary and one from "Othello"—put them on tape, sent it out. I got the call that Monday from Tom, and they accepted me. I discovered that acting was what I wanted to do with the rest of my life.
Back Stage
: One of the most famous stories about Stella is the one about her studying Stanislavsky's technique as interpreted by Lee Strasberg and the Group Theatre and saying, "This is making me miserable." So she went to Paris to confront Stanislavsky and studied with him and developed her own interpretation. How did Stella's interpretation of Stanislavsky influence your acting?
Mulgrew
: As opposed to Lee Strasberg's?
Back Stage
: Or anyone else's.
Mulgrew
: Well, we so enjoyed that conflict when I was young. It was very new. Stella had—for lack of a better way of putting it—deviated in the best and most ardent sense of the word. Lee Strasberg taught that you dig in—sense memory and all that stuff. That is all well and good, but Stella said this will not hold up. It simply won't hold up as a technique over time. I completely agree with her. So she went to Paris, studied with Stanislavsky, concluded that you go from the outside in, and she built her own technique, sculpted it. It's a little bit of everything, but it is fundamentally script interpretation.
Back Stage
: How has that been handed down to the subsequent teachers here at the studio?
Vidyasagar
: We actually had so many different teachers. We even did sense memory in one of our classes. The idea, which is very supportive of Stella's way of working, is that you try a lot of different things and that you're never down to just one, that you're never standing on just one foot. So you try a lot of different things, and whatever works for you and supports you as an artist and that you can gain strength from, you use. There were so many teachers and so much going on.
Back Stage
: Was there one teacher or technique you felt was particularly helpful?
Vidyasagar
: I feel like I've ended up with a real hodgepodge tool kit of stuff, so I don't think so. Just when you forget a class or a teacher, it will come to you out of nowhere and you think, "Never in my wildest dreams did I ever think I would use that." But you do.
Sublett
: Ron Burrus was Stella's last apprentice, from what I understand. He was the technique teacher we had in our first two years. He emphasized the connection to material, to the script. We had one exercise where we had to describe the essence of, say, a flower with three adjectives. But I remember the end point of that exercise being connection. You had to connect with these three words about this external object that you could filter through yourself, and either there was a vibration or no vibration.
Nyambi
: When I was studying with Joanna Merlin, we had something similar to Michael Chekhov's psychological gesture. It was called the body cry. It was a useful way to begin. Say the body cry is "I love you," and that is what your body expresses even if the scene is about the opposite. It could be about cars.
Back Stage
: Were there some variations on that when you studied with Stella herself, Anthony?
Zerbe
: I think there's a lot of variation now from what Stella started teaching 50 or 60 years ago. What an actor does is take what they can from wherever they are, and they put it together and create their own way of working. What Stella did was kind of allow you to get to the precipice, and those steps you would take into the creative abyss, as it were, would be your own. Things have evolved. I think acting has evolved. What happens at this school now is very exciting in terms of Stella creating a context, but it's evolving and evolving. Would Stella recognize it if she came in today? I'll tell you what happened, which was really interesting. Tom invited me to speak here about four years ago. I had been lecturing around the country. I started to speak like I usually did. I felt an amazing resonance with the students I had never felt before.
Mulgrew
: I'll give you a little example of Stella's genius. I was doing a scene—and I've forgotten the play, conveniently, of course. My lover had left me, and the act ends, and I stood there looking like an idiot, doing nothing. Stella said, "Darling, what are you doing?" I said, "I don't know." She said, "You go to the window. It's a snowstorm. It's a blizzard. But he left his coat." In two minutes, she gave me everything. Do you understand? To the window to see that it's a blizzard and then to see that he left his coat. To make those connections was just it; it was enough. It's conveyed to the audience, everybody gets it, and the curtain falls. Very specific and very helpful. The intelligent imagination, I would say.
Back Stage
: Any more specific memories of Stella?
Mulgrew
: Stella was tough. [To Zerbe] Do you remember her expression "You're in the banker's way. Get out!" If you were in the banker's way, you were thinking like a banker, meaning you were mediocre; you were thinking about money; you were thinking about material things. She used to say, "Get out of my class. You're in the banker's way. You have to raise yourself up and raise up everybody in the audience." She was tougher than hell. People were thrown out of class. I'll never forget this. Do you remember this, Anthony? This kid was sitting with his legs stretched out, and she said, "Do you always sit like that? Do you think this is the way you sit when you're studying acting?" When he didn't move, she took a match and held it to his feet. The guy was such a jerk, he just held this position. He never came back. He wasn't allowed back. Those were the kinds of things she gave us, tough stuff. I don't know if you younger guys got that. Can you imagine somebody saying "You're in the banker's way" today?
Sublett
: Jimmy Tripp is the master acting teacher now. I don't know if he's quite as capable of that amount of toughness, but he was certainly the most straight-shooting, telling-it-like-it-is teacher that we had. That makes working and watching others work so much more helpful, because you have to be honest.
Mulgrew
: She also said, "Your stakes are too low. Raise them." The emotional stakes in a scene. I think stakes are lost today. I don't know what's happened to the world. You can hear it in any conversation in New York City. The stakes are different now. They're little. Little, little stakes. Who cares?
Back Stage
: Summing up, can you say what's unique about the studio and what's the most valuable thing you've taken from it.
Nyambi
: They have great people here, both as teachers and as guests. There was one with Frank Langella, who came for a series of master classes. And that let me know I'm squarely in my gift. I'm doing exactly what I'm supposed to be doing. I should continue studying and working. Because you see Frank doing very grand, large work, but to see where he begins, which is very small and very much from himself. To see that beginning and the way he worked with us, I had to say thank you. Because it was at a time when I wasn't sure if acting was what I should be doing. Tom would always bring in people if he felt they had the vision Stella had about really embracing your own imagination.
Vidyasagar
: In terms of a school, what I got coming here was a real glimpse of what I, as a person and an artist, am capable of. A little glimpse into how big and special and beautiful this work can be—and that I am part of it. I hope everybody walks away with that same feeling.
Sublett
: I think you just described the extension of Stella's spirit.