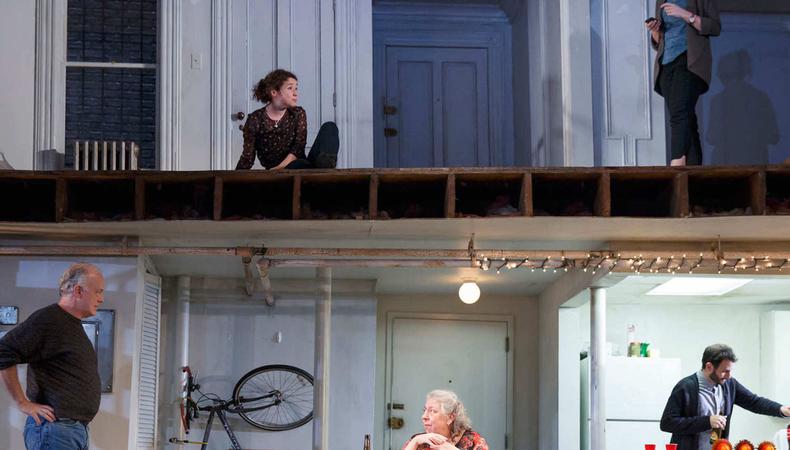 As its title suggests, "The Humans" is populated by a handful of utterly normal people. The six characters in Stephen Karam's play interact, interrupt, and share Thanksgiving food with each other like any other middle-class American family. The Blakes behave so naturally onstage, in fact, that you almost forget the bone-chilling dread infusing their conversations—almost. Karam's play is a family dramedy that somehow manages to make the hairs on the back of your neck stand on end.
Fresh off a critically acclaimed Off-Broadway run with Roundabout Theatre Company, "The Humans" opened at Broadway's Helen Hayes Theatre Feb. 18. Its rising-star playwright, who calls the piece "a family play that's been infected by the thriller genre, or horror, or the uncanny," says the transfer could not be happening in a better setting. "The walls of the theater extend almost directly out from the edge of the proscenium, so it creates the illusion of smaller dimensions. This might be the only Off-Broadway-to-Broadway transfer in which the show actually feels more intimate on Broadway."
That intimacy befits a story taking place in scenic designer David Zinn's set: a cramped duplex apartment in lower Manhattan. Like the Blake family's latent secrets and tensions, some invisible horror closes in on the proceedings, making the audience feel almost claustrophobic. Karam's subtext of choice is anxiety—whether it stems from the failed American dream, from everyday human existence, or from somewhere else entirely.
"I was interested in how intense the existential horrors of life can be," he says, "even in the quieter moments—during an ordinary day, or moving through a dinner, just your average afternoon." That initial impulse led Karam to begin writing a genre play in the vein of such stage thrillers as "Deathtrap" and "Wait Until Dark," plays that, as he points out, "you don't see in the theater so much anymore." But as many writers find during the creative process, the story had other plans.
"In spite of myself, I started writing a play about this family; the characters kind of took on a life of their own," says Karam. "I came to love the characters so much that they became so dimensional and it felt sort of bizarre for them to be in a thriller."
A playwright's job, he continues, is to balance crafting individual moments with placing those moments in a broader context. By setting out to write a thriller and branching into an American family drama, Karam could write "The Humans" impulsively, "moment by moment, and then take a step back and look at the big picture. It's usually when you finish enough of the play that you actually start to realize what the play is saying.... Sometimes it's about coming to terms with the play that's actually trying to get out, that's trying to crawl out from your brain. And the more you know what that is, the easier it is to make those decisions about what stays and what goes and how to proceed."
Also helpful in determining what stays and goes in a new play is its cast. "If you're lucky enough to be in the rehearsal process with good actors, like I've been with this amazing group, you learn how to accept when a moment isn't working," Karam says. Cassie Beck, Reed Birney, Jayne Houdyshell, Lauren Klein, Arian Moayed, and Sarah Steele (as well as director Joe Mantello) all helped Karam hone his remarkably naturalistic dialogue, even leading up to their Broadway bows. Their performances are examples of writing and acting in perfect sync.
"I can give them the exact amount of syllables and words, or sometimes take the line away because they're doing so much with their eyes or gestures," adds Karam. "Good actors can tell you more about your play than 1,000 hours alone at your desk."
Inspired by this post? Check out our Broadway audition listings!