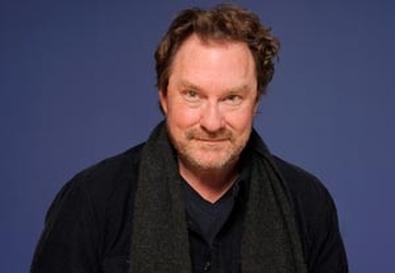 It's too difficult to calculate the number of projects
Stephen Root
worked on this year. "It keeps mushrooming. I'm very, very lucky that people think of me," he says. Projects onscreen in 2011 include "Rango," "Justified," and "Raising Hope." He won't, however, admit he's more skilled than others. "There's a lot of people who are a lot more talented than I who've gone by the wayside during the years because they can't take looking for a job every day or can't take the idea of not-secure employment," he says.
Root graduated with a degree in theater from the University of Florida, where the sagest words a teacher ever gave him were "to listen," even though one is not speaking. That teacher was Dr. Leland L. Zimmerman, then of the university's theater department. Around that time, Zimmerman phoned him one morning, asking why Root wasn't at auditions for the school's summer repertory season. "If it hadn't been for him calling me up," says Root, "I probably wouldn't be here." Root dressed, ran to the audition, and won the lead in a show. Eventually, Off-Broadway and Broadway roles followed, until the time came to head west for on-camera work.
1. He Didn't Take 'No' for an Answer.
"The reason I'm still acting is because, even though I had been turned down by a big audition, I went to New York and said, 'No, I didn't get that letter,' and auditioned again and got it. Persistence is key in this business." The audition was for the National Shakespeare Company, a bus-and-truck troupe based in New York City. The year before, Root had earned a callback through Southeastern Theatre Conference auditions, but he opted for another year of university training. The following year, when he again auditioned at the SETC, he received that letter stating he wasn't accepted into the company. "So I went on my own to New York and said, 'I didn't get that letter. Let me do it for you right here in the room,' " he recalls. "Persistence." After a while, he says, "I felt like I had some sort of a résumé that people would go, 'Oh, I know his work,' " he says. "Then I could get into more auditions. It's the same everywhere: The more you have on your résumé, the more auditions you could get into, and the more comfortable a casting director will be putting themselves out, saying, 'Yes, I know this guy's work.' "
2. He Has First-Day-Itis.
When was Root the most nervous on a first day of a project? "Every day!" he proclaims. "Every first day of a new project is always very, very crazy for me. It's just being the new kid at school: The first day of any project has always been hard for me. I've learned to deal with it, but it's always the same, and it doesn't matter if you've worked with the people before. It's a new situation, a new role, a new slate. And then you do one scene, or one rehearsal, and then you're fine. And I think that's true of a lot of people."
3. He Got His Irish On.
"I was doing an Off-Broadway show called 'The Au Pair Man,' which is a two-hander about an Irish au pair, and I had to do a complete Irish accent and submerse myself into being Irish," he recalls. "That took a while. It took two weeks of the director just beating me over the head—'No. No. No. No.' So it was a thrilling experience to get to opening night and go, 'Ah, I can relax. I've got the guy; now I can have fun.' But you really can't have fun until you, quote, get the guy. I kind of heard that through Charles Laughton. He was doing a movie called 'The Big Clock.' He couldn't get the guy, and you could see it in some early scenes; he wasn't there. Then finally he turned one day to his colleague and went, 'I've got him.' And then there's this brilliant character you see for the rest of the film. So you can't really relax and play until you've got it."
4. He Had to Start Over.
"What discouraged me when I first got to L.A. was the fact that you start over," he says. "You could do three Broadway shows in a row, and then you get to L.A. and you might get a guest-star on "Roseanne" for three lines. That was discouraging—to come to a screeching halt and hear, 'No, you go start over again.' I'm glad it worked out that way, because it takes you a period of adjustment not to do too much on film. You can't project like you do in a play. You're not trying to hit the back wall; you're trying to convey something more subtle. So that's an adjustment that some people make easily. It took me longer. I'd hit myself in the face and say, 'Stop "acting." ' "
5. He Keeps It Moving.
Animation has in effect taken the place of theater in Root's arsenal of skills, allowing him to experiment and do characters he wouldn't be right for on film. "So you're able to stretch what you normally do out a little bit, and it's nice to be able to play that way. But when you're doing animation, you're still using your body. Your head hasn't detached itself from your body. You're still doing the character; you just have to be seated and have less motion—or whatever, however you do it. I stand up and do mine. I feel like you have to commit to being that character, no matter what it is. And you can't just limit that to your head and your throat. When we did 'Rango,' the Gore Verbinski animated movie, he actually shot the whole movie as scenes. We did them as rehearsal scenes, so even if I'm playing a muskrat, I have to come up with some kind of physicalization of that for his camera, so he can use that later on in the animation. So that was the first time I'd experienced that, but they're doing that more and more, filming you as you do your animation." Root says he works on animated projects between his other film and TV work. It's apparently a great way to keep him—and his career—moving right along.
Stephen Root will appear on the "Working Actor" panel at Back Stage's Actorfest LA trade show on Nov. 5. For more details, visit BackStage.com.