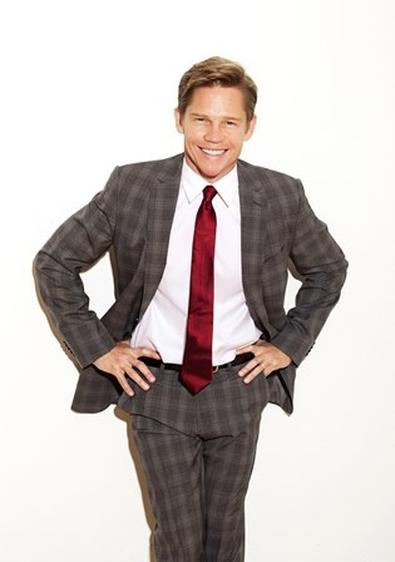 With the 50th anniversary of John F. Kennedy's assassination this year, there are a number of films popping up about his life and death. Jack Noseworthy tackles the role of Bobby Kennedy in National Geographic's "Killing Kennedy," based on the book by Bill O'Reilly and Martin Dugard and starring Rob Lowe and Ginnifer Goodwin. Noseworthy says he loved the script and the personal perspective it provided on the tragedy. "I just felt an immediate affinity for Bobby Kennedy," he says. "I really didn't know that much about him, certainly not what I know now, but there was something about the way he was written in the script. He had this toughness about him. He had this quality about him…I just felt a kinship in a way."
Besides "Killing Kennedy," Noseworthy has completed the films "Julia" and "Needlestack" and just completed a developmental run of the play "Two Point Oh" about life and death and the afterlife focusing on relationships and intimacy. He's also excited by the idea of working more in television. "I come from the theater, and I like the idea that you work with the same people every day and you develop a family and you also get to grow and learn about a character over a long period of time," he says.
Noseworthy shares some tips he's learned about keeping busy and on top of his game as an actor.
Research.
To play Bobby Kennedy, Noseworthy learned as much as he could. "There's so much out there that you actually have to pick and choose what you're going to draw from," he says. He focused on the biography "Robert Kennedy: His Life" by Evan Thomas and the "American Experience" documentary "RFK," which he says gave him "a visual and a physical image to go along with the intricate complexities of the story."
Always be ready.
After graduating from the Boston Conservatory, Noseworthy didn't stop training. "I've continued to train my whole life," he says. "[Sometimes] you get a job and you start in a couple days, so that's why I try to keep the machine well-oiled mentally and physically. The most important thing for me is to be open and to be receptive and to do your moment-to-moment work and be alive in the moment and as honest as possible."
Jump in.
Noseworthy shot one of the most emotionally challenging scenes of "Killing Kennedy" on his first day. "I literally jumped into that movie," he says. "You shake hands with the crew and say hello and then the next thing you know, I'm crumpled up in a doorway crying at the death of my brother, who happens to be the President of the United States." Noseworthy says he just focused on "finding the appropriate emotional availability and then just being honest in the moment."
Honesty matters.
Playing a historical figure is always challenging, and with the subject matter and high profile talent attached, Noseworthy says he felt like the movie would get a lot of attention. "So I felt like I really had to step up my game. The challenge of that to me was being as honest and true to him as I could be. What would make me really happy is if at any point someone from the family would see the movie [and] think that I portrayed their relative, their father, in a way that was respectful to him."
Make the moment authentic.
Noseworthy loved how "Killing Kennedy" showed the humanity of the characters, instead of just their well-known public images. One scene that Noseworthy cites as an example of this is when Bobby Kennedy is talking with President Kennedy about his affairs. "Something that struck me about that scene that I really liked was that it was really a scene about two brothers discussing their family business, and for one of the brothers, a personal problem was going to cause some strife," he says. Noseworthy says it could have been any business and any brothers, but in this case it was The President of the United States and the Attorney General. "I felt like it was very, very personal and very, very specific and because of that it created a universality that people could relate to," he says.
Lend a hand.
Mastering the Bostonian accent was no trouble for the Boston native, who was excited to get to use his accent in such pronounced way in a movie. Noseworthy is quick to point out that everyone on set had really prepared in advance, but he admits there were a few times when his castmates would ask his advice on how to say something. "Then I would help out a little bit," he says. "But I do have to say everyone really stepped up to the plate. For example, Jackie had a public voice and a private voice, she sort of spoke differently in public than she did in private, so it was a weird sound that she had. And all the Kennedy's have a Boston accent, but it has a little twang to it, too."
Noseworthy enjoys helping other actors and sharing what he's learned about auditioning. One important aspect of the audition is an actor's attitude. Noseworthy always tells actors that "they are waiting for you to walk in the door. Because, be it a movie or a TV show or theater, [the casting team] wants you to be the person that's right for the part, because they don't want to sit there anymore." He also encourages actors to be aware of the energy in the room and to not give away their power in the audition room. One other tip that he stresses is being off-book. "Because then if they throw any curveballs at you, you don't have to worry about what the next line is, you can actually play the scene and you can make a choice and go forward with that choice without struggling with what the lines are," he says. "It's not always possible, but I think it's really important if you can do it."
Acknowledge your fears.
Everyone has fears. Noseworthy thinks that recognizing and understanding the fears is important for sustaining a career. "It's common for people to say 'Take a chance' or 'Have no fear' but I think we have fear for a reason and we can learn from that," he explains. "I don't necessarily think ignoring your fears is always the answer. I think recognizing that I have fears and acknowledging them and then either moving past them or just saying 'OK, I have the fear, but I don't care, I'm going to go for it anyway.' Fear is there and it's how you handle and deal with it and how it challenges you and changes you is something that I try to learn and grow from now."